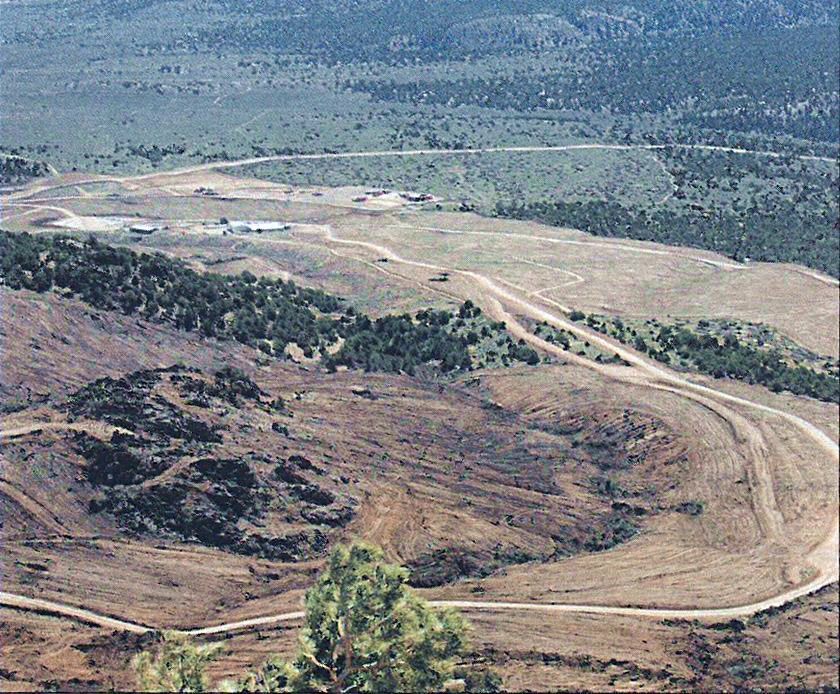 General Moly Inc. is commencing an initial exploration drilling program focused on copper-silver-zinc mineralization adjacent to the Mt. Hope molybdenum deposit near Eureka.
"We are excited with the start of drilling at this attractive zinc, copper and silver prospect, located on our patented claims at the Mt. Hope property," said Bruce D. Hansen, CEO of General Moly. "Conditioned upon receipt of positive assay results later this year to confirm high-grade mineralization, we plan on initial metallurgical tests to fast track advancement of this prospect."
General Moly's intent is to substantiate the occurrence of copper and silver mineralization lying below previously mined bodies of zinc ore. The company's goal is to define sufficient tonnage and grade to justify a formal scoping study of a standalone mining operation or a mining operation associated with the planned Mt. Hope molybdenum mine.
The 10-hole drilling program, announced June 21, is designed to confirm and extend the high-grade copper-silver target defined by historical drilling and to test for extensions of horizons of zinc mineralization. The target lies below the zinc mineralized horizons, which had been historically mined.
This first phase drill program is expected to take approximately two months with drill assay results expected in fall 2018. The aggregate footage of the planned 10 holes is estimated at 9,400 feet. Planned intercepts are at least 100 feet of spacing at the targeted depth.
You have free articles remaining.
General Moly begins this program after stop-and-go progress on its moly project over the past five years, according to Elko Daily Free Press archives. In 2013, General Moly lost a $665 million term loan after China Development Bank suspended work on it. In 2015, the company entered into agreements with AMER International Group and POS-Minerals Corp., and those partnerships are still intact, Hansen said.
Also in 2015, the company announced that the moly project would be on hold because of declining moly prices and loss of water rights. In 2016, the company lost its Bureau of Land Management permit in a lawsuit filed by the Western Shoshone Defense Project and Great Basin Resource Watch.
Hansen said the company is working with the BLM's Battle Mountain and state offices for a supplemental environmental impact statement to address issues raised by the court. He said he hoped the EIS would be available for public review in about a month for a record of decision sometime in early 2019.
Exploring for the copper-silver-zinc target is separate from the moly project, Hansen said, explaining that the drilling program is to take place on patented private land with separate permits. Development would require a plan of operations amendment through the BLM or another supplemental EIS.
Pursuit of the base minerals would allow the company to "add significant value in the short to medium term," said Hansen, who explained that the company's primary long-term objective continues to be the development of the moly deposit at Mt. Hope. "We're targeting the high-grade copper-silver zone. If they can find excess of 300,000 tons, it could be developable separate from the large moly project."
Drill hole location and targeting were developed by Mine Mappers LLC, with Mark Osterberg as the principal consulting geologist. Osterberg was retained by General Moly to support its internal staff in the evaluation of the geophysical and historical drilling results. Osterberg and his colleagues at Mine Mappers have mapped surface geology and logged diamond drill core at the Mt. Hope Project in several previous campaigns.
The price of moly has almost doubled in a year, from about $7 per pound to as high as $13 per pound earlier this year, Hansen said. The price of moly has a "direct and material impact in regard to overall plans for developing the Mt. Hope moly project," he said. "We are actually quite encouraged by the moly price."