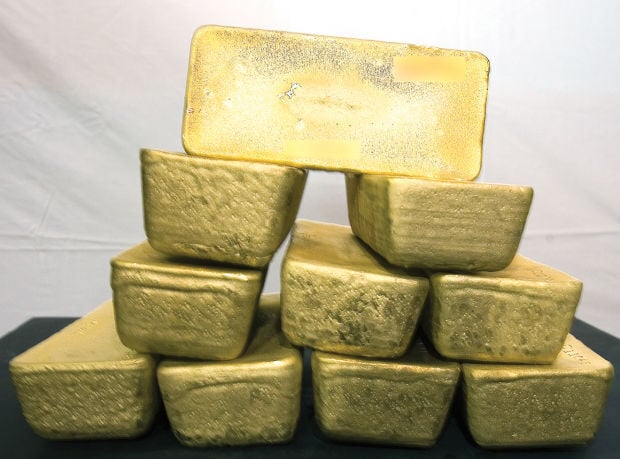 ELKO – Gold prices are the highest since 2011, reaching above the $1,900 mark on Friday with the spot gold price on the New York Mercantile Exchange closing at $1,901.30 per ounce.
"A lot of people think it will go higher," said Ed Karr, president and chief executive officer of Elko-based U.S. Gold Corp., an exploration company that depends on investors to raise capital for drilling projects. "The rest of 2020 and 2021 should be exciting times. I think the gold market has longevity."
Karr said that for the first time in years, investment banks are offering money as they redeploy capital into the gold sector.
U.S. Gold has two exploration projects in Nevada — Keystone and Maggie Creek — and a gold and copper project in Wyoming called Copper King.
Richard Baker wrote in the Eureka Miner's Market Report Friday that he has "forecast for several months that gold was on the path to take out the 2011 all-time high. Well, pardner, we're on the doorstep. Earlier this morning, Comex August gold peaked at $1,904.60 per ounce."
The Comex gold figure refers to futures trading.
Baker issued a cautionary note, however, that there could be consolidation in the gold price before the next spurt, although there is "tremendous momentum behind these trades, which encourages bidding the prices higher."
Gold reached an all-time high of roughly $1,920 an ounce in 2011.
Kitco's senior analyst, Jim Wycoff, said he believes that gold's record high is finally within reach and more gains are likely for gold and silver. Kitco stated Friday that the higher prices are due to a weaker U.S. dollar, worries over the increasing COVID-19 cases and growing tensions between the United States and China.
Silver prices rose above $23 per ounce this week at near 6.5-year highs, although the spot price Friday just before closing was $22.735 per ounce. CNBC said silver prices were up 15% this week.
Bloomberg attributed the rise in gold prices to the weaker dollar, negative real interest rates and economic turmoil amid the coronavirus pandemic, stating on Thursday that spot gold prices were up nearly 25% this year.
Share prices in gold producers with operations in Nevada were up Friday, as well. Barrick Gold Corp. shares were at $28.42, up 48 cents, and Newmont Corp. shares were at $66.75, up $1. Kinross Gold Corp. shares were at $8.42, up 19 cents; SSR Mining shares were at $23.55, up 72 cents; and Hecla Mining shares were at $5.20, up 70 cents.
Higher gold prices help boost the earnings of gold producers. Newmont Chief Financial Officer Nancy Buese said in the company's Feb. 20 earnings teleconference that every $100 hike per ounce in the gold price results in a $400 million savings for Newmont.
Be the first to know
Get local news delivered to your inbox!