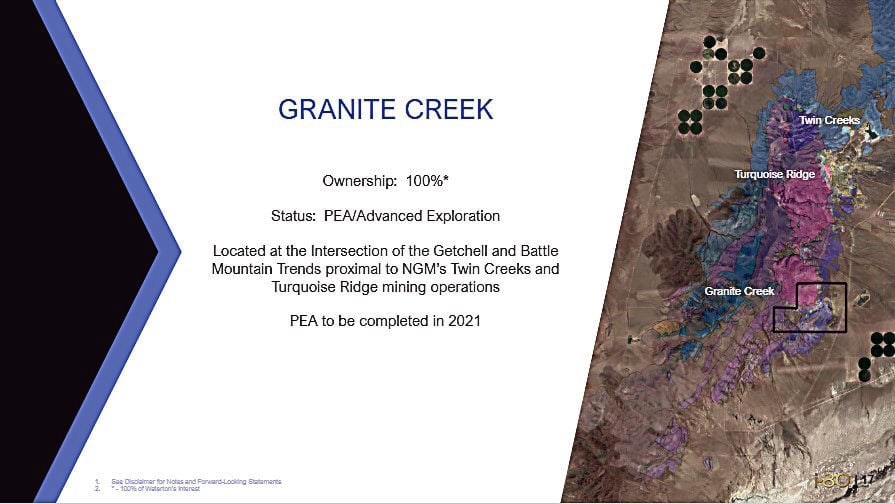 RENO – The new i-80 Gold Corp. has given the new name of Granite Creek to the Getchell Property the company recently acquired, and i-80 Gold reported underground drilling has started at Granite Creek now that the drill bays have been rehabilitated.
"Advancing the Granite Creek Mine Project to producer status is the company's primary focus for 2021," said Matt Gili, the president and chief operating officer of i-80 Gold.
The Reno-based company that spun off after a merger of Premier Gold Mines and Equinox Gold Corp. earlier this year stated that the project site was renamed from Getchell to avoid confusion with the Getchell open pit at the nearby Turquoise Ridge Mine operated by Nevada Gold Mines.
The Turquoise Ridge site was called the Getchell Mine in its earlier years, and the Granite Creek site is on the old Pinson Mine location, all in Humboldt County.
i-80 Gold reported on June 16 that rehabilitation of underground drill bays allowed for the underground drilling to begin at Granite Creek, a property that includes both open pit and underground resources at the north end of the Battle Mountain-Eureka Trend.
The 2021 drilling will include roughly 72,178 feet of drilling as part of an effort to advance underground and open pit opportunities to production, with the underground drilling focused on delineating sufficient resources for developing a near-term development and mining plan, according to i-80 Gold.
The company also stated that ongoing surface drilling will test near-surface mineralization for metallurgical purposes and open pit definition to advance permitting for surface mining and heap leaching ore on site.
Gili said the large-scale drilling program at the site is "designed to increase resources, advance permitting to facilitate open pit mining and prepare for test mining ahead of feasibility studies."
i-80 Gold acquired Granite Creek in mid-April from affiliates of Waterton Global Resource Management Inc. and in May reported it had completed a property acquisition with the Christison family and Seven Dot Cattle Co. LLC for additional mineral and surface interests at the site.
In addition to Granite Creek, i-80 Gold also owns a 40% share of the gold-producing South Arturo Mine on the Carlin Trend operated by Nevada Gold Mines and the advanced exploration McCoy-Cove site south of Battle Mountain.