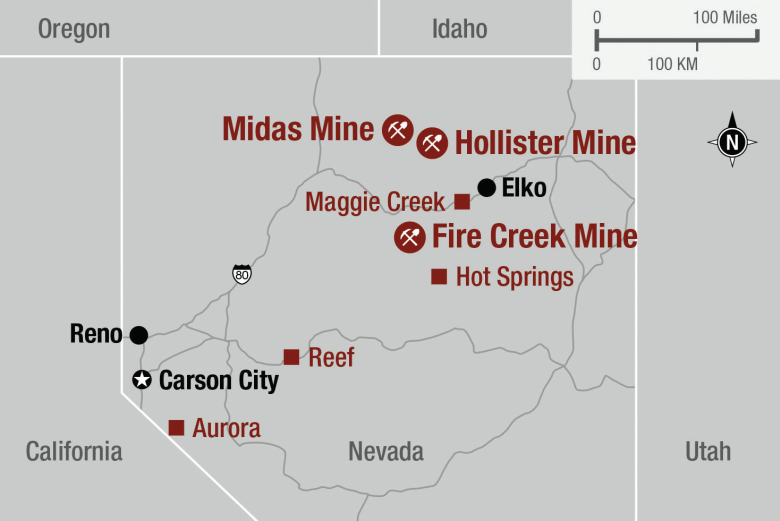 Hecla Mining Co. laid off 56 miners when the company suspended operations at its Hollister underground mine in northern Elko County, but the company is "committed to Nevada for the long term despite a narrowing workforce," said Luke Russell, vice president of external affairs.
He said on June 18 Hecla now has about 190 people on its payroll in Nevada.
Hecla is mining and exploring at its underground Fire Creek Mine near Crescent Valley, mining at the underground Midas Mine in Elko County, operating the mill at Midas, and reprocessing mine tailings at its Aurora mill in Mineral County, Russell said.
He said the majority of those laid off at Hollister lived in Winnemucca. Although the mine is in Elko County, the route to the mine starts closer to Winnemucca. The majority of those working at Fire Creek live in Elko, however.
Russell said Hecla has a land position of 110 square miles in Nevada in an area of high-grade mines, so the company is "in the right address."
Coeur d' Alene, Idaho-based Hecla put Hollister on care and maintenance to "balance income and expenses," but the company is planning surface exploration at the Hatter-Graben target, he said. There had been underground drifting to explore the deposit from Hollister, and that is halted.
According to Hecla's June 9 news release, Hollister produced roughly 106,056 ounces of silver and 11,799 ounces of gold in 2018, and the company remains interested in exploration and definition of the Hatter Graben deposit. The company additionally stated that Hatter Graben was one of the key reasons for acquiring the Nevada properties.
The company on June 9 reported it was reducing its investment in Nevada because of disappointing financial results for the first two quarters of this year. Phillips S. Baker Jr., president and chief executive officer of Hecla, said the company has a strong commitment to operate within cash flow, but Nevada operations hadn't generated enough cash flow.
While there is still mining at Midas, Russell said there isn't a long-term plan for that mine, although there is exploration in the area. Hecla stated on June 9 mining was expected to continue there through the end of the year.
Hecla also is looking to contract-out milling of ore from Fire Creek that isn't efficiently processed at the Midas mill, he said in a phone interview. Fire Creek is a narrow-grade gold and silver underground mine.
Hecla returned to Nevada in July of last year when it acquired Fire Creek, Midas, Hollister and Aurora from Klondex Mines Ltd. The company operated the Rosebud underground mine in Pershing County in the late 1990s in a partnership with Newmont Mining Corp.
Hecla remains committed to environmental compliance at its Nevada operations and works closely with the Western Shoshone, he said.
Be the first to know
Get local news delivered to your inbox!