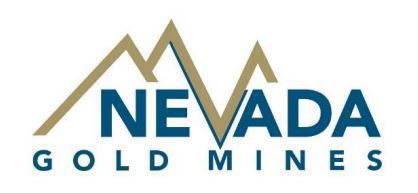 ELKO — Nevada Gold Mines has officially launched a new local investment initiative aimed at helping local businesses navigate through the COVID-19 pandemic.
Known as the I-80 Fund, the loan program was started with an initial $5 million investment by Nevada Gold Mines, which is operated by the Toronto based Barrick Gold Corp.
"It is our community, we live in that community with those mom and pop businesses, and small business is what drives the industry," Greg Walker, Nevada Gold Mines executive managing director said last week.
Businesses in Elko, Lander, Humboldt, and Eureka counties are eligible to apply for support through the programs relief and recovery loans.
The first phase of the program will focus on disaster relief and recovery loans for small businesses impacted by COVID-19, with loans ranging from $5,000 to $100,000 with a 2% interest rate. To qualify for the program, businesses must have been in operation prior to January 1, 2020.
Rural Nevada Development Corporation in Ely, a nonprofit organization, will manage the fund. The organization has been providing lending and other services to rural Nevada businesses since 1992.
"This is a great tool that the businesses in the area can utilize, it really is, and I am excited to be able to help those business owners," Mary Kerner, Rural Nevada Development Corporation CEO said Monday.
Kerner said the I-80 fund can be an alternative to traditional financial institutions such as banks and credit unions, which can have stringent regulations regarding loan applications.
"This was set up as a disaster relief and recovery, therefore we are looking to help people through the disaster and help them recover and get them back into a positive position," she said. "We are expecting impacted credit reports, we are expecting being behind on some bills or things like that."
Kerner said possible applicants could include business owners that had to continue paying on loans while they were closed during the stay-at-home order, or that saw their customer base dwindle because of COVID-19.
"Small businesses are being impacted from a lot of different directions," she said.
Walker said there is both a business reason and a moral reason for why large companies should do their part to help struggling small business owners. The business reason is that those small businesses provide the services that are necessary to attract potential employees to the area to work.
"Without the restaurants and the service providers that are here, it makes it really hard to attract quality employees because you have nothing for them to come for," he said. "The other view is that as a company, Barrick and Nevada Gold Mines believe that we do have a responsibility to grow that community and help support that community."
While the I-80 fund will initially focus on immediate relief and recovery efforts, the intention is then to evolve into a small business development fund to stimulate and support economic growth in northern Nevada.
The second phase of the program will provide loans to develop and grow small businesses in the region, thereby driving economic growth in northern Nevada.
Walker said Nevada Gold Mines will be reaching out to other members of the Nevada Mining Association to see if they would be willing to contribute to the fund.
"The idea is to grow that sustainable pot, so that amount of money is there," Walker said. "Ideally, in 100 years when we are all gone there is still a pot of money there that small business can get some loans."
For more information on the program and how to apply, please reach out to RNDC at www.rndcnv.org or call 775-289-8519.
Be the first to know
Get local news delivered to your inbox!