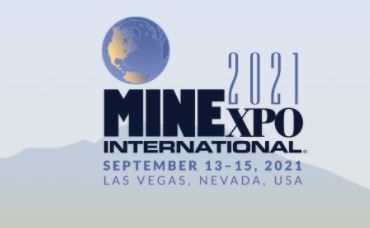 MINExpo International 2021 is happening Sept. 13-15 in Las Vegas, and the National Mining Association is still accepting exhibitors and registrations for the event that is usually held every four years but was delayed a year because of COVID-19.
The large exhibition at the Las Vegas Convention Center draws exhibitors from throughout the world, although the pandemic is having an impact on the 2021 exposition.
"Varying country restrictions, and the U.S.'s own restrictions, are obviously making this year unlike any other. At the same time, we are pleased to have nearly 90% of our 2020 planned exhibitors rebook for this year and new exhibitors are booking space every day," National Mining Association spokeswoman Ashley Burke said.
"As of today, we will be welcoming representatives from 32 countries as both exhibitors and attendees. We hope to see even more attendees register as vaccination rates continue to rise, case numbers fall, and an increasing number of countries lift travel restrictions," she said in a July 7 email.
The MINExpo was slated for September 2020 but was canceled because of the pandemic, so this will make five years since the last one.
Burke said registrations can be made through the MINExpo.com website, and exhibitors may book space on the same website, with pricing based on square footage of booths.
General registration for those age 17 and older is $125 until Aug. 20 and goes up to $225 after that date. All registrations include exhibits, opening session and all technical sessions. Working press, students and university professors may register at no cost.
Details are not yet available on guest speakers and the technical sessions, but the NMA, which sponsors the MINExpo, is finalizing details.
The technical sessions will "explore topics ranging from safety to technology and environment," Burke said.
The MINExpo is described as the world's largest mining show of its kind and exhibits in the past have included giant pieces of mining equipment inside and outside the convention center. Past attendance has numbered roughly 40,000, including attendees and exhibitors.
The show offers industry leaders information on the latest equipment, technologies and mining supplies, and the event covers the entire mining industry from exploration, mine development, open pit and underground mining, ore processing, environmental advancements, and safety.