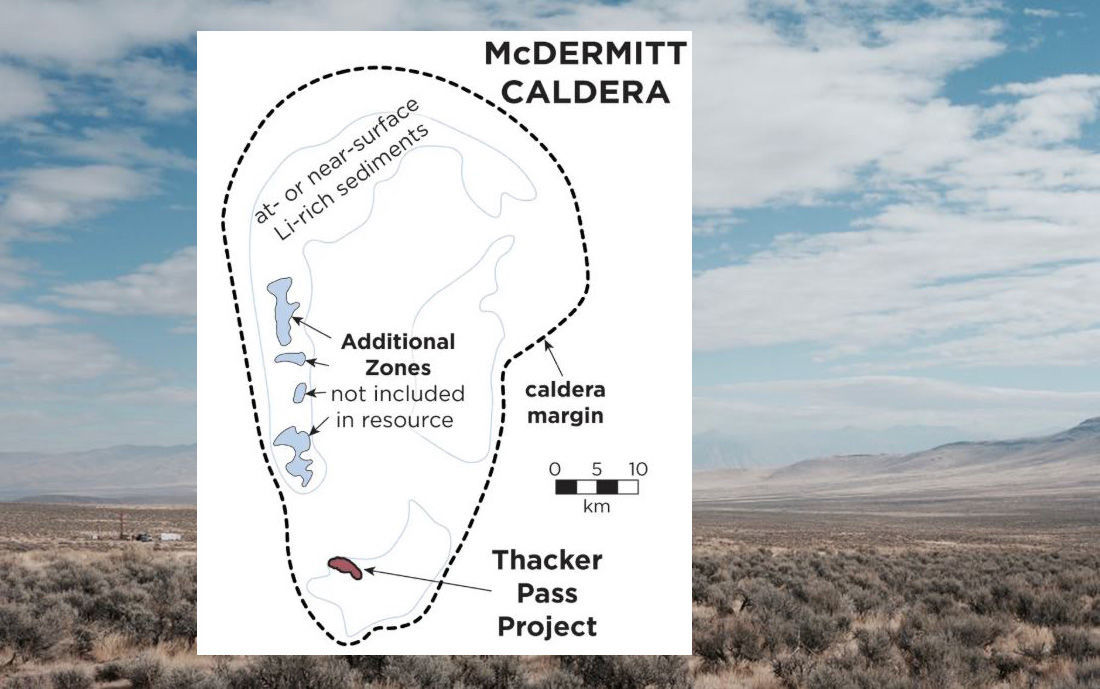 Lithium Nevada Corp. has entered into an agreement with a contract miner for the Thacker Pass lithium project near Orovada in Humboldt County, signaling another step toward becoming a producing operation.
"Thacker Pass has recently achieved several regulatory and commercial milestones, including finalizing the partnership with North American Coal as our mining contractor and acceptance of the plan of operation by the Bureau of Land Management," said Alexi Zawadzki, president of North American operations for parent company Lithium Americas Corp.
He said he is "very optimistic about the resource and about our processing and permitting. We have a really good understanding of the project and the permitting process. We got ahead of the issues early on. Zawadzki also said the project has been well designed. "We are on track."
The North American Coal Corp. reported the company has formed a wholly owned subsidiary, Sawtooth Mining LCC, for the Nevada lithium project after entering into the agreement as exclusive contract miner for the Thacker Pass lithium deposit.
"We are pleased to partner with Lithium Americas to develop the Thacker Pass project, which we view as a key part of developing a strong lithium battery industry in the United States," said J.C. Butler, president and chief executive officer of NACCO Industries Inc. and North American Coal. "We are highly confident we can contribute to success at Thacker Pass."
NACCO Industries is the public holding company for The North American Coal Corp.
Sawtooth will provide mine engineering, construction, operation and reclamation services and certain equipment, as well as the contract mining.
Vancouver-based Lithium Americas stated in a Sept. 25 update on Thacker Pass that the company expects all major permits for the first phase of the project by the end of next year.
The U.S. Bureau of Land Management's Winnemucca District Office is expecting to start the environmental impact statement in December and complete the EIS in 12 months under the Interior Department's current requirement that fast-tracks studies, Ken Loda, lead geologist for the BLM out of Winnemucca, said on Sept. 26.
"We're scheduling it for no later than the end of 2020," he said of the EIS completion.
Loda said Lithium Nevada has been working closely with the BLM for more than a year.
NACCO's announcement of its contract states that Lithium Nevada anticipates plant construction beginning in 2021 and production starting in 2023.
Lithium Americas reported a definitive feasibility study for a phase-one production capacity of 20,000 metric tons per year of battery-quality product is under way, and it has entered into a design and build contract with TIC – The Industrial Company — to complete key aspects of the feasibility study, with an option to expand to the role as prime contractor for the plant.
Zawadzki said on Sept. 26 that the new study is looking at reduced production from the prefeasibility study that was based on 30,000 metric tons of production and had an estimated cost of $581 million. The new study will determine expenses at 20,000 metric tons.
He also provided new job estimates that include roughly 1,000 construction jobs, and 183 positions for phase I operations, plus 102 for trucking, for a total of 285 that would be paid by Lithium Nevada.
Lithium Americas also reported that the company has secured water rights for the first phase of production, and that high-quality lithium sulfate solution has been produced at the process testing facility in Reno. The company has hired a third-party vendor to engineer and design a lithium carbonate and lithium hydroxide evaporator and crystallizer.
Lithium Americas President and Chief Executive Officer Jon Evans said the company "has advanced Thacker Pass to become one of the largest-known and most cost-competitive lithium projects in development. We look forward to engaging with potential strategic partners in the years to come."
Sawtooth Mining's agreement with Lithium Nevada states that Lithium Nevada will reimburse Sawtooth for its operating and reclamation costs and pay a management fee per metric ton of lithium delivered during the 20-year contract term. Lithium Nevada also will pay a success fee to Sawtooth for achievement of engineering, construction and production milestones.
Under the 20-year contract, Sawtooth will provide $3.5 million toward engineering services and will fund up to $50 million to procure mobile mining equipment that will later be reimbursed by Lithium Nevada.
"This new mining agreement is a significant milestone in our strategic goal to grow and diversify by leveraging skills honed in our core mining operations," Butler said.
Zawadzki said North American Coal won't have equity in the company, but will benefit from the long-term contract. Lithium Nevada is 100 percent owner of the Thacker Pass project.
According to Lithium Americas, the project site has measured and indicated resource of 6 million metric tons of lithium carbonate equivalent.
Lithium has gained in popularity with the increased development of battery products, including in electric cars. The only lithium production in Nevada and North America at this time is at Albemarle Corp.'s Silver Peak operations in Esmeralda County. Silver Peak is a brine deposit. Thacker Pass is a clay deposit.
Zawadzki said the plan to take lithium out of the ground and refine it into a high-purity, battery-quality lithium product will provide value to Nevada "while creating a foundation for a more efficient battery supply chain in the U.S."
Lithium Americas is evaluating financing options for the project, including the possibility of a joint venture partner at Thacker Pass, according to the news release.
Be the first to know
Get local news delivered to your inbox!