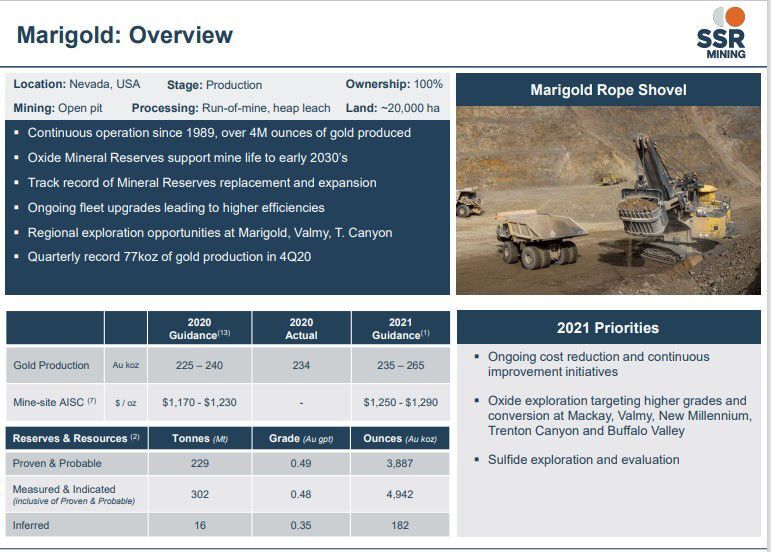 SSR Mining Inc. posted net income attributable to shareholders of $89 million, or 41 cents per share, and adjusted attributable net income of $108.8 million, or 50 cents per share, in the fourth quarter. The company reported record gold production of its Marigold Mine in Nevada.
"We exited 2020 with strong operational and financial momentum across all four of our operating assets," said SSR President and Chief Executive Officer Rod Antal.
"The fourth quarter represents the first full quarter following completion of the Alacer merger, and the results demonstrated the strength of the business with 220,000 gold equivalent ounces produced at $976 all-in sustainable cost and $157 million in free cash flow," he said.
The attributable net income compared with $19.48 million, or 16 cents per share, in the 2019 quarter, and adjusted net income compared with $23.71 million, or 19 cents per share, in that quarter, which was before SSR Mining and Alacer merged.
The average realized gold price in the fourth quarter was $1,880 per ounce, up from $1,480 per ounce in the 2019 quarter, and the average silver price was $24.78 per ounce, up from $17.32 per ounce the prior year's quarter.
Antal said in the earnings teleconference that SSR "successfully navigated challenges" from the COVID-19 pandemic.
Denver-based SSR Mining produced 220,543 gold equivalent ounces in the quarter ending Dec. 31, with Marigold at Valmy producing 76,941 of those ounces. Annual production from Marigold totaled 234,443 ounces, and the company said both the quarterly and annual production figures were a record in Marigold's 32-year history.
Stewart Beckman, executive vice president and chief operating officer, said Marigold resolved issues with hydraulic shovels, and Antal said Marigold is in the midst of a fleet replacement program.
The company's other gold mines include Seabee in Canada, which produced 31,915 ounces of gold in the fourth quarter, up 45% over the 22,069 ounces produced in the 2019 quarter; and Copler in Turkey, which produced 83,029 ounces of gold.
For all of 2020, Copler produced 326,908 ounces of gold on a 100% basis. SSR Mining owns 80% and Lidya Mining owns 20%.
SSR Mining also operates the Puna Mine in Argentina, which produces silver, nearly 2.17 million ounces in the fourth quarter, compared with 2.13 million ounces in the 2019 quarter, and lead and zinc.
Antal said that because of the strong balance sheet, SSR Mining declared its first dividend since the zero-premium merger of 5 cents per share.
"In 2021, we remain focused on execution and delivery with the goal of demonstrating our organic ability to sustain 700,000 to 800,000 gold-equivalent ounces of production for the next five plus years," Antal said.
He also stated in the earnings report that the company's "large brownfield growth and exploration pipeline will take center-stage this year as we advance projects and provide clarity on their potential scale and timelines."
The company plans to spend $65 million this year on exploration "across the portfolio," and he said in the teleconference that SSR expects the exploration efforts to "take center stage" as the company defines its growth potential.
At Marigold, a focus of the 2020 exploration program was to identify new mineral resources on the large land package, which expanded with acquisition of Trenton Canyon and Buffalo Valley from Newmont Corp. SSR reported 208 drill holes in 2020.
At the Valmy site, there are three historic open pits mined by previous owners between 2002 and 2005, which produced roughly 196,000 ounces of gold, and SSR has been expanding mineral resources around these pits since 2015, when SSR acquired Marigold.
The company said that at Trenton Canyon there is an historical mineral resource area and three pits mined between 1996 and 2005, which produced around 290,000 ounces of gold. Since the acquisition in 2019, SSR Mining has been exploring to confirm historic drilling data and expand known mineralization areas.
The main objective at Trenton Canyon is to define a surface oxide gold mineral resource for the heap leach process, SSR stated in the earnings report.
At Buffalo Valley, where there is one small open pit that produced roughly 50,000 gold ounces between 1987 and 1990, SSR is now focusing on verifying historical information and assessing the potential for oxide gold mineral resources.
SSR Mining also said that the company is looking to increase gold production at Marigold by defining additional stand-alone heap leach facilities in the North Peak area. The company tested areas south of the currently producing Mackay Pit, including Valmy, Crossfire, East Basalt, Section 6 and Trenton Canyon in 2020.
The company stated that additionally it is exploring the opportunity for a larger pit concept that would encompass East Basalt, Antler, Battle Cry and Section 6, which it refers to as New Millenium.
Exploration projects also are under way in the Copler District in Turkey, including around the existing mine, and at Seabee in Saskatchewan and Puna, and the company has exploration projects in Mexico and Peru.