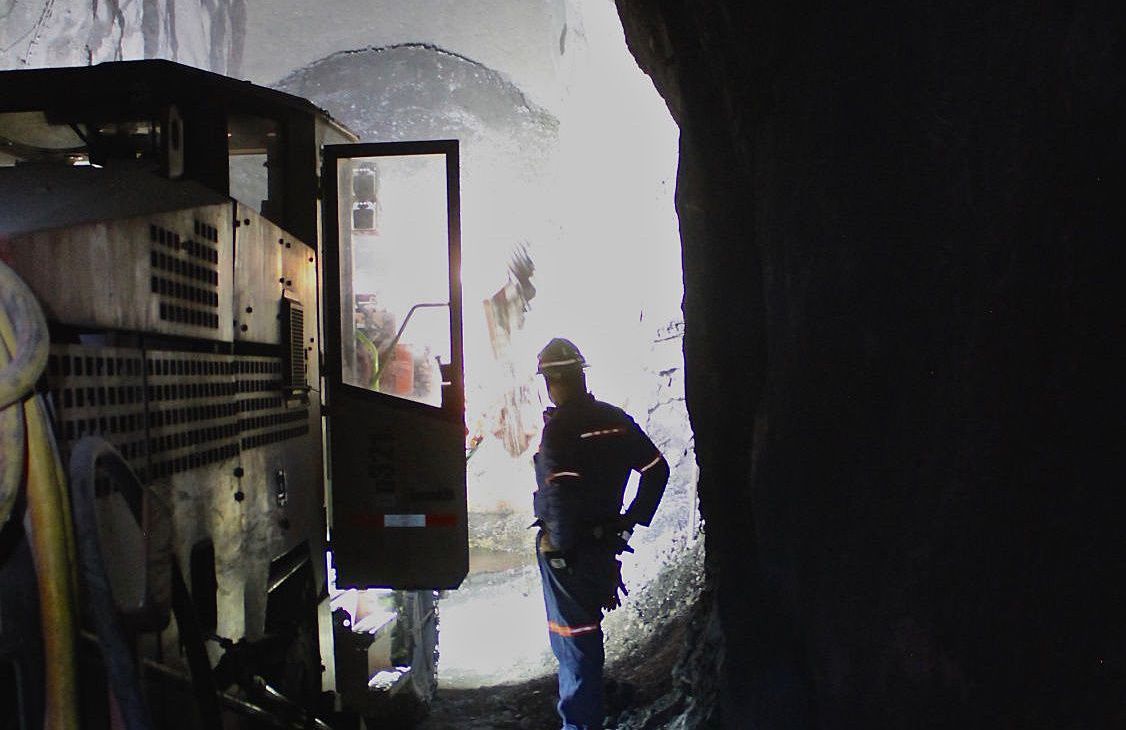 ELKO – Nevada Gold Mines has taken many steps to protect workers from the coronavirus that has already infected five employees in northeastern Nevada, but mining operations are still in full swing.
"Nobody has been laid off, and we have no intention of laying anyone off," said Greg Walker, executive managing director of Nevada Gold Mines, which is the joint venture of Barrick Gold Corp. and Newmont Corp., with Barrick as operator.
Walker said of the five employees with COVID-19, the first one had just returned from Africa and tested positive in Elko after being back about a week. He worked at the Cortez Mine.
"His symptoms were very mild, and he was back to work after about 10 days," he said.
The second and third employees to test positive worked at the Turquoise Ridge Mine in Humboldt County and were among the Winnemucca cases.
As of Friday afternoon, Winnemucca had 26 coronavirus cases and one death. Elko County had 11 confirmed cases, including one death.
Walker said the fourth person was an employee at the Phoenix Mine. The fifth employee works at the Carlin operations.
There have been no reports of the employees' families testing positive, he said in an April 15 phone interview. Any employee testing positive and quarantined must have a doctor's approval to return to work, he said.
Two of those with the virus contracted COVID-19 on their days off, but the Turquoise Ridge and Phoenix employees had been at work and could have exposed others. However, Walker said that 49 people were quarantined from Turquoise Ridge and 10 from Phoenix.
"None tested positive and all were cleared to go back to work," he said.
NGM also is in constant contact with the emergency organizations in Elko and other communities where the joint venture operates, Walker said.
He outlined Nevada Gold Mines' efforts to protect employees and their communities:
A key social-distancing step NGM has taken is to limit the number of people riding a bus to a mine to 15, and using vans and large vehicles to transport others. Limiting the number also limits the people exposed if an employee contracts the coronavirus, Walker said. Usually there are 35 employees on each bus.
Nevada Gold Mines took another unique step with the hiring of 75 people with health backgrounds who were out of work with medical-related business closures. They are working on a contract basis to monitor the temperatures of mine employees. "It was a good opportunity to give them jobs," Walker said.
All employees reporting for work have their temperatures checked, and they go through a screening that includes questions about symptoms, travel and contact with anyone knowingly having the coronavirus. If anyone shows symptoms, they must isolate themselves at home for 14 days.
Conferences that include more than 10 people involve using three different meeting rooms and videoconferencing, "so we've reduced the number of people in one room," Walker said. Safety meetings are sometimes held outside. "We apply the 6-foot distancing rule."
Non-essential vendor visits are controlled, and the front door to the NGM office in Elko is locked. People must ring a bell, and the person they are seeing will meet them outside.
People who aren't in direct mining operations have been relocated to office space in Elko that keeps them separated, including in the former Barrick Gold building that was left vacant after NGM combined functions into the former Newmont building, and in an office across the road from the former Barrick building, Walker said.
"Employees who are at risk can work from home," he also said, including those with weakened immune systems or with families with weakened immune systems, pregnant employees, and one employee who recently had a liver transplant. "The last thing we want is for an employee to feel uncomfortable going to work. We give them the right to go into self-quarantine," Walker said.
Hygiene is emphasized, with increased sanitation at facilities, regular reminders to wash hands or use hand sanitizers, and NGM also is receiving a shipment of 40,000 masks next week, Walker said. Those will be available to employees and a portion will be donated to medical rescue workers in the communities.
The company has postponed major maintenance projects that could involve as many as 500 contractors.
NGM is covering deductible medical costs for testing and treatment related to COVID-19, and employees can use accrued leave in advance. If they are not working and not getting paid, the company will continue medical coverage, according to Walker.
Miners going underground in cages (large elevators) are limited in number because of social distancing, which is impacting work time underground because of the need for more cage trips, he said.
Decisions on protecting employees where NGM operates are mainly up to Barrick as operator, but Newmont representatives also sit on the NGM board, and Walker said he keeps both the Barrick and Newmont chief executives regularly informed.
Newmont pays its portion of the coronavirus community support effort, as well, he said.
Nevada Gold Mines committed $1.5 million to the governor's coronavirus task force, $275,000 to Elko, Battle Mountain and Winnemucca for food services and $100,000 to a food bank in southern Nevada. NGM also said earlier it was developing an "I-80" fund to assist small businesses along the Interstate 80 corridor and to help with solutions to problems brought on by the pandemic restrictions.
"The last thing we want is for an employee to feel uncomfortable going to work. We give them the right to go into self-quarantine."

-- Greg Walker, Nevada Gold Mines
Concerned about COVID-19?
Sign up now to get the most recent coronavirus headlines and other important local and national news sent to your email inbox daily.