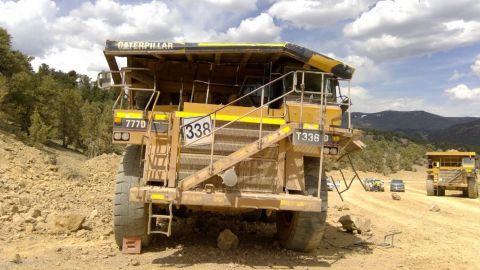 A preliminary report on a fatal truck accident at the Gold Bar Mine in Eureka County describes the truck's path but does not explain why it crashed.
Haul truck driver Dean V. Pilcher, 57, of Colorado was killed May 13 when his vehicle overturned while operating at the mine. Pilcher was employed by N.A. Degerstrom of Spokane, a contractor for mine owner McEwen Mining Inc.
The Mine Safety & Health Administration reported that the Caterpillar 777D haul truck was ascending the Cabin Pit Haul Road when the truck slowed and stopped, then rolled backwards. The truck traveled more than 300 feet and ran up a hill, causing it to roll over once. The truck came to rest upright on its tires.
It was Nevada's first mining fatality of 2019 and the seventh nationwide fatality that MSHA is investigating.
Gold Bar is located about 30 miles northwest of the city of Eureka, on the Cortez Trend.
McEwen Mining began construction in November 2017. The first gold ingot was poured at the mine on Feb. 16, 2019.
In 2018, there were two mining fatalities in Nevada, both in northeastern Nevada.
Be the first to know
Get local news delivered to your inbox!