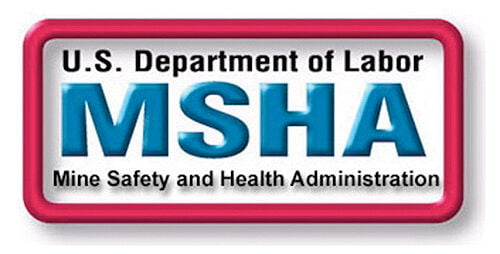 Mine operators will have to draft a written safety program for mobile and powered haulage equipment if a U.S. Department of Labor's Mine Safety and Health Administration proposed rule passes.
The proposed rule, announced by the U.S. Department of Labor on Sept. 8, would apply to mine operators employing six or more miners at surface mines and surface areas of underground mines using mobile equipment or powered haulage. Mobile equipment and powered haulage at mines includes bulldozers, front-end loaders, skid steers and haul trucks but not conveyer belts.
This proposed rule is one of several actions MSHA has taken to reduce fatal and nonfatal injuries involving surface mobile equipment used at mines and to improve safety and health, according to the DOL.
"While accidents at mines are declining, accidents involving mobile and powered haulage equipment are still a leading cause of fatalities in mining," according to background on the proposed rule published in the Federal Register. "Of all 739 fatalities that occurred at U.S. mines between 2003 and 2018, 109 were caused by hazards related to working near or operating mobile and powered haulage equipment at mines with six or more miners."
There were 29 fatalities in coal and metal/nonmetal mines nationwide in 2020, including one in Nevada not related to powered haulage, according to MSHA reports. Of the fatalities in metal/non-metal mines, three were related to powered haulage. In coal mines, four were related to powered haulage.
To date, there have been 23 fatalities in the U.S. mining industry, 10 of which were related to powered haulage, MSHA reports.
To reduce the number of injuries and fatalities involving mobile and powered haulage, MSHA has offered technical assistance, developed training materials, and gathered information from the public and mining stakeholders. MSHA is proposing the new rule to further improve safety at mines based on responses to a request for information released in 2018.
Under the proposed rule, mine operators would implement a written safety program including actions to identify hazards and risks to reduce accidents, injuries and fatalities related to surface mobile equipment.
Specifically, mines would have to identify and reduce hazards related to mobile equipment; develop and maintain procedures and schedules for maintenance and nonroutine repairs; outline actions taken to evaluate available and emerging technologies to enhance safety; train employees to identify and address or avoid hazards related to mobile equipment; evaluate and update the program at least annually; and make the written safety program available for inspection, according to the proposed rule.
Mine operators would have the flexibility to devise a safety program for their specific mining conditions and operations. Written safety programs would be required within six months of the effective date of the final rule.
MSHA estimates that about 41 percent of all U.S. mines employ six or more miners. As of 2018, metal and nonmetal mines with six or more miners totaled 4,443, MSHA reported. Small mines with fewer than six miners were excluded from the proposed rule because few fatalities have occurred at those operations since 2003 and because it would incur unreasonable costs on small operations.
Industrywide, the estimated record-keeping burden of the proposed rule would have a financial impact of $4.8 million per year, MSHA stated.
Read the proposed rule on the Federal Register. Comments must be submitted by Nov. 8, 2021.