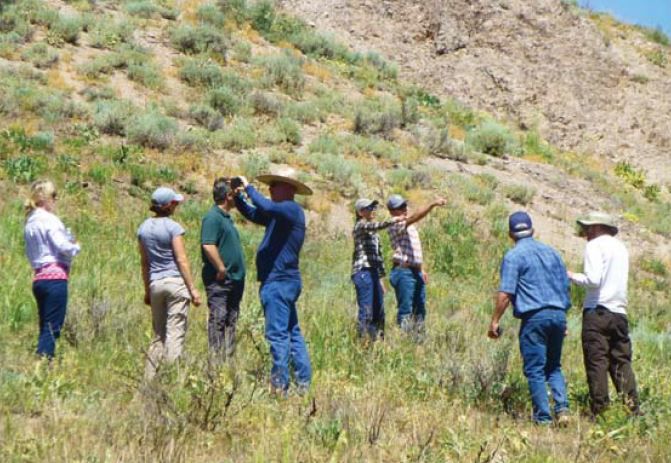 CARSON CITY – The Nevada Excellence in Mine Reclamation Awards for 2019 will be presented on Sept. 7 at the annual Nevada Mining Association Convention in South Lake Tahoe. Six awards will be presented this year.
Western Exploration LLC will receive an award for Concurrent Exploration Reclamation for their Doby George Exploration Project within the Humboldt-Toiyabe National Forest in Elko County. Western Exploration has been exploring the Doby George Project in the Humboldt-Toiyabe National Forest since 1998, and currently has a 10-year Plan of Operations in place. About 47 acres of disturbance has occurred to date.
The project area is within a Greater Sage-Grouse Priority Habitat Management Area. Western Exploration has re-contoured inactive drill roads and pads, and conducts biannual weed treatments to promote the growth of desirable vegetation in reclaimed areas.
In 2018, the South Sugarloaf Fire engulfed approximately 233,462 acres of land, including those in and around the project area. Most importantly, the successful reclamation of these sites will help limit post-fire weed expansion and encourages a positive vegetation response after a fire.
Newmont USA Limited will receive an award for Abandoned Mines Hazard Mitigation for the Buttes Exploration Project Reclamation in Elko County. In May of 2018, Newmont submitted two notices to the BLM Wells Field Office to conduct exploration in the Delker Mining District, located south of Wells. During a field inspection of the project area, BLM and Newmont identified 16 historical shafts and pits in proximity to their drill sites.
BLM conducted cultural and biological surveys and defined a plan to backfill the shafts while preserving some historical features. Newmont voluntarily backfilled 10 of the mine hazards while reclaiming nearby drill roads and pads after exploration drilling was completed. Additionally, Newmont's drill crew observed the early stages of a wildlands fire in the area. The crew took quick action to suppress the fire, and is credited with preventing the fire from causing much more damage.
Nevada Gold Mines will receive an award for Legacy Remediation and Closure for their work in reclaiming the Butte Canyon Historic Waste Rock Facility in Lander County. The Phoenix Mine is located in the southern Battle Mountain Range in Lander County.
You have free articles remaining.
Many of the Waste Rock Storage Facilities at Phoenix were from past operators and pre-dated current reclamation laws. Butte Canyon was one of these, and had historically produced acid mine drainage which had to be collected and treated.
In 2009, the 200-acre WRSF was sloped, covered with a minimum of five feet of oxide rock and soil, and seeded. Instrumentation that records temperature, moisture, matric potential, O2 content and pressure was installed in the oxide cap and underlying ARD-generating rock. Results have been exceptional. Average ARD flows have been reduced from 4.2 GPM in 2006 to 0.52 GPM in 2018, and the WRSF vegetation now attracts wildlife.
Paramount Gold Nevada will receive an award for Post-Mining Land Use Planning for the Sleeper Mine Pit Lake Water Quality Project in Humboldt County.
B2Gold Corporation will receive an award for Exploration Project Reclamation for their exceptional work at the Rockland Exploration Drilling Project within the Toiyabe National Forest in Lyon County.
Barrick Gold USA will receive an award for Pit Lake Remediation for the Bullfrog Mine Partial Pit Backfill in Nye County.
The goal of the annual State Reclamation Awards is to encourage operators and explorers to submit sound reclamation plans, raise industry standards, and increase public awareness of the positive aspects of mining, and encourage innovation in reclamation techniques.
"This year's award winners met these goals and are to be commended for their efforts," said Rich Perry, administrator of the Nevada Division of Minerals. "By sharing their work efforts with others, the Nevada mining and exploration industries continue to lead the nation in successful reclamation, community partnerships and environmental protection practices."
This is the 28th year of the Nevada Excellence in Mine Reclamation Awards. The awards committee consists of representatives from the Nevada Division of Environmental Protection, the Nevada Department of Wildlife, the Bureau of Land Management, the United State Forest Service and the Division of Minerals.
For more information about submitting an entry or nominating an entity for the award, visit the Division of Minerals website at minerals.nv.gov.