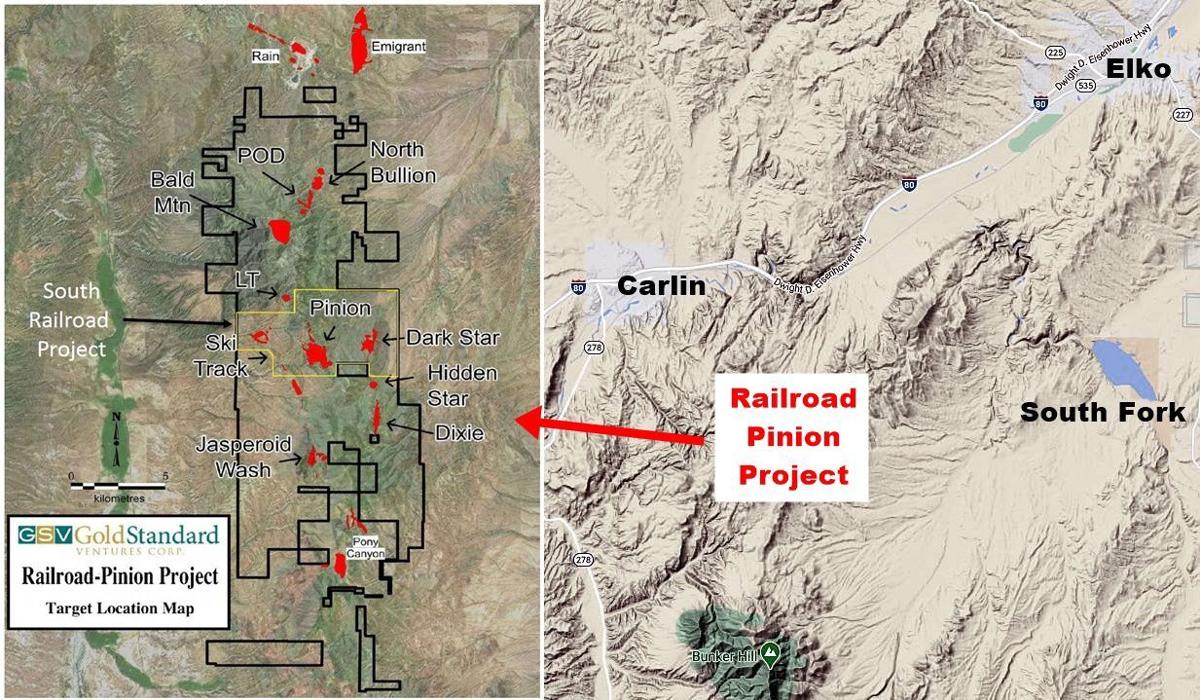 ELKO – Gold Standard Ventures Corp. is seeking federal approval for a new gold mine in Elko County.
The South Railroad Project is east of Highway 278 and south of the Emigrant and Rain mines. It would be an open pit mine roughly 15 miles south of Carlin that would employ 250 people at full production.
The mine would produce 918,000 ounces of gold and 1.04 million ounces of silver over its mine life, according to a fact sheet provided by the company's chief operating officer, Larry Radford. The fact sheet also says that Golden Standard's land package of 51,892 acres is the second largest on the Carlin Trend.
County commissioners have accepted the Bureau of Land Management's invitation to be a cooperating agency in the environmental impact statement process. The BLM's memorandum of understanding with the county is expected to operate for 10 or more years.
Radford said a feasibility study is underway for the heap leach project, and the EIS process should begin soon.
Elko County Resources Manager Curtis Moore told commissioners that becoming part of the EIS process allows the county to "be in at the beginning," instead of proposing changes "after the fact."
Melanie Peterson, field manager of the BLM's Tuscarora Field Office, provided the memorandum of understanding which states that "the county will assist the BLM in responding to substantive comments that are received on the DEIS. If comments on social and economic issues result in changes to the EIS, the county will assist the BLM in reviewing the preliminary final EIS following its receipt from the contractor."
Vancouver-based Gold Standard Ventures reported on March 29 that the pre-feasibility study for the South Railroad Project outlined an eight-year mine life with average gold production of 115,000 ounces per year at all-in sustaining costs of $707 per ounce.
"Gold Standard had another busy year in 2020, outlining an updated PFS for the South Railroad Project, reporting an initial mineral resource estimate at the Lewis Project, partnering with a renowned mine financier in Orion Mine Finance, completing our 2020 drill program focused on adding to existing mineral reserves, and advancing our permitting application in Nevada," the company's president and chief executive officer, Jason Attew, said in the March 29 year-end announcement.
The company also reported that its Virgin Deposit at the Lewis Project near the Phoenix Mine had an initial inferred mineral resource estimate of 205,827 ounces of gold and 3.54 million ounces of silver. The Phoenix Mine in Lander County is south of the Lewis Project.