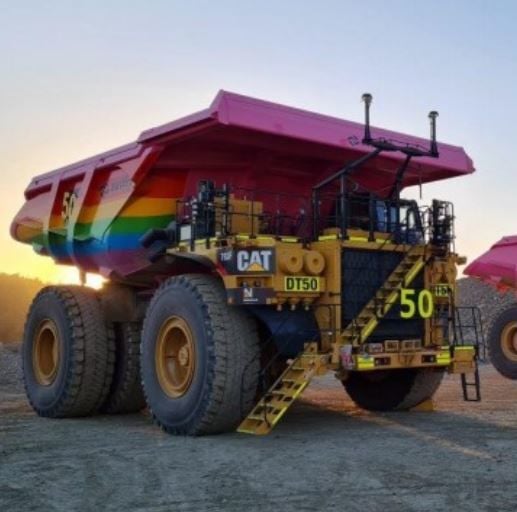 Newmont Corp. posted adjusted net income of $594 million, or 74 cents per share, for the first quarter of this year, up from $326 million, or 40 cents per share, last year and announced first production with its autonomous haul fleet in Australia, but also reported it is suffering COVID-19 impacts.
Newmont President and Chief Executive Officer Tom Palmer said in the April 29 earnings call that there have been 12 COVID-19 deaths at its operations over the past year, and they have had "a profound impact on the entire Newmont family."
The pandemic led to suspension of operations for five days in April at the Musselwhite Mine in Canada, after the March 31 quarter cutoff; temporary closures at Cerro Negro in Argentina in the quarter; and production slowdowns at Yanacocha in Peru.
"South America is most impacted by the virus," Chief Operating Officer Rob Atkinson said. "We do expect impacts for some time until vaccinations are available and administered."
Although adjusted income was up, net income for Newmont was down to $538 million, or 67 cents per share in the first quarter, compared with $837 million in the first quarter of 2020 quarter, because the 2020 quarter's results included gains from the sale of Kalgoorlie in Australia, Red Lake in Canada, and investment holdings in Continental Gold.
Greenwood Village, Colo.-based Newmont also stated that sales volumes were down and income taxes up in the 2021 quarter, partially offset by higher gold prices, while revenue was $2.87 billion, up 11% on higher gold prices for the 2021 quarter.
The average realized gold price in the first quarter of this year was $1,751 per ounce, up from the average gold price in the 2020 quarter of $1,591 an ounce, but the current price is down from the $1,900s per ounce last summer and fall. The price even hit above $2,000 an ounce in August 2020.
The spot gold price on April 29 on the New York Mercantile Exchange was $1,774.10 per ounce shortly before market closure.
Newmont's adjusted earnings of 74 cents per share was under market expectations. The Zacks Consensus Estimate was 75 cents, according to Zacks Equity Research. Reuters reported analysts were predicting 77 cents per share.
Newmont shares on April 29 were at $62.34, down $1.86.
The successful startup of production from autonomous Caterpillar haul trucks at the Boddington Mine may be only the beginning, with Newmont hoping to later run autonomous trucks at open pits mines at other operations.
"We will look to replicate this technology, training and experience at other sites around the globe," Atkinson said, reporting that Boddington is now using eight autonomous trucks but the entire fleet of 36 should be operating later this year.
The trucks haul material continuously, safely, efficiently and reduce carbon emission. Atkinson said that in just six weeks the first trucks moved more than 1 million tons of material.
Newmont's companywide gold production was down 2% at 1.46 million ounces, compared with 1.48 million ounces in the first quarter of last year. Lower mill throughput at Nevada Gold Mines was listed as one of the reasons for the drop. Newmont is 38.5% owner of NGM, which is operated by Barrick Gold Corp. Barrick owns 61.5%.
Newmont's share of NGM production in the first quarter of this year was 303,000 ounces at a cost applicable to sales of $745 per ounce and an all-in sustaining cost of $868 per ounce.
Production from other metals, or gold equivalent production, was down 6% in the quarter to 317,000 ounces mainly because of lower ore grades milled at Penasquito in Mexico, partially offset by higher grades and more ore through the mill at Boddington.
Cost applicable to sales was $752 per ounce, down from $781 per ounce last year, and the all-in sustaining cost was $1,039 per ounce in the first quarter, a little higher than the $1,030 in the first quarter last year.
The company's board of directors also decided on a dividend of 55 cents for the quarter, consistent with the dividend for the last quarter of last year.
"We remain confident in the strength of our business as we invest in our world-class portfolio, strengthening the balance sheet and sustaining our quarterly dividend of 55 cents per share," Palmer said in the earnings announcement.
Newmont said higher sustaining capital costs and higher expenditures for advanced projects were largely offset by the costs applicable to sales. Capital expenditures included money spent as its share of Nevada Gold Mines projects, on the autonomous haulage system at Boddington, expansions at Tanami in Australia, at Yanococha in Peru, Cerro Negro in Argentina and Ahafo in Ghana.
Newmont's earnings report states that its outlook for this year and longer-term assumes operations continue without major COVID-19-related interruptions. The company estimated gold production in 2021 of 6.5 million ounces and the following three years at 6.2 million to 6.7 million ounces. On the fifth year out, 2025, production rises to 6.5 million to 7 million ounces.
With gold equivalent ounces added to the mix, Palmer said Newmont will be producing nearly 8 million ounces a year.
The 2021 outlook for Newmont's share of Nevada Gold Mines is 1.37 million ounces.
Palmer also talked about safety, saying that Newmont remains "focused on proactively eliminating risks that could lead to a fatality and continues to lead the industry with our safety and sustainability practices."
In the teleconference, he said efforts to reduce worker fatigue that can lead to accidents, such as looking at start times and the work roster have paid off, with an 80% reduction in fatigue-related accidents since 2019.
Looking again at COVID-19, Newmont reported the company continues wide-ranging protective measures for workers and their communities, as well as the Newmont Global Community Support Fund to help communities, governments and employees combat the pandemic, with the COVID-19 related costs at $22 million in the first quarter of 2021.
The company reported it distributed $1 million from the fund during the quarter as part of those costs.
Palmer said each of the COVID-19 deaths was investigated to determine what better steps the company could take to prevent cases.
Newmont announced on April 28 that Gregory Boyce was chosen at the annual meeting as the independent chairman of the Newmont board to replace Noreen Doyle, who is retiring. Boyce has been on the board since 2015, when he retired as executive chairman of Peabody Energy Corp.