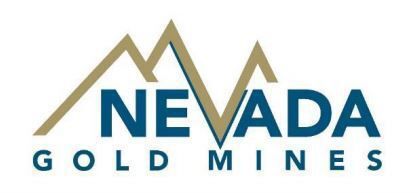 CARSON CITY — Nevada Gold Mines is investing $2.2 million in digital education in partnership with Discovery Education and the Nevada Department of Education.
The two-year partnership will ensure public school educators and students statewide receive access to Discovery Education Experience, the award-winning, flexible K-12 platform that keeps students connected to learning whether at home or at school. Discovery Education is a global leader in standards-based, high-quality digital curriculum resources for K-12 classrooms.
"In a time of big changes for education, Nevada Gold Mines is here to support the students of today through engaging and informative resources that prepare them for the opportunities of tomorrow," NGM Executive Managing Director Greg Walker said.
"With this $2.2 million investment in Nevada's K-12 education, we know that together we can come through this challenging time even stronger," he added.
Discovery Education Experience provides compelling content, ready-to-use digital lessons, unique collaboration tools, and professional learning resources that give educators everything they need to create lasting educational impact. In addition, K-12 students will receive access to dynamic career resources developed by Discovery Education in collaboration with Nevada Gold Mines. These career resources will include hands-on experiences for students and their families that support the exploration of careers in Science, Technology, Engineering, and Math (STEM) fields.
"We are grateful for the support of community partners who understand that investing in education is the key to making Nevada a better place to learn, work, and live," Jhone Ebert, state superintendent of public instruction, said. "This investment continues to build the Nevada Digital Learning Collaborative suite of resources and ensures access to high-quality content for students, educators, and families in every part of our State."
In July 2020, the Nevada Department of Education announced the initial agreement to make Discovery Education Experience accessible to educators, students, and families across the State in a news release.
Nevada Gold Mines, which is operated by Barrick Gold Corp., directly invests in social and economic opportunities including education, the environment, health, economic development, and cultural heritage. Additionally, Nevada Gold Mines is committed to educational equity in Nevada by providing access to high-quality instructional materials to all students across the state.
"At Discovery Education, we know that accessibility is an important part of delivering equity in education, Coni Rechner of Discovery Education said. "Building upon the Nevada Department of Education's investment in high-quality instructional material through Discovery Education Experience, the support from Nevada Gold Mines means more young minds will meet more opportunities.