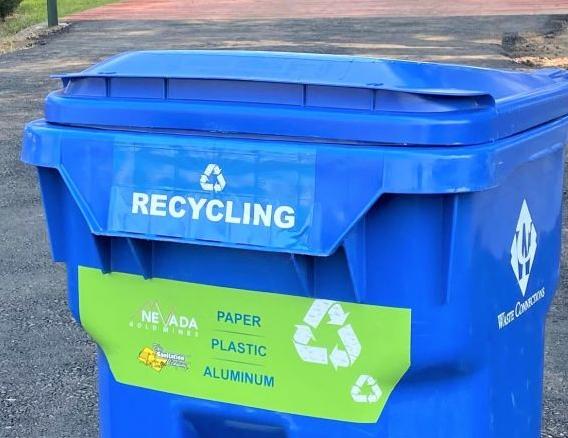 Recycling is available at the Elko County Fair for the first time this year through a partnership with Nevada Gold Mines and Elko Sanitation.
Fair-goers can dispose of their paper, plastic and aluminum waste in one of 30 single-stream recycling bins labeled with recycling stickers placed around the fairgrounds through Sept. 6.
NGM is a joint venture between Barrick Gold Corp. and Newmont Corp. that formed in 2019 to form the largest gold mining complex in the world. Barrick operates NGM and owns 61.5%, and Newmont 38.5%.
"NGM is committed to responsible waste management, in-line with expectations set out in our Environmental Policy, we aim to minimize the amount of waste we produce, and we apply the 'avoid, reduce, re-use, and recycle' hierarchy to our non-mine waste," NGM wrote in an email. "We also plan to help raise awareness of responsible waste management to our local communities more and more."
The mining company also has been working with Elko Sanitation to provide recycling at its Elko office since August 2020 and Elko warehouse since April 2021. NGM employs about 7,000 people across the region.
NGM recycles waste generated by its northeastern Nevada mining operations. In 2020, the company recycled more than 3.75 million pounds of materials including steel, iron, tin, copper, brass and other metals, NGM reported.
"We also recycled about 10 tons of electronic waste, 40 tons of cardboard and almost 200 tons of used conveyor belting," NGM wrote.
A 2019 study through the University of Nevada, Reno, sponsored by NGM, determined that a communitywide recycling program was not practical in the Elko area without private subsidies.
"Although the results of the study showed that a community wide recycling program isn't viable at this time, at NGM we are committed to reducing our carbon footprint where possible which is why we developed our company-wide recycling program in August 2020," NGM wrote. "The fair presented a unique opportunity to process a high volume of recycling materials in a short amount of time while also encouraging the community to be environmentally conscious and recycle."
Elko Sanitation did not immediately respond to request for comment.