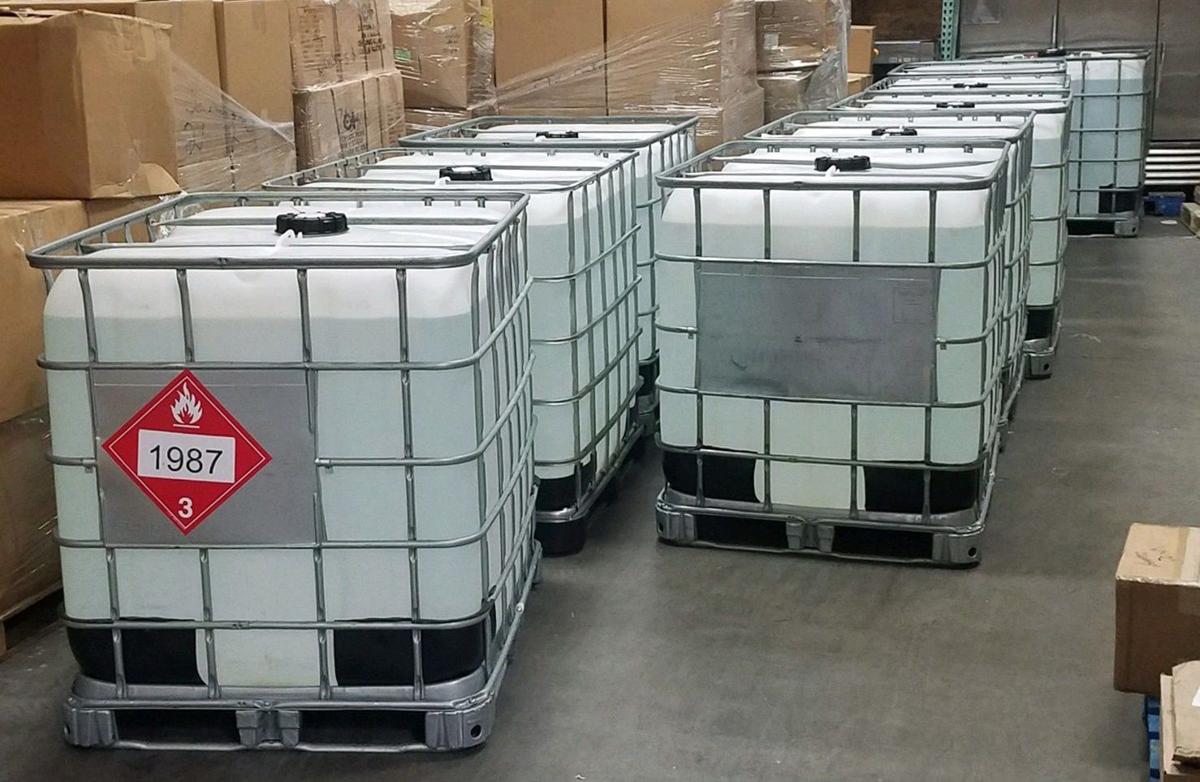 Hand sanitizer produced in a whiskey distillery in Kentucky was making its way to Elko for distribution to rural Nevada communities in early May, with the first stop in Carson City where prisoners repackaged the 2,500 gallons.
Elko Mining Group donated the certified sanitizer in conjunction with Waterton Global Resource Management, which provided Elko Mining group with a portion of the sanitizer. IJW Whiskey Co. produced the sanitizer. The Elko Mining Group is a portfolio company of Waterton.
"We got the first 2,500 gallons," Debbie Lassister, executive director of environmental affairs for Elko Mining Group, said on April 24. "It was really a nice surprise."
Certain executives at Elko Mining Group and Waterton Global have connections in the Kentucky bourbon industry and used these contacts to buy the hand sanitizer, according to the companies.
Waterton, a Canadian company, also gave Elko Mining Group the green light to donate $250,000 in Nevada, including to rural communities where the group has projects, especially in Esmeralda and Nye counties.
"We're seeing extreme need from under-served communities," Lassister said especially of food banks that need money. "Anybody who can help should do so."
Elko Mining Group worked with Jeff Haag at the Nevada Department of Health and Human Services for routing the hand sanitizer, and Lassister said the state is doing a "remarkable job" organizing and getting help to where it is needed.
Hagg said the hand sanitizer will be repackaged by Nevada Prison Industries in Carson City into 10-ounce and 12-ounce bottles and one-gallon jugs and is at least temporarily stopping its own production of hand sanitizer to do the packaging.
"We are really grateful to the Elko Mining Group for the 2,500 gallons of hand sanitizer," said Hagg, who leads the logistics task force for PPE needs under the Nevada Department of Emergency Management, as well working his regular job as deputy administrator for aging and disability services for the state Department of Health and Human Services.
He said there has been good cooperation and an "unprecedented response" among the state and local entities and the private sector during the coronavirus pandemic.
Lassiter said it was Haag's decision to send sanitizer to the Elko center, and Elko Mining Group was pleased to see it go to an area where the company used to have property – the Hollister underground mine in Elko County that has since changed hands a couple of times and is now owned by Hecla Mining.
Out of the $250,000 in donation money Elko Mining Group distributed, $100,000 went as small business grant to the Southwest Central Regional Economic Development Authority that is in turn distributing money to businesses in Esmeralda and Nye counties, Lassiter said.
She said Kinross Gold Corp.'s Round Mountain Mine is providing $100,000 in funding to the authority for Nye County and Austin in Lander County so Elko Mining Group decided to use the same system, which has the framework in place to distribute $1,000 to $5,000 to businesses.
Paul Miller, executive director of the development authority, said the $200,000 "is going out the door to northern Nye County and Esmeralda County, as well, and we will finish the work on Monday. It's been just a disaster for these rural communities."
He said the donations "are survival money for the small businesses for rent, utilities and paying employees."
Kinross Round Mountain reported the company partnered with the development authority to develop a simplified revolving loan fund for businesses in northern Nye, Esmeralda and southern Lander counties that have been affected by COVID-19 and were identified as part of Round Mountain's footprint area.
"At Round Mountain, we recognize the importance of small businesses to the well-being of our host communities and are pleased to provide our support during these challenging times," Kinross Round Mountain Vice President and General Manager Neil Jensen said in an April 17 news release.
Lassiter said in rounded figures beyond the $100,000 to the development authority, $50,000 is going to Esmeralda County for food assistance, and $25,000 is going to the Nevada Fund to help with the needs of front-line health workers. Another $25,000 is going to the Northern Nevada Food Bank, and Elko Mining Group also gave $5,000 to Wellman Upholstery in Washoe County, which is making masks.
She said $10,000 also went to Consolidated Agencies for Human Services in Mineral County for food banks and other needs, and $28,000 went out of state to Kingman, Arizona, where Elko Mining Group manages the Mineral Park copper mine. Lassiter said the food bank in Kingman was on the edge of shutting down.
Elko Mining Group's current projects in Nevada include the Ruby Hill Mine at Eureka, the Gemfield Project in Esmeralda County near the town of Goldfield, the Borealis Mine in Mineral County, the Spring Valley Project in Pershing County, the Reward Project in Nye County and the closed Pinson Mine in Humboldt County.
The Gemfield Project two miles from the historic mining town of Goldfield in Esmeralda County is planned as an open pit gold mine, and the company has already moved two and a half miles of U.S. 95 to make way for the operations. Currently, the company is working on detailed engineering for the fully permitted project and working with the community to prepare for the mine, Lassister said.
The company's office is now in Reno, but Elko Mining Group had an office in Elko when it owned Hollister and the Aurora Mine in Esmeralda County.
Lassiter said Elko Mining Group employees are working from home where possible and those at project sites are following COVID-19 restrictions.