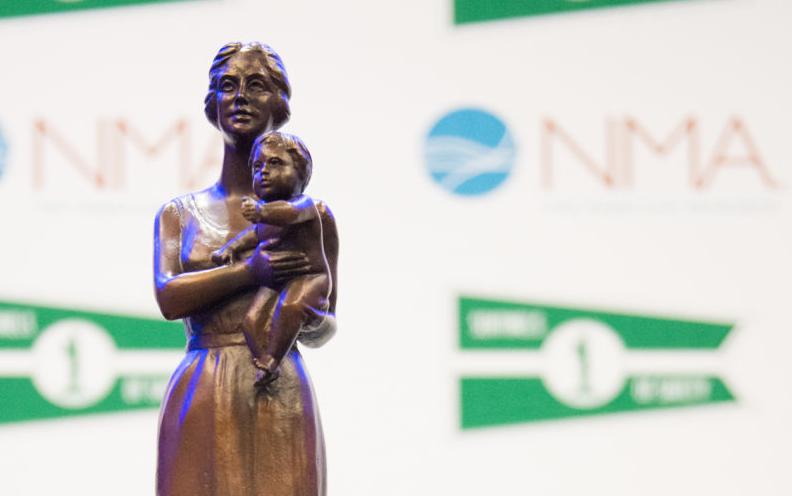 Forty American mining operations including 12 coal mines and 28 mineral or metal mines —with two 2020 honorees from Nevada — were recognized with a National Mining Association Sentinels of Safety Award during a ceremony at MINExpo International in Las Vegas on Sept. 14.
The Sentinels of Safety awards recognize coal and mineral mining operations in 10 categories for recording the most hours in a calendar year without a single lost-time injury. They are awarded annually to the nation's safest mines with a minimum of 4,000 injury-free hours.
The awards were initiated in 1925 by then-Commerce Secretary Herbert Hoover, a mining engineer who became president, and remain the nation's most prestigious awards recognizing mining safety.
"We are pleased to be able to come together once again in-person to celebrate these great accomplishments in safety," said Rich Nolan, NMA president and CEO. "The Sentinels of Safety Award acknowledges outstanding achievements in safety and, if ever there were a time to do so, it is now. When the pandemic hit, many industries shut down or stayed home. But the demand for mined materials for virtually every global supply chain never stopped and our nation's miners remained focus on delivering for every American. The industry has come together to double-down on our safety efforts, learn about and discuss best practices with each other, and keep our miners as safe as possible throughout this pandemic; there is a great deal to celebrate in those efforts."
Recipients for 2020 include the following:
Large Group CategoryLarge Coal Processing, No. 7 Mine, Warrior Met Coal, Inc. Brookwood, Alabama
Large Metal/Nonmetal Mill, Freeport-McMoRan Chino Mines Company, Freeport-McMoRan Inc. Bayard, New Mexico
Large Surface Coal, San Miguel Lignite Mine, NACG Texas, Inc. Christine, Texas
Large Underground Coal, Century Mine, Belmont County Coal Resources, Inc. Beallsville, Ohio
Large Underground Metal, Cortez District, Nevada Gold Mines LLC, Crescent Valley, Nevada
Large Bank or Pit, Tabasco Pit, Upper Valley Materials, LLC Penitas, Texas
Large Dredge, Briggs Plant, Fordyce Holdings Inc. Victoria, Texas
Large Open Pit, Goldstrike Mine, Nevada Gold Mines LLC, Carlin, Nevada
Large Quarry, Pennsuco Quarry, Titan Florida LLC Medley, Florida
Large Underground Nonmetal, Intrepid Potash – East, Intrepid Potash – New Mexico, LLC Carlsbad, New Mexico
Small Group CategorySmall Coal Processing, Buckskin Mine, Buckskin Mining Company Gillette, Wyoming
Small Underground Metal, Eagle Mine, Eagle Mine, LLC Champion, Michigan
Small Bank or Pit, Odessa Sand, Stone, Gravel, Lavette Development Corp. Ithaca, New York
Small Dredge, Riverside Plant #11, Holliday Sand & Gravel Lenexa, Kansas
Small Metal/Nonmetal Mill, Carmeuse – Portage Operation, O-N Minerals Portage Company, LLC Portage, Indiana
Small Open Pit, L R Chapman Inc., L R Chapman Inc. Lewisport, Kentucky
Small Quarry, Yard 99 – Ashkum, VCNA Prairie LLC Ashkum, Illinois
Small Surface Coal, Barrackville Refuse Pile, LP Mineral LLC Barrackville, West Virginia
Small Underground Coal, Genesis Mine, Kentucky Land Resources, Inc., Centertown, Kentucky
Small Underground Nonmetal, Rich Hill Underground Mine & Plant, Hanson Aggregates Pennsylvania LLC Connellsville, Pennsylvania
Last year's ceremony was postponed due to the pandemic; winners were recognized at this year's event. Winners from 2019 were:
Large Group CategoryLarge Surface Coal, Kosse Strip, Luminant Mining Company, Kosse, Texas
Large Coal Processing, MC #1 Mine, M-Class Mining LLC Franklin County, Illinois
Large Metal/Nonmetal Mill, North Shore Mining Company, North Shore Mining Company Silver Bay, Minnesota
Large Underground Coal, Leer Mine, ACI Tygart Valley, LLC Grafton, West Virginia
Large Underground Metal, Cortez District Underground, Nevada Gold Mines LLC, Crescent Valley, Nevada
Large Bank or Pit, Vista Sand, Vista Proppants & Logistics Granbury, Texas
Large Dredge, Briggs Plant, Fordyce Holdings Victoria, Texas
Large Open Pit, Boron Operations, US Borax, Inc. Boron, California
Large Quarry, Tower Rock Stone – St. Genevieve FA, Tower Rock Stone Company, Sainte Genevieve, Missouri
Large Underground Nonmetal, Mississippi Lime Company – St. Genevieve, Mississippi Lime Co. Sainte Genevieve, Missouri
Small Group CategorySmall Surface Coal, Highwall Miner #1, Ramaco Resources LLC, Verner, West Virginia
Small Coal Processing, Black Thunder, Thunder Basin Coal Company LLC, Wright, Wyoming
Small Underground Metal, Eagle Mine, Eagle Mine LLC Champion, Michigan
Small Bank or Pit, U.S. Aggregates – Swisher Plant, Heritage Aggregate LLC Indianapolis, Indiana
Small Dredge, Tarburton Pit, Pennsy Supply Inc. Kent, Delaware
Small Metal/Nonmetal Mill, Chattanooga Quarry, Martin Marietta Materials Chattanooga, Tennessee
Small Open Pit, Edgar Minerals Inc., Edgar Minerals Inc. Hawthorne, Florida
Small Quarry, Kinkaid Stone Company, Kinkaid Stone Company Ava, Illinois
Small Underground Coal, Access Energy, Deane Mining LLC Deane, Kentucky
Small Underground Nonmetal, Springfield Pike Mine & Plant, Hanson Aggregates Pennsylvania LLC, Connellsville, Pennsylvania
"When the pandemic hit, many industries shut down or stayed home. But the demand for mined materials for virtually every global supply chain never stopped and our nation's miners remained focus on delivering for every American."

Rich Nolan, National Mining Association president and CEO