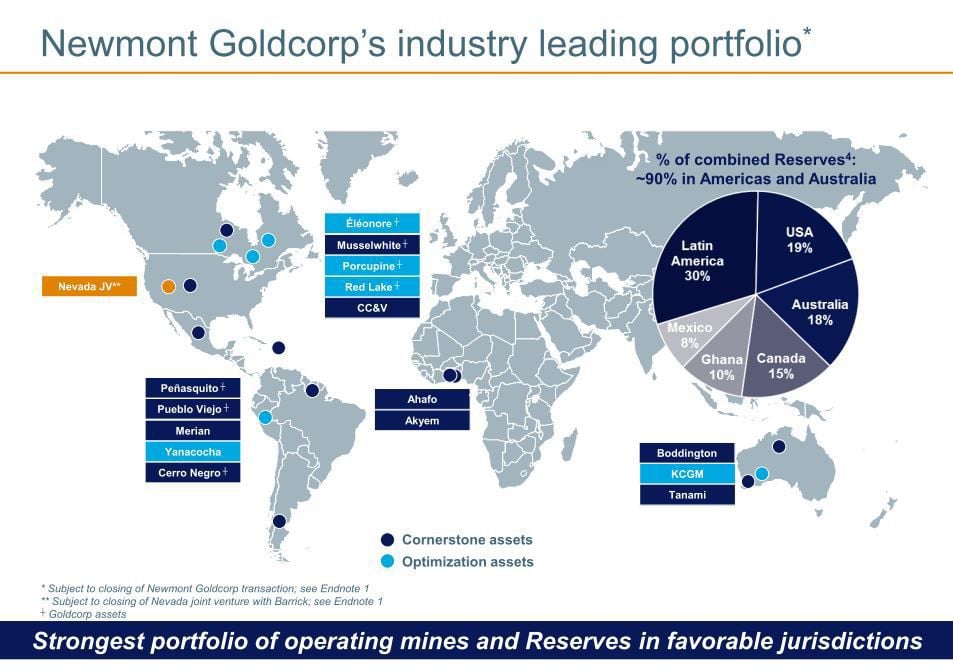 Newmont Mining Corp. courted shareholders this week with a special dividend aimed at the proposed merger with Goldcorp Inc., and Newmont showed new confidence in the merger with recommendations from two advisory firms and an announcement naming the after-merger executives.
Newmont announced March 27 that Glass, Lewis & Co. is the second independent proxy advisory firm to recommend that Newmont and Goldcorp shareholders vote for the merger. Institutional Shareholder Services Inc. also is recommending the merger.
"We are pleased with all the support we continue to receive for the Newmont Goldcorp combination, including from our shareholders and independent proxy firms, such as ISS and Glass Lewis," said Newmont Chief Executive Officer Gary Goldberg.
Glass Lewis stated in its report that the "rationale and potential benefits of the Newmont-Goldcorp combination are fairly clear and compelling for shareholders of both companies."
Newmont's board declared a one-time dividend of 88 cents per share to Newmont shareholders of record as of April 17, conditional on merger approval at Goldcorp's shareholder meeting on April 4 and Newmont's shareholder meeting on April 11. Goldcorp announced its support for the dividend, which would be paid May 1.
The dividend helped boost investor support for the roughly $10 billion deal after earlier concerns that Goldcorp shareholders stood to gain too much from the merger.
"Yes, we are receiving very positive feedback from our largest, longstanding shareholders," Newmont's group executive for corporate communications, Omar Jabara, said in a March 27 email.
Two major investors, Paulson & Co. and Van Eck International Investors, now support the merger, according to Bloomberg.
Newmont shares closed on March 27 at $35.71, up 15 cents. Goldcorp shares closed at $11.40, up 5 cents.
Newmont and Goldcorp expect the deal to close in the second quarter of this year, if shareholders of both companies approve.
"Going forward, Newmont Goldcorp will maintain its focus on the success and continuity of our business through strategic leadership development, building high performing teams and robust succession planning," Tom Palmer, Newmont's current president and chief operating officer, said in a news release.
Newmont continued to push for the Goldcorp merger even as Barrick Gold Corp. tried a takeover of Newmont. Colorado-based Newmont and Toronto-based Barrick later moved beyond their merger battle to agree to a joint venture for Nevada operations.
Goldberg said in the March 25 announcement of the 88-cent dividend that "we are pleased to make this special dividend payable to Newmont's current shareholders in recognition of the potential synergy value of the Nevada joint venture agreement."
Under the joint venture, Barrick will be the operator. Ownership will be 61.5 percent Barrick and 38.5 percent Newmont, with equal representation on an advisory board. The companies estimated roughly $500 million in annual synergies in the joint venture.
The joint venture covers the Nevada mines, but Jabara said the Cripple Creek & Victor gold mine in Colorado "will remain part of Newmont's and Newmont Goldcorp's North America region" rather than be included in the joint venture.
The Newmont-Goldcorp merger is still expected to create the world's largest gold producer because the joint venture in Nevada will continue to net gold for Newmont, along with all the other Newmont and Goldcorp mines. Barrick merged with Randgold Resources on Jan. 1 and is the largest gold producer at this point.
After the Barrick-Newmont deal was announced, the Newmont-Goldcorp merger plan ran into a snag with investors when Goldcorp Chairman Ian Tefler's reported retirement compensation surged.
According to a regulatory filing, Tefler's retirement allowance will be roughly $12 million if Newmont and Goldcorp merge, up from an earlier $4.5 million. Bloomberg reports stated that investors were unhappy about the new figure.
"Regarding the compensation issue on the Goldcorp side, that is a matter for Goldcorp and their board of directors because until the deal closes (which we expect in the second quarter), we still operate as two separate companies with two separate boards of directors," Jabara wrote.
Tefler also announced earlier this month he wouldn't be joining the new Newmont Goldcorp board as originally planned.
"I am excited about the creation of the world's premier gold mining company, Newmont Goldcorp, and appreciate Newmont's support in my decision to not join the board, as they have supported all the agreements that have brought this merger today," Tefler said in a March 13 statement.
Newmont has mines and ranches in Nevada, a mine in Colorado and mines in Peru, Australia, Ghana and Suriname. Goldcorp has mines in Canada, Argentina, and Mexico and a joint venture with Barrick in the Dominican Republic. Goldcorp also has development joint venture with Barrick in Chile.
Newmont Goldcorp executives
The March 26 announcement of executives for the planned Newmont Goldcorp stated that Goldberg, who has been CEO since 2013, is slated to continue as CEO through the fourth quarter of this year. Earlier reports stated he plans to retire.
Palmer becomes president of the new company effective June 1. Palmer came to Newmont in 2014 and headed the company's Asian Pacific region before his promotion to president and COO. Earlier, he worked for Rio Tino.
All the executives named are current Newmont executives, with some receiving promotions. Jabara said there have been a couple of Goldcorp appointments, however, to the senior vice president level who would report to the COO effective June 1.
Rob Atkinson would become executive vice president and COO. He comes from Rio Tinto, where he was head of productivity and technical support.
Nancy Buese would be executive vice president and chief financial officer. She has held that position with Newmont since 2016.
Jennifer Cmil would become executive vice president of human resources in the fourth quarter. She is vice president of talent management for Newmont now.
Randy Engel would continue as executive vice president of strategic development. He has held that post with Newmont since 2008.
Dean Gehring would become executive vice president and chief technology officer effective June 1. He is currently senior vice president for South America.
Steve Gottesfeld would become executive vice president and chief sustainability and external affairs officer. He has been with Newmont since 1997 and is now executive vice president and general counsel.
Nancy Lipson will become executive vice president and general counsel effective June 1. She is now deputy general counsel and has been with Newmont since 2005.
Marcelo Godoy will continue as senior vice president of exploration. He has been with Newmont since 2012.