Top 10 mining stories of Q3 2018
Women influencers tour Turquoise Ridge
GOLCONDA — Questions abounded as a group of 18 Nevada women stepped onto a level 1,715 feet underground at the Turquoise Ridge Joint Venture gold mine this fall.
How long did it take to build the mine? How much power does the mine use? How much equipment does it take to operate? How do you identify an area to mine? How much does the mine produce in a day? What education do you need to work in a mine?
Those inquiries and more highlighted the tour for Nevada's women influencers, hosted by the Nevada Mining Association and Barrick Gold Corp. More than half of the women had never before set foot in an underground mine.
"It's very difficult to anticipate what it would be like," said first-time mine visitor Diane Fearon, chairwoman of the Nevada Commission for Women. She said appreciated the hosts' attention to detail and not being pampered.
The day before, the participants converged in Winnemucca from their bases in mostly Reno, Carson and Las Vegas. They are leaders in their fields who received a special invitation from the NvMA and Barrick to visit the underground gold mine.
The tour for women influencers launched last year because Dana Bennett — NvMA president and first woman leader of the association in its more than 100-year history — recognized the need to educate the public about the state's mining industry.
This year's roster included Clara Andriola, executive director of the Reno Rodeo Foundation; Kristen Averyt, president of the Desert Research Institute; Linda Bisset, senior government affairs executive for NV Energy; Jolie Brislin, regional director of the Anti-Defamation League; Nancy Brune, executive director of the Kenny Guinn Center for Policy Priorities; Christi Cakiroglu, executive director of Keep Truckee Meadows Beautiful; Denise Castle, executive director of JOIN Inc.; Kathleen Conaboy, senior vice president of museum advancement for the Nevada Museum of Art; Tiffany East, principal of East Public relations and member of the Nevada Board of Wildlife Commissioners; Karin Hilgersom, president of Truckee Meadows Community College; Ann Silver, CEO of the Reno-Sparks Chamber of Commerce; Jodi Tyson, vice president of Three Square Food Bank; Karen Wyman, CEO of Wyman and Associates; and Missy Young, chief information officer for Switch.
"Our role is to make [women leaders] the rule or the norm," said Rebecca Darling, director of corporate social responsibility for Barrick USA.
At the mine site, Darling primed the group for their experience by explaining that Barrick operates the Turquoise Ridge mine through a joint venture with Newmont. Barrick also operates two other major mines in the state, Goldstrike and Cortez, and aims to be in Nevada 100 years more. The company recently announced adding 20 years to Turquoise Ridge's mine life by initiating construction on a third shaft, which will be the deepest in Nevada.
John McCurry, Lori McCurry, Donna Sanchez, Leo Sanchez and Sy Villajos, all of Barrick, served as the day's tour guides. They ensured the group's safety, fielded ongoing questions and described operations.
"When you get down here and see the conditions and the lifestyle, you will wonder why anyone would do it," said John McCurry.
He escorted half the group underground in the open truck bed of a Ford adapted for the mine. McCurry explained in route that mining jobs also pay high wages and provide generous bonuses.
The first stops on the tour were to visit two underground miners. Driller Terryn Cassar showed how he prepares rock for explosives. Bolter Fermin Solis demonstrated how inserting bolts helps secure rock surfaces.
Averyt asked many tons of ore is removed from the mine each day. The answer is about 2,300. She took out her phone to calculate the value of production at 0.4 ounces per ton at an average gold price of $1,200 an ounce. Her eyes widened under her hard hat when she reached the conclusion: $1.1 million a day in gold is produced from this one mine alone.
Other questions: How many bits does a driller goes through in a day? (Two or three) How many people are underground at once? (100 during the day and 60 at night) Is there gold in these rocks?
Bennett explained that most of the gold in Nevada is microscopic and that visible gold is now rare. "It's so sophisticated and complex and intelligent," she said of the industry.
They also asked about what they sensed in the unfamiliar environment, like the clanking of a sump pump, the changes in temperature and humidity levels, and the roar of haul trucks driving in a neighboring drift.
In the underground mechanic shop, the visitors ogled the large-scale tools, tires and trucks and marveled at its cleanliness and organization.
Young asked what training mechanics must receive to work at Barrick. The company partners with Great Basin College to advance the trades, including diesel mechanics, and fill jobs at the mines, Lori McCurry said. On-the-job training and access to special courses also advance mechanics in their careers.
While walking through the mechanic shop, Conaboy commented that arts education is still important to careers in science, technology, engineering and math. Mining engineers, for example, need to find creative solutions to problems, she said.
There is a finesse required to operate a bolter. "You almost have to be an artist to run this machine," Leo Sanchez said.
At the conclusion of the event, Darling described Barrick's safety culture, economic impact, reclamation methods and approach to corporate social responsibility. She explained how Barrick is shifting its focus from philanthropic giving to making investments in the communities where it operates so that those communities are resilient in the long term.
One of the final questions of the day was what these women influencers could do for Barrick. The answer, Darling said, was to spread the word that mining companies create jobs and operate responsibly while providing society with the resources it demands.
John McCurry commended the group for their curiosity. "Thank you," he said. "Very good tour group. Very enthusiastic."
Lithium Nevada to invest $1B-plus in Humboldt County mine
OROVADA —Reno-based Lithium Nevada Corp. is preparing to invest $1.7 billion into the development of a "world-class lithium project" near Orovada that will feature a first-of-its-kind processing plant in the state.
The company, a wholly owned subsidiary of Lithium Americas Corp. in Vancouver, plans to apply advanced technology to extract lithium from clay at the Thacker Pass Project in Humboldt County.
Permitting began in mid-September. Pending approvals, construction could begin in 2020, and the mine could be commissioned in 2022.
"We're cruising right along, and we're still on our time schedule," said Melissa Boerst, a geologist for Lithium Nevada who has been on the project since 2016. "It's a lot, and it's fast."
During construction, the company anticipates creating up to 800 jobs; once the mine is in operation, more than 290 jobs could be maintained on the site. Combined, Lithium Nevada and Lithium Americas have only about 16 employees now.
"We want to provide jobs for those who are qualified," said Tim Crowley, vice president of government affairs and community relations for Lithium Nevada and partner with Crowley & Ferrato Public Affairs. "We're going to be a neighborhood mine."
Demand
Interest in lithium has spiked since demand skyrocketed with the increased development of battery products that require the soft, whitish-silver metal. Trending products that use lithium include electric cars and Tesla's Powerwall home battery.
"Right now, the future is really bright for lithium," Crowley said. "The potential to expand in transportation is huge, and then it is in every other electric appliance."
Current producers have the capacity to fulfill only a fraction of the world's demand for lithium, Crowley said, and Tesla's needs represent only a small percentage of the global market. The void in production created opportunities for the formation of companies wanting to capitalize on demand.
Lithium Americas merged with Western Lithium a few years ago to create Lithium Nevada. After the merger, the company focused on the exploration of its properties with extensive mineral rights. The team identified the Thacker Pass Project as having immense potential.
"Right now, we are the largest clay lithium stone deposit on the planet," Crowley said.
Deposit Thacker Pass is expected to have a 46-year mine life. The concentrations of lithium at 2,000 to 8,000 parts per million "are quite high, Crowley said. "It's really an attractive ore body."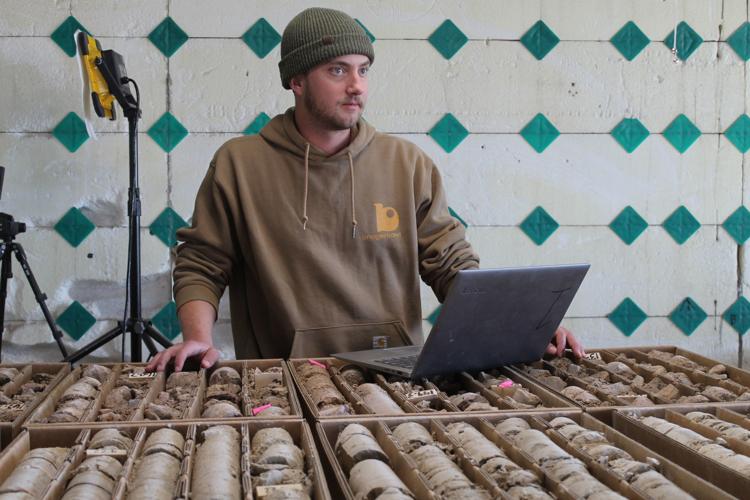 Long ago, lithium was deposited between the Double H Mountains to the south and the Montana Mountains to the north, explained Boerst, a University of Wisconsin-Eau Claire graduate.
Chevron USA provided the first lithium resource estimate during its uranium exploration efforts there in the late 1970s and early 1980s.
The area used to be filled with water, and today, dark-colored and carbon-rich sedimentary clay hosts the element.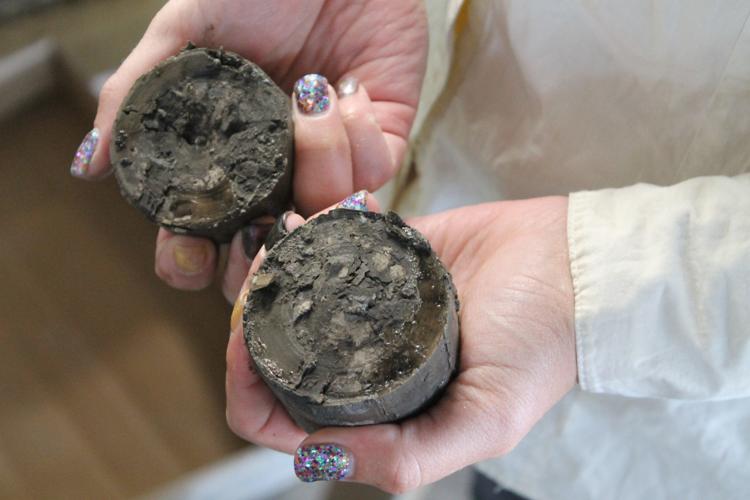 "Seventeen million years ago, this looked like Yellowstone," she said, driving down Highway 293 on the southern end of the dusty McDermitt Caldera on Sept. 13.
The Thacker Pass Project is on Bureau of Land Management land in Humboldt County near the Oregon border, but the company owns the nearby Rancho Lithia. The ranch, where Boerst lives, provides warehouse and shop space, and water rights.
Processing Because of the host rock, the site will look different than a precious metals mine. Lithium Nevada does not plan to mine on the mountainsides, potentially sensitive areas for wildlife. The pit is slated to be only 300-400 feet deep.
"To Nevada standards, it's going to be super shallow," Boerst said.
Mining will be relatively easy. The soft clay containing lithium can be removed with a machine called a continuous miner that resembles those used to remove asphalt, Crowley explained. Not much blasting will be required.
"We found we didn't have to work as hard," Crowley said.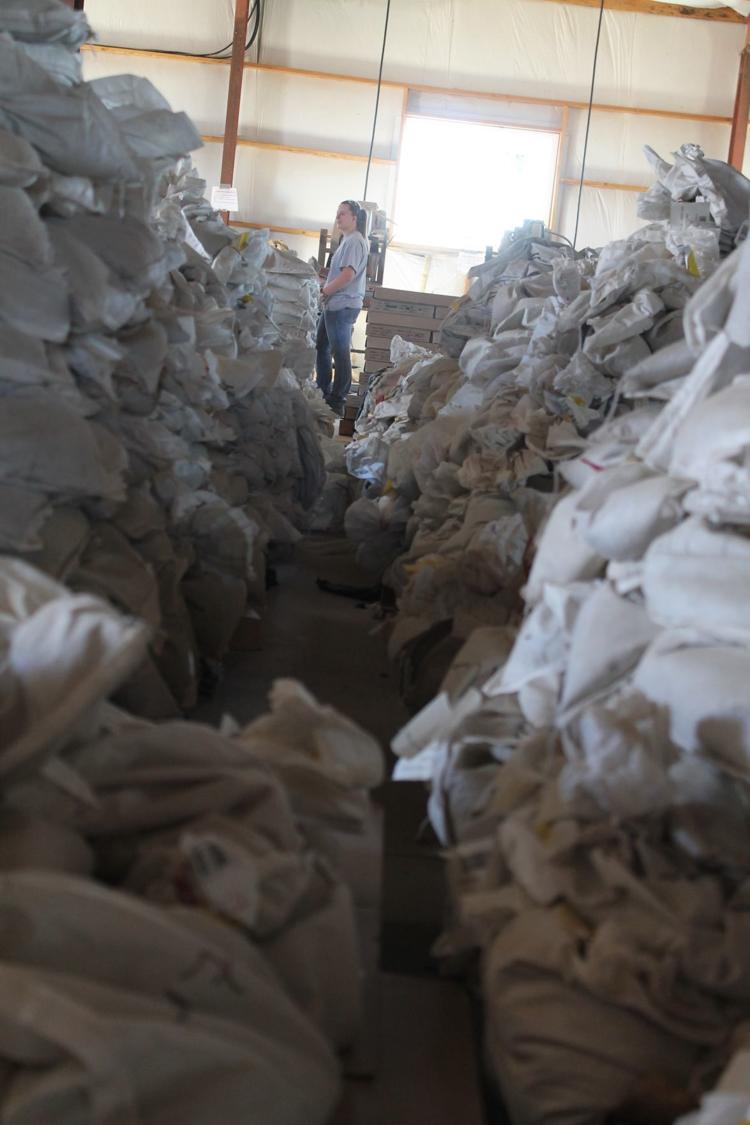 Expertise will be needed for processing lithium in the on-site plant because the company is extracting lithium from a clay deposit rather than the more common method of taking the element out of brine. Silver Peak Nevada in Esmeralda County mines lithium from brine and forms concentrate using evaporation.
"Clays are, we thought, rarer," Crowley said, explaining that the attractiveness of lithium in the market has prompted others to pursue lithium in clay deposits, as well. "It's a rare way of getting it done."
Aspects of the planned process have been adapted from the phosphate industry. The expert designing the Thacker Pass plant is a University of Nevada, Reno, graduate with experience in phosphate processing, Crowley said.
Trucks will haul ore to a conveyer that delivers it to the processing facility. The material is sized then acid leached. The result is lithium carbonate.
"It's cool to be part of something new," Boerst said. "It's cool to be part of a team that is finding a new way to extract metal."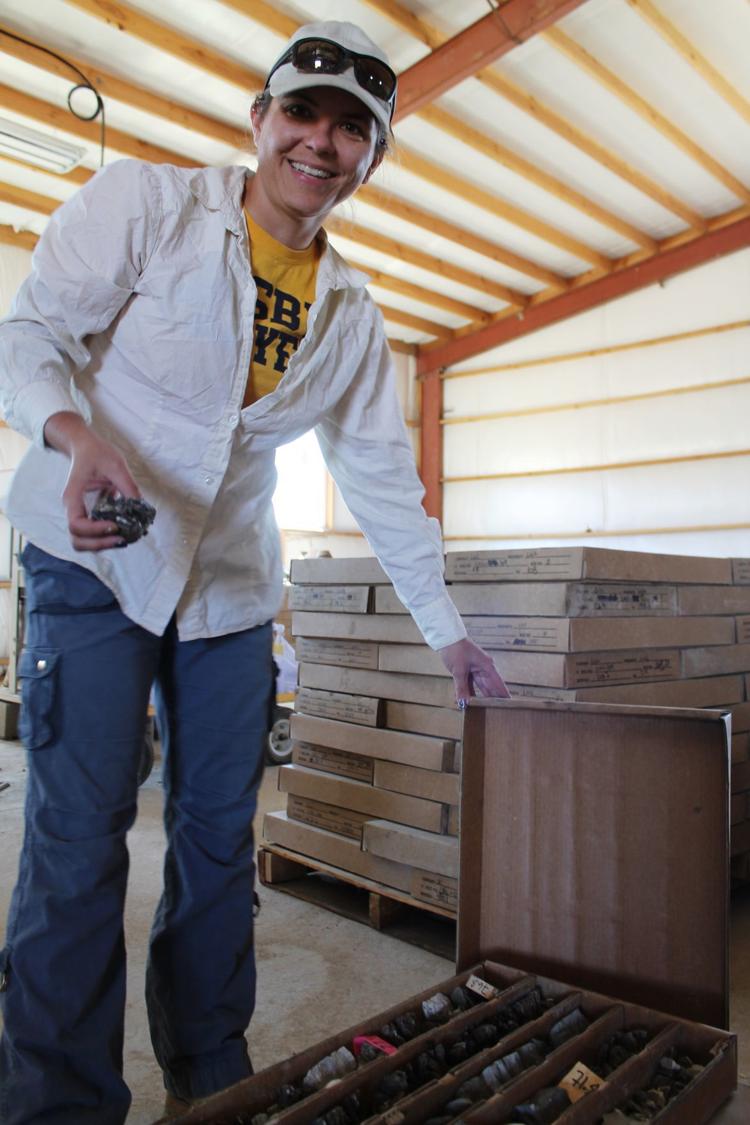 Results The process creates steam that will be used in a co-generation facility to generate electricity to power the site and to be sold into the grid through Harmon Electric Cooperative, which serves the area. Phase I of the co-generation plant will have the capacity to produce 35 megawatts; phase II, 80 MW.
Another byproduct of processing will be sulfuric acid. Any access will be sold to the market.
"The acid plant will be the cleanest, most efficient on the planet at that time," Crowley said.
Dry stack tailings will help reduce water consumption, required land area and environmental liability.
Investment The mine will be developed in phases, with a $580 investment planned for the first phase, and $470 million for the second. Lithium Nevada has already spent $1.6 million on exploration drilling and $5 million in environmental baseline studies and ongoing monitoring. Lithium Nevada expects to pay $6.7 billion in federal taxes over the 46-year mine life.
"Those numbers are really important because it puts everything in perspective," Crowley said.
Franco-Nevada grows but still tied to Nevada
Franco-Nevada Corp. is worldwide, but the company still has royalties on gold produced at major mines in Nevada.
"Nevada is our middle name," said Franco-Nevada CEO David Harquail, who described Nevada's mining industry as "rock solid. It's been the bedrock of the gold industry. You can make mines in Nevada you can't anywhere else."
He predicts Nevada will continue to be a preferred jurisdiction for the industry. Harquail pointed to Barrick Gold Corp.'s Goldrush and Fourmile projects and Newmont Mining Corp.'s operations as examples of why Nevada will still be a mining stronghold.
Franco-Nevada doesn't have royalties or assets tied with Barrick's latest projects, but the company does have a royalty on the South Arturo Mine Barrick operates near the Goldstrike Mine north of Carlin. Barrick is 60 percent owner of South Arturo, and Premier Gold Mines Ltd. owns 40 percent.
The Phase I open pit project and the El Nino underground project at South Arturo are slated to begin production in the second half of 2019.
"We're very excited about that," Harquail said in a phone interview.
According to Franco-Nevada's third-quarter earnings report, additional work is planned at South Arturo to assess the potential of new opportunities that could include a Phase 3 pit and processing of heap leach material from all the pits.
Franco-Nevada's interests in Nevada also include Barrick's Goldstrike Mine, Newmont's Gold Quarry Mine, Kinross Gold Corp.'s Bald Mountain Mine, SSR Mining's Marigold Mine at Valmy and the Midas, Hollister and Fire Creek underground mines Hecla Mining Co. acquired from Klondex Mines Ltd. in July.
"Nevada's properties are very promising," Harquail said. "Great ore bodies keep on giving. Companies want to extend mines long enough to be there for the next commodity upcycle."
Outside Nevada but in the United States, the company has a royalty interest in New Gold Inc.'s Mesquite Mine in California and the Stillwater platinum mine in Montana.
Franco-Nevada also has royalties on future potential producing properties in Nevada, such as Pinson, a project owned by Osgood Mining Co. LLC and Barrick, Newmont's Sandman property, and Northern Empire Resource Corp.'s Sterling exploration project near Beatty.
Additionally, U.S. potential producers include Midas Gold Corp.'s Stibnite property in Idaho and Equinox Gold Corp.'s Castle Mountain property in California, and Harquail said Franco-Nevada has interest in 31 "pure exploration properties" in the U.S.
Midas Mine
Franco-Nevada in its earlier form developed the Midas Mine, then called the Ken Snyder Mine, in Elko County with sister company Euro-Nevada that later became part of Franco-Nevada. The first gold pour at Ken Snyder was in December 1998.
Franco-Nevada operated the mine until selling to Normandy Mining Ltd. Normandy took over the mine in August 2001. Then, Newmont acquired both Normandy and Franco-Nevada in February 2002.
When Newmont acquired Franco-Nevada, all the royalties the company held were folded into Newmont, so the current Franco-Nevada is a spinoff from Newmont. The new Franco-Nevada acquired 176 mining royalties from Newmont in December 2007. The initial value of the spinoff was $1.3 billion.
Shares of the new Franco-Nevada began selling in New York at $15.20 and now average roughly $65 a share.
Franco-Nevada is the largest of the royalty/streaming companies with a value of more than $12 billion, followed by Wheaton Precious at $7.6 billion and Royal Gold at $5.18 billion, according to Paradigm Capital.
Harquail and Pierre Lassonde, co-founder with Seymour Schulick of the first Franco-Nevada, stayed with Franco-Nevada through its different incarnations. Lassonde is chairman of the company's board. Others who were with the first Franco-Nevada and now are at the newer one include the chief financial officer, Sandip Rana.
The company provides financing for projects in turn for royalties on future production or for a revenue stream that gives the company a bargain price for future ounces of gold or silver or platinum.
Companies are leaning more toward streaming now because streaming is better for tax purposes, according to Harquail. Companies want to invest all the money up front for development, so Franco-Nevada provides investment dollars and in turn acquires a revenue stream once production starts.
Harquail said Franco-Nevada provided $1 billion to First Quantum Mines Ltd. for the Cobre Panama copper project in Panama and will buy the gold from the mainly copper mine for roughly $400 an ounce, making an $800 profit per ounce if gold sells at $1,200 per ounce. He said the project has a 30-year mine life.
"It takes us a long time to get our money. We take the risk with the investment. We have to be good at assessing properties," he said. "We're long-term investors. We have to take the long view."
Royalties range from 1 percent to 4 percent on standard properties.
Company's growth Since Franco-Nevada went public in December 2007, the company has grown to include assets on 51 producing mines, 35 advanced development projects, 208 mineral exploration properties, 58 oil and gas producing operations, and 25 oil and gas exploration projects — for a total of 377 assets, according to a chart with the third-quarter earnings report.
More than half of the assets are in Latin America, and there are a number in Australia and West Africa, as well as some in South Africa and in Mexico, in addition to those in the United States and Canada.
"The key thing is we are diversified in oil and gas. Oklahoma and Texas are new to us, but we stay 80 percent with precious metals," Harquail said.
Harquail keeps a close eye on the gold price not only because Franco-Nevada focuses on precious metals but because he is chairman of the World Gold Council. He said the price has been "remarkably steady despite higher interest rates and a strong equity markets, but interest in gold is picking up because markets are a little shakier now.
The gold price per ounce is based on the U.S. dollar, and because the U.S. dollar is strong now, the gold price looks lower to the U.S. than in different countries where the currency has a lower value, he said.
"I'm very optimistic about the dollar," Harquail said.
Franco-Nevada's third-quarter earnings report showed that the average gold price in the quarter was $1,213 per ounce, compared with $1,278 per ounce in the third quarter of last year.
There were 120,021 gold equivalent ounces sold in the quarter, according to the report. For the quarter, 82.1 percent of revenue came from precious metals. Gold equivalent ounces were higher in the third quarter of last year at 123,787 ounces.
"This is a cyclical business, so what we do is lose as little money as we can in the downturns and enjoy the upturns," Harquail said.
Third-quarter earnings The third-quarter earnings report showed that the company had net income of $52.1 million, or 28 cents per share, and adjusted net income of $54.6 million, or 29 cents per share, compared with $55.3 million, or 30 cents per share, in the 2017 quarter. Revenue for the third quarter of 2018 totaled $170.6 million, compared with $171.5 million in the 2017 quarter.
Paul Brink, president and chief operating officer of Franco-Nevada, said in the earnings teleconference that this year is a "relatively flat year for revenues, but we're excited for 2019." That is when the Panama project begins production, more gold is produced at the Candelaria Mine in Latin America and oil and gas revenues go up.
He said the company has $1.2 billion in available capital and "is looking forward to more acquisitions on the precious metals side." Brink said, however, those depend on the market, although there may be opportunities for midsize transactions.
The company sees "tremendous opportunities in oil and gas" and would like to take advantage of those opportunities while still trying to keep the balance of 80 percent metals to 20 percent oil and gas, Brink said.
Haquail said Franco-Nevada has increased dividends each year since going public nearly 11 years ago, and the dividends declared so far this year are more than $180 million.
"We can do this because royalties is a truly cash-flow business. We participate at the revenue line and are not impacted by cost inflation or capital calls. It is a high margin business, so we make cash flow even at the bottom of the cycle," he said.
Franco-Nevada has 32 employees, with the main office in Toronto, a small office in Highland Ranch, Colo., an office in Australia and an office in Barbados to cover Latin America.
"I think we win the prize for the most market value per employee," Harquail said, commenting that Franco-Nevada comes in third behind Newmont and Barrick in market value as a gold company.
Franco-Nevada is active in mining associations in the U.S. and Canada and teaching programs, he said.
"Nevada's properties are very promising. Great ore bodies keep on giving. Companies want to extend mines long enough to be there for the next commodity upcycle." — David Harquail, Franco-Nevada CEO
Regional railport keeps busy, keeps growing
Traffic is up at Northeastern Nevada Regional Railport in Elko County, where one of the newest customers is Newmont Mining Corp., which ships gold concentrate from its mine in Colorado to the railport for processing at Carlin.
"We feel that our Elko railport operations have had a lot of success," said Jeff Hymas, communications director for Savage Services, the railport operator. "It's been good for us and the county, and we see the potential for growth as more businesses come to the area or expand operations."
The railport is on roughly 58 acres of county-owned land, and "more than half of that is currently being used for operations," leaving room to expand, he said.
The site is along East Idaho Street roughly 6 miles east of Elko and south of Interstate 80.
"Elko's railport is attractive due to its proximity to I-80 and superb access to the rail line," said Sheldon Mudd, executive director of Northeastern Nevada Regional Development Authority, which markets the railport as part of its economic development efforts.
Elko County owns the railport, and Savage Services operates the site at no charge to the county, although Savage is required to pay a concession fee when the number of railcars going through the railport reaches a certain amount per year.
"Traffic out there is growing," said Cash Minor, assistant Elko County manager. "All we keep talking is railcar count."
Still, Elko County has only received royalties from Savage once since the company began operating the facility in November 2009 because the number of railcars coming into the railport in the other years fell below the concession agreement with the county.
Minor said the concession agreement with Savage calls for 1,500 railcars to come through the railport before the concession fee, or royalty, kicks in.
"The only time that an excess of 1,500 cars passed through the railport was in 2010. This was when the Ruby Pipeline project [for natural gas] was being built," he said. "We received a check for $7,880. The concession fee is $20 per car from 1,500 to 2,000, $30 for the next 500 cars and $40 per car in excess of 2,500."
Ruby Pipeline took delivery on hundreds of pipes at the railport in that year for the pipeline that goes through Elko County.
"Royalties are not enough to make up for the investment, but the county benefits from higher property taxes, higher sales taxes and job creation because of the railport," Minor said. "Those are where the big returns are."
The railport cost roughly $12 million to develop, according to accounts when it was dedicated in March 2010.
Newmont shipments
Newmont began shipping concentrate in the second quarter of this year from the Cripple Creek & Victor Mine in Colorado by railcars to the railport in Elko County, where the ore is transloaded onto trucks to go to a mill at Carlin.
"The concentrate is loaded into special intermodal containers and moved by truck to the railhead in Colorado Springs. From there, the containers are shipped by rail to the Osino railport here in Nevada, where the reverse happens," said Lorna Shaw, spokeswoman for Newmont's Nevada and Colorado operations.
She said the concentrate is then shipped from the railport by truck to Newmont's Carlin operations for processing.
"Shipping concentrate to Nevada benefits Newmont in three ways. First, Cripple Creek gets 30 percent higher recovery when the concentrates are processed through the roaster. Second, the sulfur in the concentrate acts as fuel for the roaster, reducing the use of natural gas at the Carlin operation," Shaw said.
The third way shipping concentrate benefits the company is that the sulfur in the concentrate is converted to sulfuric acid, she said. The company then uses the acid at its Phoenix copper and gold operations south of Battle Mountain. The sulfuric acid is used in the copper leach process.
Savage Services transloads liquid and dry bulk products from Union Pacific Railroad cars to trucks and transloads from trucks to train cars, as well as providing switching services for railcars. Savage Trucking serves the railport but is a full-service, stand-alone trucking company that is under the same umbrella.
Operating railport Savage Trucking's terminal is on private land near the railport at Osino, which is an unincorporated community. The trucking company hauls loads to and from the railport, but other trucking companies also deliver and pick up materials at the facility.
Between the two operations, Savage has more than 50 employees, most of them working for the trucking company, Hymas said.
There are six nearby private parcels of land capable of connected rail service with Union Pacific through the railport, and two of them use Savage Services, he said.
Savage Services has a strict policy of not identifying any customers by name, but customers like Newmont and Pacific Steel & Recycling can identify themselves.
Pacific Steel is one of those businesses using Savage railcar switching services, said the Elko branch manager for Pacific Steel, Adam Eyman.
"It works great," he said.
To be able to transload Union Pacific rail cars, Savage has special equipment that Hymas said started in 2009 with a locomotive used to move customers' rail cars. The company has added four transfer conveyors, a forklift, a boiler system for heating products in rail cars, two mobile racks for transloading, a Mi-Jack crane for intermodal transloading, and air compressor systems for moving containers.
Railport history The railport was the brainstorm in 2005 of what was called the Elko Economic Development Authority, and Elko County Commissioners came on board to make the project possible. Northeastern Nevada Regional Development Authority is the current name of the expanded authority.
Then-Great Basin College President Paul Killpatrick and then-ECEDA Executive Director Elaine Barkdull met with then-Lt. Gov. Lorraine Hunt, who urged them to acquire land for the proposed railport, according to the Elko Daily Free Press.
Hunt committed $1 million in state economic development money. Barrick Gold Corp. donated $1 million. Newmont also supported the project. The Nevada Legislature appropriated $1 million, too.
Elko County acquired 800 acres of ranchland at Osino from Charles, Ann, James and Joyce Ellison for $2 million in 2006 and later sold much of the land to pay for development of the railport and industrial park. Ground was broken for the project in a ceremony in June 2006, and it was another three years before it was ready for use.
Although the aim of the economic development authority and the county was economic diversification in the beginning, most of the railport customers have been tied to the mining industry, Minor said.
Marketing railport Hymas said Savage Services plans to increase its outreach to potential customers, and such expansion would benefit the company while providing increased royalties for Elko County, more jobs and more spending at area businesses.
"Our hope is to identify other types of businesses in northern Nevada that could use our services, but mining is the focus of the local economy," he said.
Hymas said businesses other than mining that move raw materials or chemicals, for instance, would benefit from the regional railport because Savage Services employees have the experience to handle critical materials.
Savage Services is based in Salt Lake City, has more than 50 years of transloading experience and started the trucking operation more than 70 years ago. The company has more than 250 locations, including international sites, and more than 4,000 employees. Growth recently included acquisition of Bartlett & Co., a grain and milling company.
"It's a good thing for Elko." Hymas said. "We're a financially stable industry with a focus on safety and reliable service for our customers."
NNRDA is planning new economic development promotions for the railport and for economic development in all its territory, which covers Elko, Eureka, Humboldt, Lander and White Pine counties.
Mudd said industrial sites "are paramount for economic growth within our entire region. Further, the more developed these sites are and the more amenities they provide, the more appealing they are to companies and site selectors looking for a new location. Most inquires we receive at NNRDA are those looking for turn-key locations where operations can begin almost immediately upon arrival."
Mudd also said Jan Morrison, NNRDA's economic development officer for Winnemucca, is working with Union Pacific Railroad to "ensure that all of our industrial sites are included on their online GIS industrial site map, adding to our overall exposure."
Economic impact Current economic impact of the railport and industrial park hasn't been calculated, but the University of Nevada, Reno, did an analysis in 2010 that estimated a railport construction impact of $21 million in Elko County that year and an ongoing economic impact of $4 million, including from the industrial park.
Another UNR study in 2014 showed that beneficiaries of tax revenue generated by the economic impact of the railport and industrial park from 2008 to 2014 totaled about $1.7 million, according to an article in the Elko Daily Free Press.
After the Ruby Pipeline construction project, the railport's business and development of the nearby industrial park slowed, so NNRDA hired consultants in 2013 to develop a master plan for marketing the facility and industrial park, according to news reports.
Companies at the industrial park in 2013 included Pacific Steel & Recycling, SAS Global Corp., Liebherr Mining Equipment and National Oilwell Varco.
Gubernatorial candidates headline NvMA convention
A political tone edged into this year's Nevada Mining Association convention with the Republican and Democratic gubernatorial candidates headlining the 40th annual gathering in Stateline, just two months before the general election.
"It's important that the companies and their employees get an opportunity to hear both candidates," said NvMA President Dana Bennett, "to get a chance to shake their hand and look them in the eye."
Bennett said it is the first time in recent memory that the association has hosted candidates for governor at the convention.
This election year with a contest for the state's top leadership role made the guest appearances timely as Nevada's next governor will influence policy that could affect the mining industry.
Both candidates catered their speeches to the audience of mining professionals, who assembled at Harrah's Lake Tahoe Sept. 8 to conclude the days-long event.
In addition to a lineup of education speakers, the conference welcomes the association's incoming board chairman, and celebrates accomplishments in safety and reclamation.
Sisolak Steve Sisolak, the Democratic candidate who won the governorship in November, called mining a "foundational industry" for the state. In addition to creating jobs and advancing technology, the Clark County Commission chairman said mining allows Nevada to be a key player in the national and global economies.
Citing high capital costs, Sisolak said mining companies need to be able to attract investment on a global scale.
"That means you need consistency and constancy in regulations," he said. "You cannot afford to have the regulations changing day by day, year by year, so you have nothing to rely on, nor will your investors invest in you if you have nothing to rely upon."
The candidate added that consistency in regulations also allows a predictable timeline for projects.
"To do that, you need a good partner in state government, a partner that has fair expectations of the business community … " he said, explaining that he would strive to continue the legacy of Gov. Brian Sandoval regarding business and "vehemently" opposes any industry-specific tax on mining.
"You've shown you're willing to go the extra mile to support the state that supports you, and that includes paying more than a fair share of your business taxes," Sisolak said, acknowledging the industry's support of students, health care, charities and philanthropies.
Calling mining Nevada's "original STEM industry," Sisolak congratulated the mining industry for employing tradespeople in science, technology, engineering and mathematics careers. One of his top campaign issues is education.
"I want all Nevada graduating high school seniors to be career-ready [for] industry opportunities for industries like yours, which is why we need more opportunities for professional, technical training in high school," Sisolak said.
Increasing the number of STEM jobs aligns with Sisolak's stated desire to see families supported by well-paying jobs with health insurance. STEM jobs also diversify the state's economy, which ultimately benefits the communities where Nevadans live.
"You invest in your community, you invest in your employees, and you invest in their families," Sisolak said. "I'll be dedicated to sustaining this growth we are experiencing now because every one of you should have the ability to continue to keep supporting yourselves, your families, your companies, your employees and your communities."
Because of mining companies' strong support of family and community, the NvMA renounced Ballot Question 3. The candidate lauded the association's opposition to measure, which would have deregulated the electric utility industry. Question 3 did not pass.
"While I know that for some of you very large purchasers of energy, [it] might be more beneficial to have the option to opt out and to have, as they call it, deregulation, your employees and your seniors are not in that same position, and our economy would suffer, our citizens would suffer as a result of that," Sisolak said. "You put their well-being and their families' well-being ahead of your own as a company. That's something that I respect tremendously."
Sisolak also noted that counties with mines, including Lander County, are counties that don't need state subsidies and where opportunities and education are better.
"As governor, I will be eager to provide any assistance I can to help companies like yours expand," he said, "and [facilitate the] vertical integration moving forward to make your industry more profitable and more beneficial to our economy and to our citizens."
Laxalt
Republican candidate for governor Adam Laxalt cautioned against allowing one party to dominate the state's leadership. Statistics indicate that the Democratic Party will have a majority in the Assembly and Senate, and he urged the audience to elect a Republican governor to protect the mining industry.
"I'm concerned that if we don't elect a Republican governor that we will see tax increases, regulatory increases, and I think you can particularly see that heading towards this industry," Laxalt said. " … [I]f we do not have a check on that, I cannot imagine what happens to our economy. I can't imagine what a target this industry will be."
He said the Democrats have a long list of proposals for the state that would be "incredibly expensive."
"Where is this money going to come from?" he asked. "I think mining is really legitimately a target, and I know mining has always felt like it could be a target. It's something that we should be concerned about."
The candidate said he has "mining in his bones," with ancestors who mined, and turned to his record as attorney general for a history of support for mining.
Laxalt said he would work with the presidential administration to find solutions, and take steps necessary to diversify the economy. He also emphasized the importance of providing education opportunities that train the next generation of employees for businesses including mining companies.
"Know that is a huge priority for me — working with your industry and other industries," Laxalt said. "We need to make sure that we have a labor pool that can do the jobs that you all are providing every day."
Laxalt said he is optimistic about the future of the state.
"I'm committed to keeping Nevada's exceptionalism — the exceptionalism that allowed us to be this great, free, independent libertarian-leaning Western state," Laxalt said. "We've been unique, and we've been unique amongst our neighbors. That's something I'm committed to supporting. I'm committed to pushing forward for Nevada."
On politics In keeping with the political tone of the convention, Jon Ralston, editor of The Nevada Independent, provided commentary and took questions on topics including the recently published anonymous op-ed, the credibility of media, and what Sandoval might do after abdicating the governorship. Bennett called him the association's favorite political pundit.
Also speaking was Joe Balash, assistant secretary for land and minerals management with the U.S. Department of the Interior.
He described how changes under the new administration aim to "restore and create opportunity for Americans in all pockets and corners of America, doing that through regulatory relief, advancing better business practices and shifting resources in a way that is going to deliver better services."
The North Pole native explained that the agency is made up of leaders from the "real West" and that those in charge recognize the contributions that mining makes across the United States. He pointed to Lander County, which reaps the economic benefits from mining, as an example of success.
"That contribution that mining makes … is something that is changing and providing a way of life in a part of America that otherwise would not be possible," he said.
Goals include providing regulatory relief through rescinding those that don't work and modernizing others that need updating, he said; the DOI is trying to improve business practices such as putting time limits on environmental impact statements to help provide certainty for investment decisions.
"We feel like we are making great strides," Balash said. "We've gotten a lot done, but we know there is a lot to do. If there is one thing we know and understand, it's that the solutions to our problems don't lie in Washington; they're going to come from people like you who feel it on the ground."
Association members also welcomed the organization's incoming chairman, Jerry Pfarr, vice president of sustainability and external relations for Newmont Mining Corp. He replaces Tim Dyhr of Nevada Copper, who has completed his one year of service on the board.
The NvMA "is one of the oldest and most effective trade association's in the country," Pfarr said. Part of the association's effectiveness stems from the members' ability to work together and speak in unity on important issues, including political issues.
Pfarr outlined NvMA's areas of focus for the coming year: safety; facing environmental struggles such as the effect of wildfire on sage-grouse habitat; the 2019 legislative session, where mining will like enter into conversations about taxes; water; and energy.
The incoming chairman encouraged members to entrust the association as a political arm and to engage the next generation of miners.
"With participation from miners young and old," he said, "this industry can continue to see success."
Komatsu breaks ground for huge facility
ELKO – Komatsu Equipment Co. is building a new service center in Elko that will be the company's largest in North America and is "very, very important to the company," the company president, John Pfisterer, told the Elko City Council.
The company broke ground in late October for a facility on P&H Drive at the west end of Elko, just off Interstate 80. He said the three shops combined into one building will "make a nice statement for that part of town."
The roughly $47 million project will bring all Komatsu employees together following the merger with Joy Global last year, employing about 150 employees in Elko. The combined shops will handle work not only from mines in Nevada but from operations elsewhere in the western United States and Canada.
The building will be 189,000 square feet on roughly 30 acres. Completion is slated for early 2020. Hughes Construction is the general contractor.
Plans call for a six-bay, full-service shop for construction equipment and a mechanical rebuild shop, as well as a heavy welding and fabricating shop that will be large enough to rebuild and manufacture large shovel and truck structures and manufacture truck bodies.
There also will be a heavy machine shop with a large, horizontal milling and boring machine and vertical lathe capability, according to a new release from Komatsu. The 30-acre site will have room for construction equipment and a rental-machine yard, too.
Komatsu Equipment is headquartered in Salt Lake City and the worldwide Komatsu companies have 60,000 employees.
Even during the economic downturn in this country that started 11 years ago and the later slump in gold prices, Komatsu continued to grow, and Pfisterer told the council that "with this new facility in Elko, I can see our growth also continuing. It's a nice story."
Barrick buys Randgold to create world's largest gold mining company
LONDON (AP) — Barrick Gold has agreed to buy Randgold Resources for $6.1 billion in stock to create the world's largest gold miner, worth a combined $18 billion.
Investors will get 6.128 new Barrick shares for each Randgold share they hold. Shareholders in Barrick, which is based in Toronto, will own about 66.6 percent of the merged company, which will combine Randgold's African mines with Barrick's holdings in the Americas.
Nicholas Hyett, an analyst at Hargreaves Lansdown, says the deal marks a return to Africa for Barrick, which spun off its holdings there eight years ago.
Barrick's more stable North American assets will reduce Randgold investors' exposure to risky African markets. Hyett says that's also welcome since Randgold had been struggling to find new projects of scale.
Barrick Gold Corp.'s stock rose more than 2 percent premarket trading, while shares of Randgold jumped more than 6 percent.
The deal is targeted to close by 2019's first quarter.
Commenting on Monday's announcement, John L. Thornton, executive chairman of Barrick, said "The combination of Barrick and Randgold will create a new champion for value creation in the gold mining industry, bringing together the world's largest collection of Tier One Gold Assets, with a proven management team that has consistently delivered among the best shareholder returns in the gold sector over the past decade.
"Our overriding measure of success will be the returns we generate and not the number of ounces we produce, balancing boldness and prudence to deliver consistent and growing returns to our fellow owners, a truly simple but radical and achievable concept."
Mark Bristow, chief executive officer of Randgold, said "Our industry has been criticised for its short-term focus, undisciplined growth and poor returns on invested capital. The merged company will be very different. Its goal will be to deliver sector leading returns, and in order to achieve this, we will need to take a very critical view of our asset base and how we run our business, and be prepared to make tough decisions. By employing a strategy similar to the one that proved very successful at Randgold, but on a larger scale, the New Barrick Group will leverage some of the world's best mines and talent to create real value for all stakeholders."
Miner's cause of death identified in MSHA preliminary info
An underground miner died Nov. 11 at the Newmont Mining Corp.'s Pete Bajo mine when a loader rolled over the victim, according to a Nov. 13 preliminary statement from the Mine Safety and Health Administration's Washington, D.C. office.
The preliminary information states that the miner exited his load-haul-dump loader and failed to set the parking brake.
MSHA issued an order to secure the scene and have started an investigation into the fatality.
"Our primary focus at this time is on supporting the employee's family, and we are providing them all possible assistance as we grieve his tragic loss of life," Newmont said in an email Nov. 12.
As of Nov. 20, Newmont had not yet released the name of the miner.
Pete Bajo is one of four underground mines in Newmont's Carlin operations west of Elko on the Carlin Trend.
Pete Bajo operations have been suspended until further notice. Authorities have been notified, and an investigation has begun. Newmont did not respond to requests for an update on operations as of Nov. 20.
"We are fully committed to understanding the circumstances that led to this tragic event so we can take all necessary steps to prevent this from happening in the future," Newmont said in a statement.
Newmont is also providing grief counseling and other support to the employees of the Carlin operations.
This is the second underground mining fatality in northeastern Nevada's gold mines in less than a month. The last fatality occurred at the Lee Smith mine, operated by Small Mine Development, in the Jerritt Canyon complex Oct. 25 in a roof collapse. Lee Smith mine operations continue to be suspended.
Before that, it had been almost a year since anyone perished in Nevada's mining industry. Two died at SSR Mining Inc's Marigold Mine near Valmy on Oct. 31, 2017.
Nationwide, the fatality at Newmont is the 16th in the metal/nonmetal industry, according to MSHA.
The Carlin operations, which began production in 1983, also encompass three open pits.
In late September, the Pete Bajo mine experience a water surge through an exploration hole, but operations resumed after a brief pause in production.
In early October, a slide occurred on the southwest wall of Newmont's Gold Quarry open pit. Mining continues to be on hold at Gold Quarry and the underlying Chukar underground mine, and the company decreased its production guidance for the fourth quarter.
Newmont also operates the Phoenix open pit mine near Battle Mountain, the Twin Creeks mine and Turquoise Ridge Joint Venture northeast of Winnemucca, and Long Canyon open pit mine outside of Wells.
Newmont is a leading gold and copper producer with operations primarily in the United States — including Nevada and Colorado — Australia, Ghana, Peru and Suriname. The company has been publicly traded since 1925.
This article will be updated as more information becomes available.
This is the second underground mining fatality in northeastern Nevada's gold mines in less than a month.
Utah miner killed in Elko County underground mine collapse
ELKO – A miner at Jerritt Canyon Gold's Lee Smith Mine north of Elko has died in a roof collapse at the underground gold operation run by Small Mine Development.
Jason Holman, 42, of Goshen, Utah, was killed Oct. 25 evening, the company confirmed.
"Jason was loading a round and was involved in a fall of ground near the end of his shift," Small Mine Development's general manager, Keith Jones, said on Oct. 26.
According to U.S. Mine Safety and Health Administration's spokeswoman Amy Louviere, the miner was "loading blast holes underground when the cemented backfill roof fell, causing fatal injuries. MSHA has inspectors at the mine site and has secured the scene."
MSHA received a call on Oct. 25 that there had been a ground fall at 5:10 p.m. and one miner was unaccounted for, so SMD mine rescue crews were on the way to the mine, the preliminary report states.
"Our thoughts and prayers are with the family and SMD following this devastating event and tragic loss," Jerritt Canyon Gold's president and chief executive officer, Greg Gibson, said on Oct. 26.
"Jerritt Canyon Gold is making every effort to support the family and our employees at this time. We are investigating the incident to better understand what happened. The health and safety of our employees and contractors at our mine remain our top priority," Gibson said in an email.
Jones said SMD's "thoughts and prayers are with the family at this difficult time. Small Mine Development lost a valuable employee and our mining family is grieving with the family. We are deeply saddened that this tragic event occurred and will endeavor to determine the cause and work to prevent reoccurrence."
Jones said in an email that MSHA, the state mine inspector and Elko County Sheriff's Department assisted in the investigation, which will "take a period of time to complete."
As of Nov. 20, operations at the Lee Smith Mine still were suspended.
Small Mine Development began operating the mine roughly 50 miles north of Elko in 2010 under contract with prior Jerritt Canyon owners and has continued the work under Jerritt Canyon Gold, a private company based in Toronto.
The last mine fatalities in Nevada were those of two men at the Marigold Mine at Valmy on Oct. 31, 2017. Nationwide, Holman's death is the 14th hardrock-nonmetal mining fatality in 2018.
Skaer plans to consult after retirement
American Exploration & Mining Association Executive Director Laura Skaer is retiring March 31, but she is planning to be a consultant for the association and members after leaving Spokane, Washington, headquarters.
"I am going to stay involved in the issues, consulting and lobbying," she said. "I am passionate about the industry and our members and what they do and their importance to the nation. I have been in natural resources since July 1979."
Skaer took the reins at the Northwest Mining Association on Dec. 1, 1996, and in the 22 years since has seen the association grow and take a new name. The Northwest Mining Association was formed in 1891 and became the American Exploration & Mining Association on Jan. 1, 2013.
The name was changed "to reflect that the association had grown beyond being a regional association to be a national association, and 25 percent of the members are in Nevada," Skaer said. "Now we have members in 42 states and seven Canadian provinces."
Current membership is roughly 2,000, including individuals and corporations, although membership "goes up and down when metal prices go up or down," she said. She credited staff over the years for helping build up the association. Currently, there are six people in the Spokane office, including Skaer.
Much of Skaer's work is keeping track of legislation that affects the mining industry, lobbying in Washington, D.C., for the industry and commenting on proposals from federal agencies that affect mining.
Over the years, attempts to change the 1872 mining law have been a key focus, and she expects that when the Democrats take control of the House, there will be another attempt. She doesn't foresee such an attempt getting through the Republican majority in the Senate, however.
Not long after she became the association's executive director, she led the association in a lawsuit against then-Interior Secretary Bruce Babbitt over bonding regulations and won.
"Laura's leadership at AEMA has played an essential role in the hardrock mining industry's interests in key mining states and on Capitol Hill for the past 22 years," said Debra Struhsacker, an environmental permitting and government relations consultant in Nevada.
Sage grouse
Currently, the association is working on the greater sage-grouse land-use plan amendments coming from the U.S. Bureau of Land Management and the U.S. Forest Service.
"We've commented on all the plans" for the Western states affected by the sage-grouse issue, she said.
The BLM, Interior and Forest Service are working with the Western Governor's Association to make the plans in line with state sage-grouse conservation plans, Skaer said.
She believes the federal government needs to abandon maps for sage-grouse territory and manage the conservation on a project-by-project basis "with on-the-ground examination of sites," as well as clarify restrictions on development and travel management.
Skaer said the restrictions don't apply to locatable minerals, and "they violate mining law rights."
She also is hoping to advance good Samaritan legislation, working with the U.S. Environmental Protection Agency to "get it across the finish line." Such legislation would allow mining companies to reclaim old mining disturbances by prior companies without liability.
"We're also getting better at protecting the environment," Skaer said.
"Today, AEMA is the premier voice for mineral exploration and access to public lands thanks to Laura Skaer's proactive leadership," the immediate past president of the association, Erik Best, said in her retirement announcement on Nov. 15.
Lobbying in Washington
Skaer spends roughly eight weeks a year in Washington, D.C., advocating for association members. She and her staff developed one-page policy handouts that are updated for each visit to the nation's capital. The single, two-sided handout provides information about the association and about the importance of mining.
The handouts point out that it takes an average of eight-plus years to permit a new mine, list ways to speed up the permitting process and show this country's import reliance on a long list of minerals.
Mineral demand
Looking to the future, Skaer said she believes there is greater awareness that it "isn't healthy" for this country to be so dependent upon foreign countries for critical minerals, "especially the Chinese. I think you are seeing public support building" to discover the critical minerals in the United States, which in turn will provide jobs and an economic boost.
New technologies will help with the discovery of new mineral deposits in new places, she said, and demand for more minerals from developing countries will boost the industry, including the increased demand for electricity in that part of the world.
"Copper is the best metal for moving electricity," Skaer said.
Also, copper demand is increasing because of electrical and hybrid vehicles.
"The demand for minerals and metals is always going to increase. Everything we do depends on metals," Skaer said.
While gold is the mineral that often receives the most attention, the association represents the silver, copper, lithium, potash, phosphate, steel, cobalt and more mining and exploration companies. The association doesn't represent coal companies, nor sand and gravel industries, however.
Annual meeting
This year's annual meeting at the convention center in Spokane will be Skaer's last as executive director. The annual meeting likely will be in Reno next year in an alternating pattern established as more and more members were tied with the gold mining industry in Nevada.
The 2018 annual meeting's main events are Dec. 5-7, featuring 240 exhibitions.
Skaer recalled the lean years after Sept. 11, 2001, when there were flight restrictions and low gold prices. The annual meeting was moved to Spokane hotels for four years because the convention center was too big. Then, the association decided in 2006 to come to Reno.
"That first year we jumped to 2,000 attendees," she said.
Once her tenure ends at the association, and she has helped with the transition to her successor, Skaer, 70, plans to move to Columbia, Missouri, which she described as a "vibrant college town." She has bought a house in Columbia, where she has friends and season tickets for the University of Missouri football games. She also plans to travel and play golf.
"It's about halfway for kids and grandkids in Denver and Dallas," she said.
Skaer described her 22 years with the association as "the most rewarding and personally satisfying part of my 44-year professional career since I graduated from law school in 1974."
Earlier in her career, Skaer was vice president and general counsel from 1979-1995 for Skaer Enterprises Inc., an independent oil and gas production company, after serving as an associate and partner in a law firm in Kansas City, Mo., now called Husch Blackwell LLP.
She was active in oil and gas associations and became an industry expert on income, real and personal property tax issues and on severance tax issues in Colorado, Wyoming and Nebraska. She received the Colorado Oil & Gas Association's Distinguished Service Award in 1990.
Later, Skaer received the U.S. Bureau of Land Management's Sustainable Development Award in 2004 and a Special Recognition Award from the U.S. Forest Service's Division of Minerals and Geology Management. In 2013, she was named one of the 100 Global Inspirational Women in Mining by Women in Mining UK.