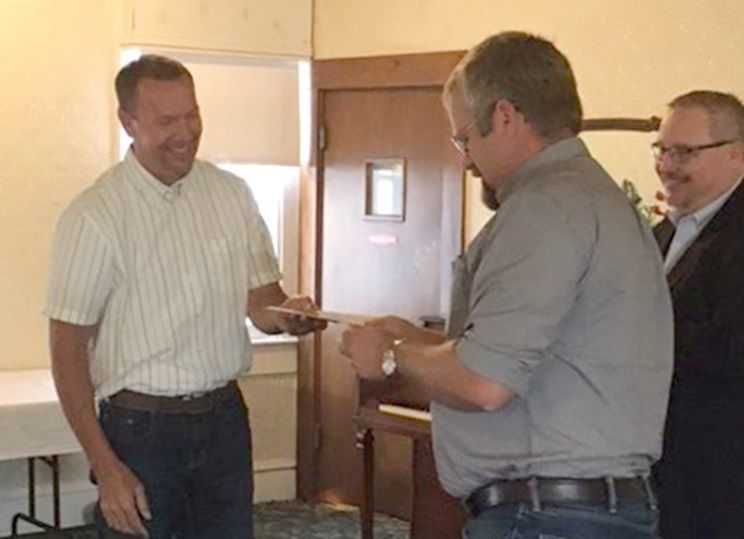 WINNEMUCCA — Construction of a third shaft is underway at Barrick's Turquoise Ridge mine, and although the project isn't expected to be completed until 2022, it has already yielded an unexpected windfall.
While working on the initial installation phase of the shaft, employees at Turquoise Ridge removed an electrical substation that had previously powered the old Turquoise Ridge mill facility. The scrap metal was excavated and recycled. Copper components found in the scrap materials yielded $27,000. Henri Gonin, Turquoise Ridge JV general manager, along with employees, decided to donate the proceeds from the copper to benefit schools in Winnemucca and the surrounding communities.
You have free articles remaining.
"Supporting education is a priority for Barrick and Turquoise Ridge. This donation is another example of our commitment to share our successes and support the communities where our employees live, work and volunteer," Gonin said.
Proceeds from the copper sale were dispersed to the Humboldt and Lander County School Districts. The money will be used to fund various projects, including the Winnemucca Grammar School Library Project, the Grass Valley Elementary Science Fusion Program, the purchase of Chrome book charging stations for Sonoma Elementary, a 3D printer for STEM-based classes at Winnemucca Junior High, and the purchase of Chrome books for Battle Mountain High School's agriculture department.
Gonin presented the donation to David Jensen, superintendent of Humboldt County, and Russ Klein, superintendent of Lander County, at the Nevada Association Superintendent of School's Bi-Annual Meeting on Aug. 1.
Be the first to know
Get local news delivered to your inbox!