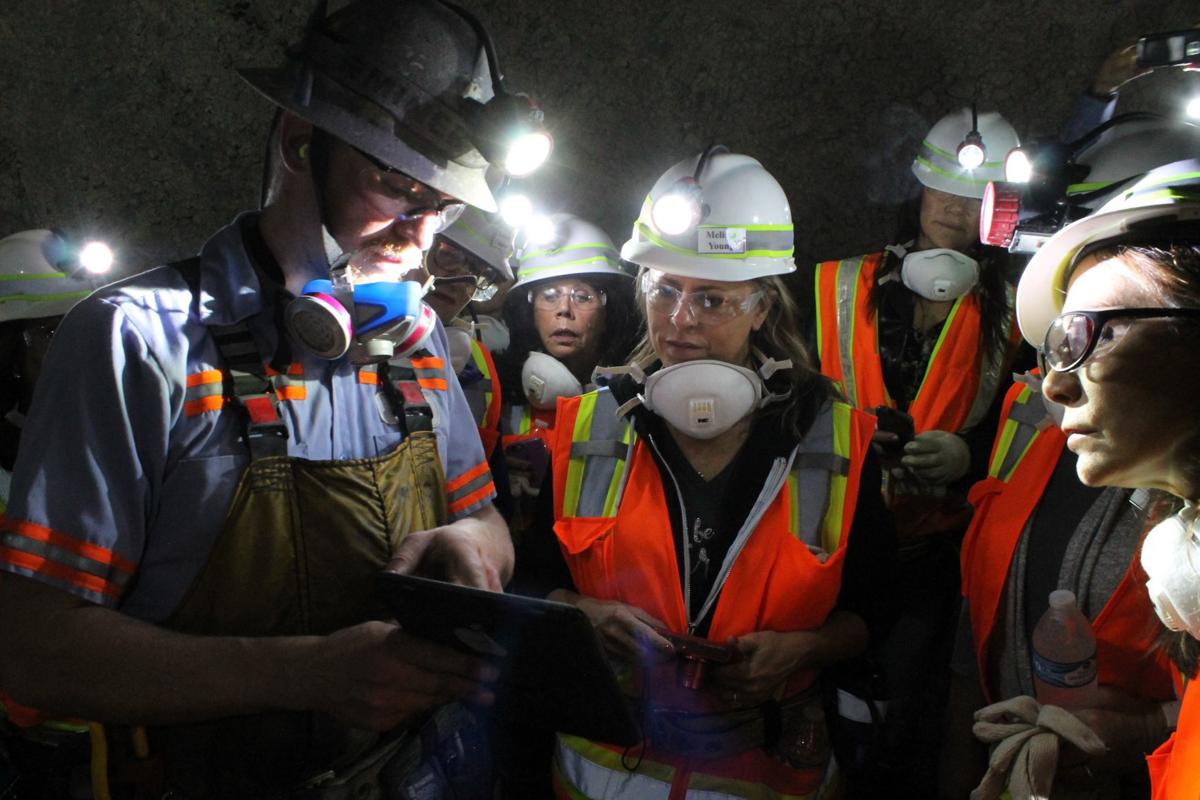 GOLCONDA — Questions abounded as a group of 18 Nevada women stepped onto a level 1,715 feet underground at the Turquoise Ridge Joint Venture gold mine this fall.
How long did it take to build the mine? How much power does the mine use? How much equipment does it take to operate? How do you identify an area to mine? How much does the mine produce in a day? What education do you need to work in a mine?
Those inquiries and more highlighted the tour for Nevada's women influencers, hosted by the Nevada Mining Association and Barrick Gold Corp. More than half of the women had never before set foot in an underground mine.
"It's very difficult to anticipate what it would be like," said first-time mine visitor Diane Fearon, chairwoman of the Nevada Commission for Women. She said appreciated the hosts' attention to detail and not being pampered.
The day before, the participants converged in Winnemucca from their bases in mostly Reno, Carson and Las Vegas. They are leaders in their fields who received a special invitation from the NvMA and Barrick to visit the underground gold mine.
The tour for women influencers launched last year because Dana Bennett — NvMA president and first woman leader of the association in its more than 100-year history — recognized the need to educate the public about the state's mining industry.
This year's roster included Clara Andriola, executive director of the Reno Rodeo Foundation; Kristen Averyt, president of the Desert Research Institute; Linda Bisset, senior government affairs executive for NV Energy; Jolie Brislin, regional director of the Anti-Defamation League; Nancy Brune, executive director of the Kenny Guinn Center for Policy Priorities; Christi Cakiroglu, executive director of Keep Truckee Meadows Beautiful; Denise Castle, executive director of JOIN Inc.; Kathleen Conaboy, senior vice president of museum advancement for the Nevada Museum of Art; Tiffany East, principal of East Public relations and member of the Nevada Board of Wildlife Commissioners; Karin Hilgersom, president of Truckee Meadows Community College; Ann Silver, CEO of the Reno-Sparks Chamber of Commerce; Jodi Tyson, vice president of Three Square Food Bank; Karen Wyman, CEO of Wyman and Associates; and Missy Young, chief information officer for Switch.
"Our role is to make [women leaders] the rule or the norm," said Rebecca Darling, director of corporate social responsibility for Barrick USA.
At the mine site, Darling primed the group for their experience by explaining that Barrick operates the Turquoise Ridge mine through a joint venture with Newmont. Barrick also operates two other major mines in the state, Goldstrike and Cortez, and aims to be in Nevada 100 years more. The company recently announced adding 20 years to Turquoise Ridge's mine life by initiating construction on a third shaft, which will be the deepest in Nevada.
John McCurry, Lori McCurry, Donna Sanchez, Leo Sanchez and Sy Villajos, all of Barrick, served as the day's tour guides. They ensured the group's safety, fielded ongoing questions and described operations.
"When you get down here and see the conditions and the lifestyle, you will wonder why anyone would do it," said John McCurry.
He escorted half the group underground in the open truck bed of a Ford adapted for the mine. McCurry explained in route that mining jobs also pay high wages and provide generous bonuses.
The first stops on the tour were to visit two underground miners. Driller Terryn Cassar showed how he prepares rock for explosives. Bolter Fermin Solis demonstrated how inserting bolts helps secure rock surfaces.
Averyt asked many tons of ore is removed from the mine each day. The answer is about 2,300. She took out her phone to calculate the value of production at 0.4 ounces per ton at an average gold price of $1,200 an ounce. Her eyes widened under her hard hat when she reached the conclusion: $1.1 million a day in gold is produced from this one mine alone.
Other questions: How many bits does a driller goes through in a day? (Two or three) How many people are underground at once? (100 during the day and 60 at night) Is there gold in these rocks?
Bennett explained that most of the gold in Nevada is microscopic and that visible gold is now rare. "It's so sophisticated and complex and intelligent," she said of the industry.
They also asked about what they sensed in the unfamiliar environment, like the clanking of a sump pump, the changes in temperature and humidity levels, and the roar of haul trucks driving in a neighboring drift.
In the underground mechanic shop, the visitors ogled the large-scale tools, tires and trucks and marveled at its cleanliness and organization.
Young asked what training mechanics must receive to work at Barrick. The company partners with Great Basin College to advance the trades, including diesel mechanics, and fill jobs at the mines, Lori McCurry said. On-the-job training and access to special courses also advance mechanics in their careers.
While walking through the mechanic shop, Conaboy commented that arts education is still important to careers in science, technology, engineering and math. Mining engineers, for example, need to find creative solutions to problems, she said.
There is a finesse required to operate a bolter. "You almost have to be an artist to run this machine," Leo Sanchez said.
At the conclusion of the event, Darling described Barrick's safety culture, economic impact, reclamation methods and approach to corporate social responsibility. She explained how Barrick is shifting its focus from philanthropic giving to making investments in the communities where it operates so that those communities are resilient in the long term.
One of the final questions of the day was what these women influencers could do for Barrick. The answer, Darling said, was to spread the word that mining companies create jobs and operate responsibly while providing society with the resources it demands.
John McCurry commended the group for their curiosity. "Thank you," he said. "Very good tour group. Very enthusiastic."