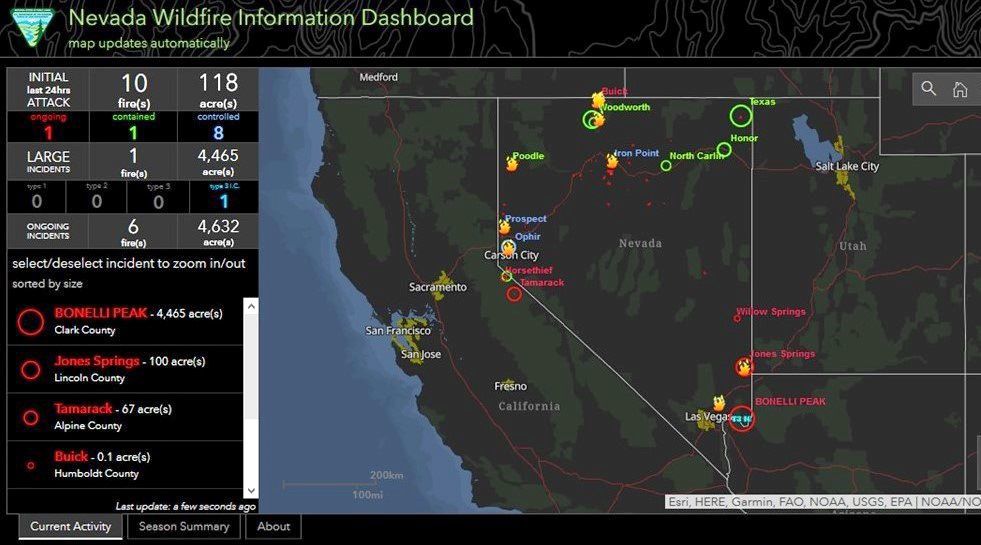 A BLM fire official recently said August is going to be an interesting month. Fire management officers are gearing up for a busy wildfire season during August and September. If you want to keep up with the current fires, here are some ways to do it. These resources are available through different paths, but I try to provide the easiest way to find them.
Elko Interagency Dispatch Center here in Elko coordinates professional wildland, aircraft, logistical and intelligence dispatch support. They maintain a website best found by searching for "Elko Interagency Dispatch" (without the quotes).
This information is designed for the professionals but offers us amateurs interesting information. On the main web page, click on Current Incidents to see a list of current fires, their sizes, locations and if they have been contained. Click on News & Notes, which is their twitter feed, for up to date information on current fires.
A number of links on the left lead to other information such as the Great Basin News and Notes and National Fire News. The Predictive Services heading has some interesting links. Great Basin Outlooks for Fuels and Weather is a good one to check on fire danger.
Click on Great Basin Outlooks to listen to a daily briefing on fire potential and also a seasonal briefing.
Back at the Elko Dispatch website, the InciWeb link brings up a map of the western U.S. showing all fires in this area.
You have free articles remaining.
For a statewide look at the current wildfire situation, go to Nevada Fire Information at nevadafireinfo.org/. Click on the left image labeled Nevada Fire Information Maps. You will then need to click on I Understand and OK to see a state map of fires. Even better, click on Desktop Dashboard to see not only a map but information on each fire.
The fire symbols tell a lot. Red flames label fires begun in the last 24 hours, red circles give an idea of fire size in ongoing fires, green in contained fires and blue in fires that are controlled/out.
Click on a fire symbol to see specific information on that fire, its size, date of discovery and cause. The map also shows thundercloud locations, various alerts and, most interesting, lightning strikes. Click on the Map Legend to see what is available. Mobile Dashboard allows you to view this information on a phone.
Also, on the nevadafireinfo.org/ main web page are some articles on protecting your home against wildfire.
The Nevada BLM and UNR have placed a number of cameras around the state to watch ongoing wildfires and to look for wildfires. Go to alertwildfire.org/blmnv/. Seldom is a camera pointed at a fire but it is interesting to see live images of areas across the state. You can also see images from the Tahoe area, California, Oregon, Idaho and Washington. Click on YouTube on the top menu to watch video of wildfires.
We may not be out there on the fire lines, in the heat and smoke, but we can at least stay up to date on current wildfires.