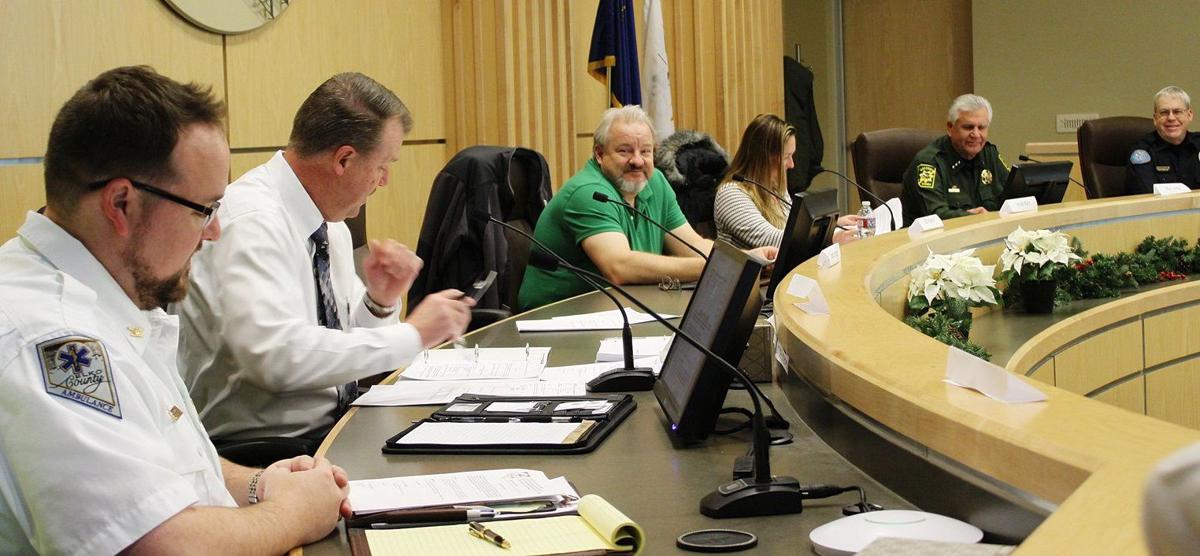 ELKO — When you're in the middle of an emergency and you call 911, it can make a huge difference if the dispatcher can tell right away where you are.
For many years people in Elko County have been talking about upgrading the county's 911 system to more modern technology which will offer a lot of advantages, including providing the dispatchers with location information.
It was almost three years ago that the commissioners approved the formation of a 911 Advisory Board and a 911 surcharge of 25 cents per month on every phone line in Elko County to get things moving forward with a 911 upgrade for the county.
After a lot of meetings, research, consulting and fundraising, everything finally came together this week when the Elko County commissioners approved a contract with NGA911 LLC for the installation and maintenance of a Next Generation 911 system in Elko County.
"It's taken us a lot of time to get to this point. This is a big one," Ben Reed told the commissioners. Reed is the Elko police chief and chairman of the county's 911 Advisory Board. He will be retiring from both positions soon.
"This takes us from 1960s technology with basic 911 all the way to current in one big leap," Reed said.
"It's really nice to come into this century with 911," County Commissioner Delmo Andreozzi said.
Reed said it will take about six months to build the database and get all the hardware and software installed at the three dispatch centers in the county, so the Next Generation 911 system for Elko County should be ready to go live in the spring.
Emergency calls"You might remember," Reed said to the commissioners, "about three years ago I came before you and told the story that happens far too often, almost daily at the dispatch center, where we get a caller who's a little kid, who can't give us an address, because grandma fell down — 'I'm at grandma's house' — or the domestic violence victim, and the fight's in progress and the phone gets yanked out of the wall and we don't have an address, and we're not going. So today, this will change that.
"We've seen the demo. It comes right up on screen before the dispatcher even answers the call, it shows the account holder information from the telephone company that's transmitted from the data packet, it shows the actual phone number, it shows the address where it's registered, and it shows the lat and long GPS coordinates. And that will be important with cellphones, in particular."
Reed said if someone calls in and the address they give does not match the information on the screen, the dispatcher will talk with the caller to clarify things right away.
"If it's not a valid address we're going to have quite the discussion about what's the address, where the problem is. That's all going to be automated. All we have to do is confirm it," Reed said. "That's huge. That cuts down on confusion. Seconds count."
Last of the basic 911sAs of last year, of the approximately 6,600 911 systems in the United States, Elko was one of only a dozen that were still on basic 911. About 2,000 had Next Generation 911 systems. The rest had Enhanced 911 systems.
Next Generation 911 is a step up from Enhanced 911. The Elko County 911 Advisory Board decided last year to skip the step of going to Enhanced 911 and go straight to Next Generation 911, so Elko County will soon have a more advanced 911 system than a lot of other places in the country.
The fundingThe contract with NGA911 says the upfront fee for the coming year is $575,871.33. The annual cost for the following four years will be about $142,935.00, bringing the total cost for the first five years of Next Generation 911 to about $1.15 million.
Elko County Assistant Manager and CFO Cash Minor explained that the county has funding from several sources to cover these expenses. The county has received $430,000 in federal grant funding and has also received about $200,000 in local donations over the past several years. These donations ranged from large contributions from big companies to $5 donations from individuals.
The 25 cents per phone line surcharge is currently bringing in between $150,000 and $155,000 per year, which covers the annual cost of the system.
After the surcharge went into effect in late 2016 it took time for the phone companies to get their payments set up, and for a long time money was just trickling in. By March 2018 the county had only received about $46,000 in surcharge collections. The money is now coming in dependably, however.
The amount Elko County is paying NGA911 is actually less than what the county was looking at in the past. An estimate that was presented last year said that Enhanced 911 might cost about $815,000 upfront and about $173,000 per year.
Complicating factorsReed said a variety of factors have complicated the process of getting a 911 upgrade in Elko County. One is that the county is fairly unique in having three separate PSAPs (Public Safety Answering Points) or dispatch centers. The major PSAP is in Elko, and it covers about a dozen jurisdictions for police, fire and medical throughout the county, and it has its own governing board. The city of West Wendover has its own PSAP which is run by the city. There is also a PSAP at Owyhee which covers the reservation and is controlled by the Bureau of Indian Affairs.
The county's 911 Advisory Board contracted with Winbourne Consulting LLC to help provide guidance for the 911 upgrade. Reed said that when Winbourne looked at those three separate PSAPs, they recommended that the three dispatch centers should all be tied together in an ESInet (Emergency Services Internet Protocol network).
Having the three dispatch centers tied together will be one of the big advantages of the 911 upgrade, Reed said. Currently, if a call should be transferred from one dispatch center to another, the dispatcher has to forward the phone call and hope the call does not get dropped. With the new system, with one mouse click the other dispatch center will receive the call along with all the location information and other data that has been gathered so far.
Grant fundingAnother factor that has complicated the 911 upgrade for Elko County, Reed said, is the fact that Nevada is one of just two states in the country that does not have a statewide 911 coordinator. Since there is no coordinator, Nevada counties are not eligible to receive federal 911 grant funds.
"We would have been probably the classic poster child of what's wrong and how to get it fixed by applying for that federal grant to upgrade to Next Gen 911," Reed said. "But we don't qualify because the feds will not allow you to participate in those 911 upgrade grants unless you have a state coordinator as they require by law. And Nevada doesn't have one, so we can't even apply. That's really kind of a heartbreak. But we're getting it done anyways."
The county instead applied for homeland security grant funding last year. Reed said about 65 projects in Nevada applied, and about 25 were awarded grants, including Elko County.
"There was quite a competition," Reed said. "Annette Kerr, the county emergency services manager; former Sheriff Jim Pitts and myself made numerous trips to Carson City, and went through that competitive process, and we eventually prevailed last spring of '18 and secured $432,000 for this project."
Future advancesElko County's step up to Next Generation 911 will bring a lot of technological advances, but technology is always changing, and there are a lot of additional potential upgrades coming along that could provide even more help when there is an emergency.
Sometime in the future, Reed said, the dispatch centers in Elko County will probably be able to receive photos and other data from callers and to send this information out to responders in the field. For example, police officers would be able to get a photo of a missing child on the computer in their vehicle, and firefighters could receive the blueprint of a building that is on fire.
"We don't have that now," Reed said. "Either to receive it or send it out to the field, we don't have either one. But this project we're working on now with Next Gen is the groundwork for that kind of thing to happen in the near future, because it's all digital, it's internet based.
Also coming up in the future, the coordinates the dispatch center will receive may include not only longitude and latitude but also altitude, so that when a call comes from a multi-story building, responders will know which floor to go to.
Reed said counties in Nevada are able to set their 911 surcharge at up to $1 per phone line. The surcharge in Elko County is currently set at 25 cents per line, but Reed said the 911 Advisory Board may talk some more with the commissioners about increasing that amount so that additional funding will be available for further technology upgrades.
A big stepIn the meantime, Elko County will make a lot of big technological advances six months from now when the new 911 system goes live.
"This is a big step," Reed said. "I'm really excited. This will benefit everyone in Elko County. I think it's a big deal."
"It was the community support and donations early on," Reed said, "coupled with the commissioners' ordinance to begin the surcharge, the 25 cents, and the hard work to get the grant, all coupled together that got this project accomplished. It was a combination. Without any of those three components we wouldn't have made it."