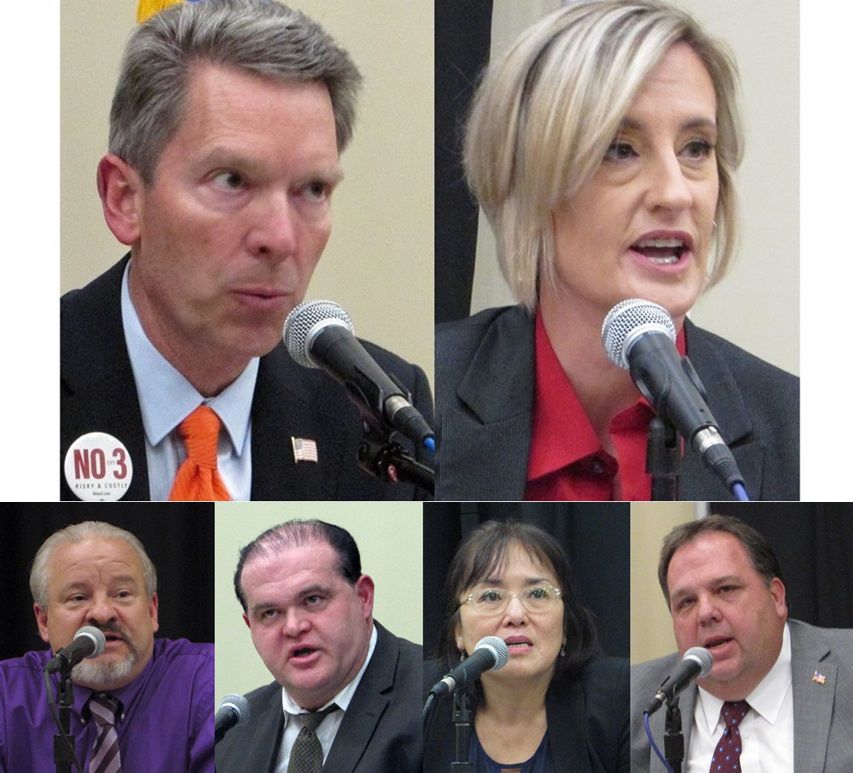 ELKO — Marijuana, business development and disaster response were some of the topics that Elko city council candidates covered during a forum Oct. 11 at the Elko Conference Center.
City Councilman Reece Keener and nurse Marcey Logsden are running for the mayoral post in the November general election. Running for two vacant seats on the council are four candidates: Bill Hance, Tony Liker, Ro Smith and Chip Stone.
The candidates were fairly evenly split in their opinions about marijuana. Their stances reflect the narrow results of the statewide 2016 election when 55.4 percent voted in favor of recreational marijuana while 45.5 percent were opposed. More than 53 percent of Elko county residents said "no" to the initiative.
Keener has maintained outspoken opposition to medical and recreation marijuana. The city council voted earlier this year to prohibit dispensaries in city limits.
Not only is marijuana still illegal on the federal level, Keener said, but the substance is not compatible with the mining industry. He said having a dispensary in Elko would send a message to children that drugs are OK.
Logsden, a health care professional and military veteran, is in favor of medical and recreational marijuana, and had implored the city to vote in favor of dispensaries at the time of the vote.
"A plant grown from this earth is a blessing," she said, adding that it would be an "amazing moneymaker" for the city.
"If the city … just wants to start out with a medicinal dispensary then I would completely agree with that," she said.
Smith, who is also a nurse, said she has seen beneficial results from medical marijuana use and respects people's right to choose alternative medicine. She is opposed to recreational marijuana, however, because she also has seen the negative effects of narcotics. The candidate said she would like to see a task force study the issue.
Stone, a local business owner, said he is sympathetic to those who need medical marijuana but opposes a dispensary in Elko. He would like to see the federal government downgrade the substance from a Schedule I drug before it is dispensed.
Attorney Liker said he is opposed to all "dope houses." The candidate said a medical marijuana dispensary was just another name for a dope house and that marijuana is a gateway drug.
Business owner Hance, who has experience in the government, mining and casino sectors, said that because Nevada voters chose to legalize marijuana, it is a legitimate business. He is supportive of medical marijuana, and said citizens are able to grow their own recreational marijuana at their own risk.
The candidates had the opportunity to explain what they would do to support local businesses and cultivate a thriving business community.
Supply and demand will allow businesses to thrive in Elko, Smith said. She has experience as a co-owner of three nursing homes in Illinois. She recommended researching what the community needs and encouraging entrepreneurs to fill those needs.
Liker referred to three ideas in his campaign statement for generating revenue in Elko: lobbying for more of the "mine tax allocation pie"; bringing back the Casino Express airline service; and "making criminals … pay for their own attorneys."
Stone's ideas for helping businesses in Elko included improving internet service, encouraging local support and looking into giving Spring Creek residents who own Elko businesses more of a voice.
You have free articles remaining.
Transparency in the process of setting up a business was Hance's suggestion. He said would-be business owners are intimidated by the process at city hall and that with better processes in place, there would be more businesses. He also recommended a code enforcement officer to ensure that people doing business locally without paying taxes are held accountable.
Keener pointed to the city's outdated internet service and health care as being two hindrances to a thriving business community in Elko. He said he has been serving on a broadband access committee that is close to having a solution and said reopening the Nevada Health Center should help diversify health care options.
Small businesses are slowly fading away, Logsden said, and her chief complaint is lack of transparency in city government. She said she hears from small-business owners that codes seem to change without warning or are applied unfairly. The candidate also said she would like to work with downtown building owners to bring in tenants, even if only for evenings or weekends.
Candidates differed in their views of how the 2017 flood could have been handled better.
Keener said that emergency action plans were in place, and emergency responders conduct drills. He also said the 50-year event affected a designated flood zone.
Floods are inevitable, Hance said. He stated that the river channel had been changed years ago, and there had not been any large weather events to test the system since. The best approach going forward is to prepare for the inevitable, know what to do and help your neighbor, he said.
The flood might have been an "act of God," Logsden said, but she heard complaints that the city had not maintained infrastructure properly. She advocated planning instead of reacting.
Liker echoed her statements, saying that his research into the issue suggested there was "negligence on the part of the city," but that the law would make it hard for those affected to get any money in a case.
Stone and Smith advocated learning from the flood experience without pointing fingers. Smith recommended forming a taskforce to collaborate with the city council and departments to improve response.
Each candidate shared how they thought their backgrounds would inform their roles if elected and explained why they were running for office.
Keener is an Elko resident of 23 years who operates two local businesses and has served in city government for the past 13 years. The city, he said, is a $50 million a year corporation of which the mayor is the equivalent of a CEO. Between his business acumen and time as a liaison to various departments and boards, he said he has a "tremendous amount of experience."
Logsden's health care career has taken her all over the world, including to Iraq, where she served in the military. Her goal is to bring "change for the future of Elko," she said. "It's time for a new day."
Hance owns two Elko businesses and has experience in the mining, casino and government sectors, including 23 years as a communications supervisor for a state department. He said his goal is to increase the transparency of Elko city government.
Liker is a divorce attorney and former prosecutor with a Stanford University economics degree. He said he is running for office because, being from a poor farming community in Kansas, he wants to help people.
Smith came to Elko as a critical care nurse after growing up in the Midwest and being born in the Philippines. Her public service experience includes being the president of a library board.
Stone owns several Elko businesses and said he wants to serve Elko families while "listening to all of Elko's people and to be a voice for them …."
The forum was hosted by the Elko Area Chamber's Government Affairs Committee, and Matt McCarty moderated the event.