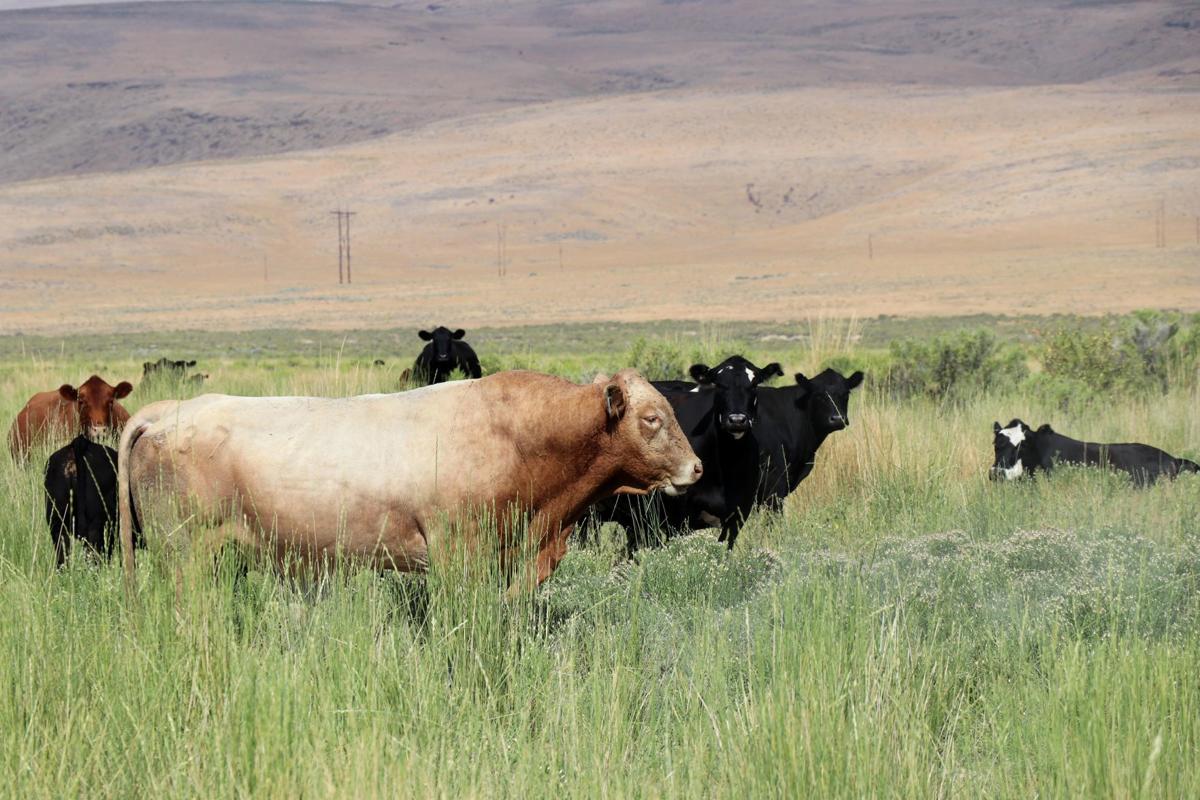 What's a good way to reduce the likelihood of wildfires in northern Nevada? Have less cheatgrass on the range.
National agencies are continuing to study using targeted grazing to help reduce the amount cheatgrass and other grasses that fuel wildfires in this region of Nevada, and Elko County is now being asked to be a cooperating agency to provide input on an upcoming Environmental Assessment. The county commissioners will discuss the invitation at the commission meeting that starts at 1:30 p.m. Wednesday.
Elko County Natural Resources Director Curtis Moore said last week he thinks becoming a cooperating agency in the Environmental Assessment is a good idea.
"There are really not a lot of downsides to it," Moore said. "It's not like you lose any rights. It just gives us a seat at the table while they're writing the EA."
Moore said there is a lot of research that shows the benefits of targeted grazing.
"If you look at our earlier scoping comments, we cited quite a few different papers in there about the benefits of targeted grazing, places it can be used, different areas where it works well, things like that. We've got that information ready."
Moore said that becoming a cooperating agency "allows us to bring that to the table before the EA comes out, so that we're not trying to suggest changes after it's been written. We can be there while it's being written."
The letter from the Bureau of Land Management's Nevada State Office inviting the county to become a cooperating agency says, "The EA would analyze the environmental effects of targeted and prescriptive grazing treatments for reduction of annual invasive grasses in a variety of Disturbance Response Groups on BLM managed land throughout northern Nevada."
"In the spirit of cooperative consultation and collaborative public involvement," the letter continues, "the BLM Nevada State Office hereby invites your agency to become a Cooperating Agency for this process. The CEQ Regulations implementing the National Environmental Policy Act allow Federal agencies (as lead agencies) to invite tribal, state, and local governments, as well as other Federal agencies, to serve as Cooperating Agencies in the preparation of EAs. Cooperating Agency status provides the opportunity for us to work together collaboratively and to enhance the BLM's planning efforts."
Moore said he thinks federal agencies are taking some good steps by looking at targeted outcomes-based grazing.
"We talk a lot about scientific management of these resources," Moore said, "but a lot of times with limited grazing periods and things like that, you end up managing them more according to those regulations than to any science that's on the ground. And so these programs are good steps toward managing the range in a more scientific way. It's essentially allowing agency scientists to go out and take a look at what's out there and figure out how many mouths they need for how long on different grasses."
Elko County Commissioner Demar Dahl said this week he wishes they could go ahead and send the cows out to where they need to be.
"I'm glad that they're doing the targeted grazing finally," Dahl said. "What I don't understand is why they don't do it across the board. And start now, or start back when they decided to do this last spring or whenever it was."
You have free articles remaining.
"I think it's obvious that it's going to work."
Dahl said that if a rancher and a person from an agency go out and look at all the grasses they will say, "Let's get some livestock on here and take care of this fuel supply, so that when the lightning strikes there won't be so much fuel and we'll be able to dash out and put the fire out before it becomes a huge problem. By doing that and using common sense to figure it out, you solve a lot of problems. It's what we used to do in the old days."
"Sometimes we let the science get in the way of common sense. And good science is good common sense."
"But I'm glad they're doing it," he added.
He said the progress now being made with targeted grazing is something that would not have happened before the current administration.
Dahl said it's important that the bad ideas in range management get replaced with targeted grazing soon.
"We need to be doing it so that we're making a practice of it and showing the benefits, so that when we get a new administration and a new bunch of people that come in to run the agency, they don't start changing it back. Because once we implement this, targeted grazing, somebody's going to have a very hard time doing away with it, because everybody will be able to see, this made a lot of sense, this is something that we needed to do.
"We've got to get common sense back into range management, and that's the way to do it."
Moore said the EA process for the targeted and prescriptive gazing programs might only take a couple of months, although it could face legal challenges.
"It wouldn't surprise me if this ends up in court," he said.
Moore mentioned the Western Watersheds Project as the organization that has been heading up the legal challenges to the BLM's grazing programs.
A Sept. 24 press release from Western Watersheds Project says, "Western Watersheds Project filed suit today in federal court against the Interior Department, challenging the Department's withholding of public records concerning a secret livestock grazing program. The suit claims that Interior and the Bureau of Land Management unlawfully withheld information on BLM's new "outcome-based" grazing initiative from the public, and requests that a federal judge order the Department to disclose the requested records. The Trump Administration's Interior Department has frequently made secret arrangements with industry and its allies, while attempting to conceal these arrangements from public view.
"'This is the latest example of the Administration favoring industrial agriculture over conservation, biodiversity, and wildlife,' said Scott Lake, Idaho Director of Western Watersheds Project. 'Outcome-based grazing appears to be a ploy to put private ranchers in charge of grazing on public lands, and sidestep standards that might otherwise protect our lands and wildlife.'"
"The 'outcome-based' grazing initiative was first announced in September 2017 by former Interior Secretary Ryan Zinke. The program promised increased 'flexibility' for commercial livestock operations that graze on public lands, and de-emphasized 'prescriptions' designed to protect habitat for species such as endangered salmon and greater sage-grouse. More than two years later, BLM appears to be implementing 'outcome based' management across the county. However, the program has yet to undergo any kind of public comment or environmental review process. Western Watersheds Project requested information on the program in April 2018 but has not received a response from the government."