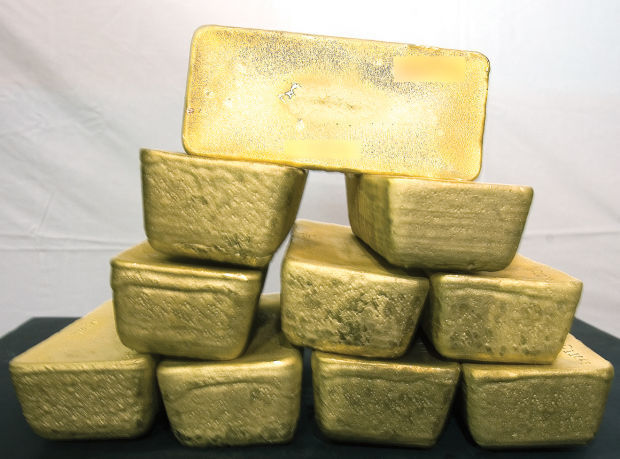 Gold prices rose to a new six-year high Monday as the stock market plummeted on news that China was devaluing its currency, possibly in retaliation against the United States in the growing trade war.
The spot price closed on the New York Mercantile Exchange at $1,463.40 per ounce, up $23.40, and the London afternoon fixing price for gold Monday was $1,465.25 per ounce. The last time it was that high was in May 2013, according to Kitco charts.
The Dow fell 767.27 points Monday, or 2.9 percent, closing at 25,717.74. The S&P 500 closed at 2,844.74, down 87.31 points, and the Nasdaq fell 728.03 points to 7,726.04.
According to CNBC, the stock market posted its biggest losses of the year for all three indexes.
Shares in gold producers gained as the stock market dropped, with Newmont Goldcorp Corp. shares closing at $37.42, up 52 cents, and Barrick Gold Corp. shares closing at $17.60, up 65 cents. Kinross Gold Corp. shares were at $4.78, up 21 cents, Hecla Mining Co. shares at $2.01, up 12 cents, and SSR Mining Inc. shares at $16.63, up 36 cents. Coeur Mining shares closed at $5.12, up 34 cents.
"All in all, gold has been the benefactor of trade tensions and global slowdown, rallying since May from below $1,300 per ounce to current levels. This is primarily a risk-off trade as investors seek safe haven during times of uncertainty and heightened anxiety," said Richard Baker of Eureka, who writes the Eureka Miner's Market Report blog.
"The trigger for Monday's market reaction is the Chinese currency weakening above the key level of 7 yuan per U.S. dollar. There are many opinions for why this happened, from accusations of currency manipulation to just a natural reflection of China's weakening economy," he said in an email Monday
You have free articles remaining.
"Whatever the argument, the root cause is spiraling trade tensions between the U.S. and China, exacerbated by last week's presidential threat to impose a new round of tariffs in September," said Baker, who contributes commentary to Kitco News.
"I believe gold will see $1,500 per ounce before Christmas," he predicted.
CNN Business reported Monday the Chinese government devalued the yuan to fall below its 7-to-1 ratio with the U.S. dollar. The bank said the weakness was mostly because of trade protectionism and new tariffs on China.
A weaker currency could soften the blow from new tariffs, according to CNN.
President Trump called China a currency manipulator on Monday, saying the yuan devaluation was a major violation that would "greatly weaken China over time."
James Wycoff, senior technical analyst for Kitco, wrote Monday that the currency devaluation is "leading to ideas China has thrown in the towel on any trade agreement with the U.S. coming anytime soon."
He predicted gold prices will get higher.
"As for gold, technical have turned more bullish just recently, and with the higher anxiety in the stock and financial markets, look for gold prices to continue to appreciate in the coming weeks," Wycoff said.
China also announced Monday Chinese companies have stopped purchases of American agricultural goods, which CNN said helped drive stocks down.