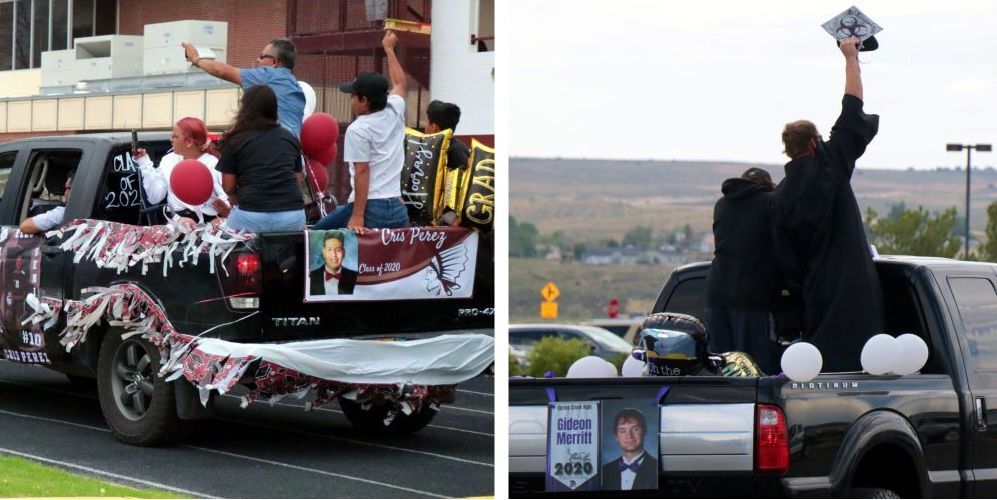 ELKO – The Class of 2021 has received the green light to resume in-person graduations in June.
Local control of schools on May 1, combined with the state reopening at 100% capacity on June 1, are the main reasons high schools can once again conduct graduation ceremonies in front of family and friends.
Superintendent Dr. Michele Robinson made the announcement to the Board of Trustees on April 13, within an hour after Gov. Steve Sisolak's press conference that expressed his goals for the state.
Sisolak said the state would transfer COVID-19 mitigation decisions to the school districts by May 1, adding that he felt confident that counties would fully reopen at 100% by June 1.
Masks will continue to be mandated statewide, he said.
The announcement was welcomed by Robinson, who said the school district was "thrilled that the Class of 2021 will not be missing out on this important ceremony."
Last year, high schools throughout Elko County organized drive-by graduations to hand out diplomas to seniors after restrictions were placed on in-person gatherings and capacity for indoor and outdoor venues.
Graduation Day for the Class of 2020 is one for the history books.
Robinson added that some mitigating factors, such as social distancing and mask-wearing, "will likely remain in place as a requirement" but that Gov. Steve Sisolak's announcement on April 13 signals a positive sign statewide and countywide.
"It is exciting that we're doing well enough in the state of Nevada, and certainly in Elko County, that the governor feels we can loosen these restrictions," she said.
Robinson asked seniors and their families to contact their high schools for more information about graduation ceremonies, noting that each school's size and facilities are different district-wide.
As graduation day draws near, Robinson asked seniors to continue social distancing and stay healthy to not miss out on their big day.
"As we're getting close to it, and we're getting excited, we still have to keep those things in mind," she said. "We're thrilled the governor continues to relax restrictions, and for the time being, those mandates will remain in place. We want to make sure that everybody in the Class of 2021 is able to participate."
Below is a gallery of Elko High School and Spring Creek High School graduation ceremonies from June 5, 2020. (tncms-asset)6a59dbec-a839-11ea-a700-00163ec2aa77[2](/tncms-asset)