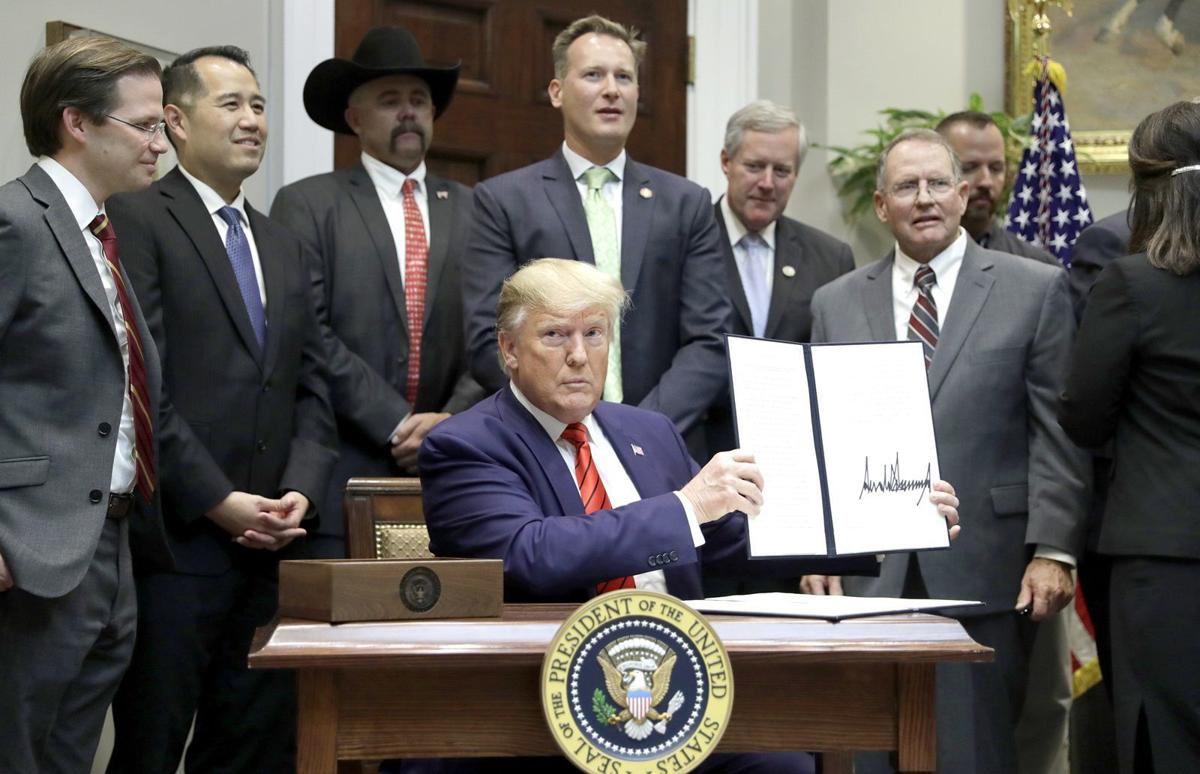 On Wednesday morning when President Donald Trump signed two executive orders designed to improve the transparency and fairness of government agencies, Eureka County Commissioner J.J. Goicoechea was one of the people standing behind the president's desk to witness the enactment of these new orders.
Goicoechea, who was there on behalf of Eureka County and as a public land rancher, said he hopes the new executive orders will help improve the process of federal agencies and the public working together toward the best use of the land.
"We've been pushing on this for the last two and a half years, from regulatory reform to more transparency," Goicoechea said. "But we're seeing these federal agencies continue to push down instructional memoranda and to interpret regulations in a different way in spite of this administration's attempts to alleviate that. So I think what the president was doing today by signing these two executive orders was to try to push that down to that next level. Let's make sure that all of these government employees understand really what we're trying to do. We don't want to limit mining, we don't want to limit grazing, and we don't want to hurt the environment, but at the same time we all have to work together."
Some of the big regulatory issues in northern Nevada right now, Goicoechea said, include Lahontan cutthroat trout, Public Water Reserve 107s, and RS 2477 roads.
Talking about Lahontan cutthroat trout habitat, Goicoechea said, "We're seeing some environmental groups come out and threaten to sue because consultation hasn't been done with the Fish and Wildlife Service by the BLM and by the Forest Service. So we are hopeful that today's actions will spur those land management agencies on to get that consultation done, get their biological determinations or biological orders done so that we can move forward and continue to graze and continue to do those things that are really important on the land.
"We've seen this in central Nevada," Goicoechea said. "We've seen some permittees removed from Lahontan cutthroat habitat. And it's our understanding that this is going to come to the Rubies and it's going to come to the Humboldt-Toiyabe, and that is very, very concerning to a lot of us in Elko, Eureka and White Pine counties."
There are a lot of ongoing issues that involve interpretations of regulations, Goicoechea said.
"Obviously we continue to see grazing limited, and we continue to see increased fire activity, which concerns us. We want to make sure that the regulations they are basing that on and the instructional memoranda that they are basing that on are truly vetted and that there's a public process for that, and it's not merely staff saying, well, we're going to apply these as we see fit to ranchers and to small businesses."
A White House fact sheet on the two executive orders which were signed Oct. 9 says, "the 'Improved Agency Guidance Documents' Executive Order requires agencies to put their guidance documents on easily searchable websites so individuals are able to access them. To ensure Americans have their voices heard, the Order will also require government agencies to seek public input on the most important guidance they issue. Americans will be able to ask agencies to withdraw guidance they believe is wrong.
"The 'Transparency and Fairness' Executive Order prohibits agencies from enforcing rules they have not made publicly known in advance. The order also instructs agencies to offer opinion letters to individuals and businesses who request them, so people who want to comply with the law can learn how."
The fact sheet says that "Under the Obama Administration, a lack of transparency and accountability allowed Federal agencies to commit horrible abuses against the American people. Agencies abused their power by imposing unlawful and secret interpretations of regulations, as well as by threatening families and businesses with unfair and unexpected penalties. … Going forward, agencies will have to give people fair notice of any complaint against them and a chance to respond."
This article was corrected from an earlier version that said Goicoechea was the state veterinarian. He was replaced on Aug. 30 by Dr. Richard Simmonds.