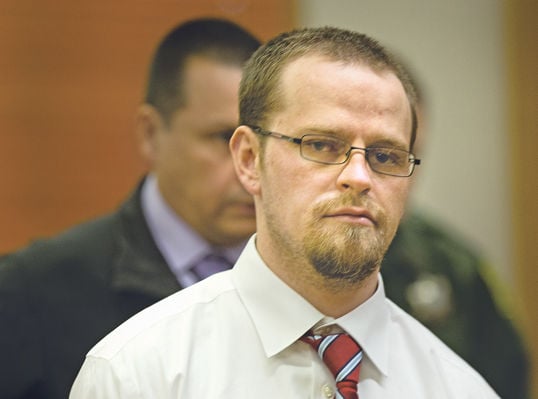 A double-homicide case out of Utah, however, is just set to begin for the defendant, according to the Associated Press.
McFarland, who has been in county jail since January 2012, was found guilty of all felonies for which he was charged locally, most notably first-degree kidnapping, an offense punishable by up to life in prison.
The charges stemmed from a December 2011 crime spree in which McFarland and accomplice Angela Hill drove to West Wendover in a stolen vehicle, then around dawn decided they needed to get a new car to avoid suspicion.
The two tried to steal an Audi that belonged to Rattanaphorn Keomanivong, as the victim left a casino. With a weapon in hand, Hill stopped Keomanivong from shutting her driver's door, demanded she move to the passenger seat and began to drive away with the victim inside. After grabbing Keomanivong's purse from the Audi and helping Hill start the car, McFarland followed in the first car.
Later, Hill and McFarland drove to Wells and stole a Jetta from a motel parking lot.
Keomanivong cried on her husband's shoulder as the verdict was read. Outside the courtroom, she said she was happy with the jury's decision.
Defense attorney Gary Woodbury declined to comment on the outcome of the trial.
The jury returned its decision only a few hours after hearing closing arguments.
Prosecuting attorney Rob Lowe said to the jury that many of the charges — those related to the stolen cars from Utah and Wells, and Keomanivong's stolen purse — were "low hanging fruit," and he suggested trial evidence should clearly point to McFarland's guilt. McFarland didn't contest the accusation that he robbed Keomanivong's purse, Woodbury told the jury.
Both the prosecution and defense spent significant time Thursday morning arguing charges related to kidnapping and conspiracy to commit kidnapping or robbery.
During the trial, Hill took the stand and testified she was ordered by threat of death to take Keomanivong's car with the victim inside. Woodbury said if the jury believed Hill, it could not convict McFarland for conspiracy because by law conspiracy is the agreement — without coercion — to commit a crime.
"Defense recognizes you may not like that outcome. You may think Mr. Logan McFarland committed a crime by saying those things to the lady … but it's not one of the crimes he's charged with," Woodbury said. "…If you believe that Logan McFarland did those things to Angela Hill, there could have been no conspiracy."  
Woodbury suggested, however, that Hill was not credible. The defense said Hill alone was the one in Keomanivong's car, and she alone committed the kidnapping.
Lowe agreed that the jury should be suspect of Hill's claims and consider her testimony "with extreme caution."
Hill said the weapon in her hand was an expandable baton; Keomanivong testified it was a gun, Lowe pointed out.
More importantly, once Hill drove away from the parking lot with Keomanivong, she could have explained to the victim that her life had been threatened and could have driven both of them to safety, according to the prosecution.
Instead, the victim said, Hill cursed her with obscenities and hit her in the head with the weapon.
But unlike Woodbury, Lowe said Hill and McFarland acted together.
"These two are in a conspiracy. They're in it, both, up to their eyeballs," Lowe said.
Lowe told jurors evidence of a conspiracy is "rarely written down. It's rarely a notarized document." More commonly, he said, the conspiracy will manifest through the defendant's actions.
As evidence, Lowe reminded jurors that Hill had trouble starting the victim's car and McFarland leaned in to show her how the key worked. Hill also called for McFarland to "get the handcuffs," though McFarland never returned with any.
McFarland and Hill had both been named as people of interest in the slaying of an elderly couple in Mount Pleasant, Utah. Utah prosecutors told the Associated Press they intended to file charges against McFarland related to the slaying after the Nevada trial finished.
District Judge Nancy Porter said McFarland's sentencing hearing will be scheduled after parole and probation has time to complete a pre-sentence investigation. He will be sentenced for committing an offense in a stolen vehicle, conspiracy to commit kidnapping or robbery, first-degree kidnapping, robbery, burglary and grand larceny of a motor vehicle.