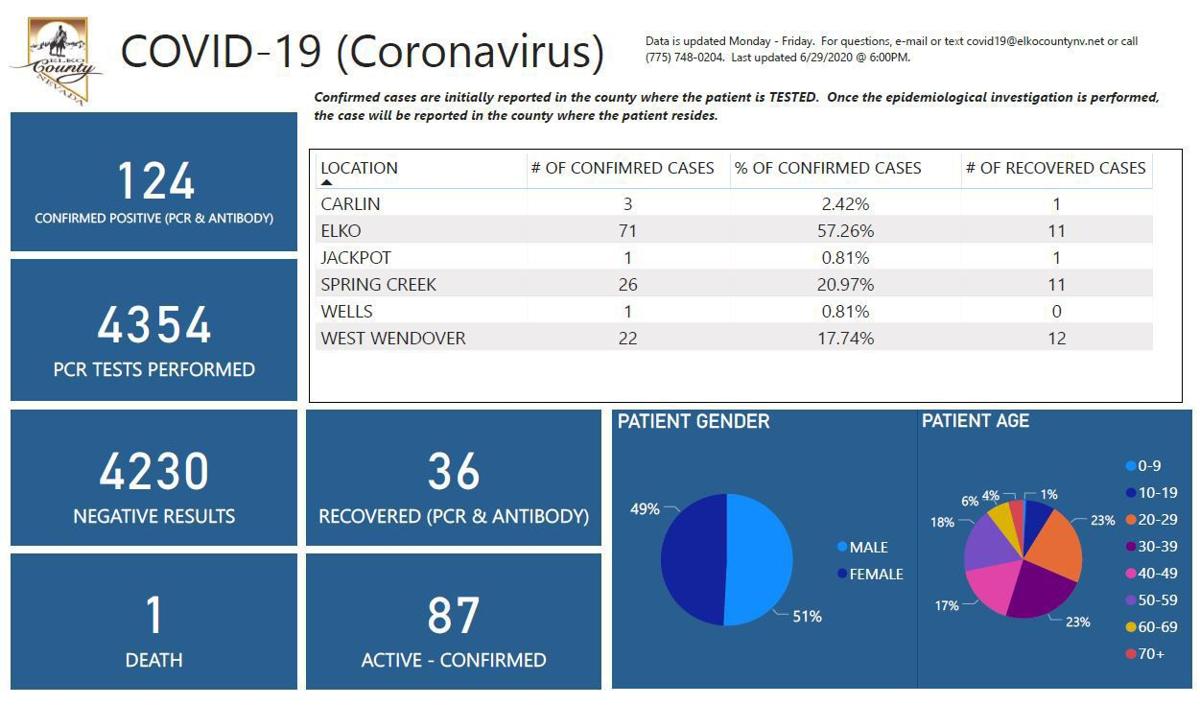 ELKO – Coronavirus infections continued to rise over the weekend with 25 new cases reported in Elko County from Friday through Monday.
Five recoveries were reported and one patient remains hospitalized. There have been no deaths since a West Wendover woman succumbed to the disease in early April.
"We are strongly encouraging everyone to do their part in reducing the spread of the virus by resuming social distancing practices, staying home if you are not well or if you are a close contact of a confirmed case, and wearing a face covering while in public or around others who are not in the same household," stated a release Monday evening from Amanda Osborne, Elko County's director of human resources.
The county now has confirmed 124 cases of COVID-19, and roughly half of them have been reported over the past 10 days. A total of 87 cases remain active.
The new cases are from all age groups, from younger than 18 to people in their 60s.
The greatest number of confirmed cases were reported in Elko, at 71, followed by 26 in Spring Creek and 22 in West Wendover. Three of the cases are in Carlin, and one each in Wells and Jackpot.
The Elko County contact tracing team is working to identify close risk contacts to prevent further spread of the disease. A close contact is defined by the Centers for Disease Control as any individual within 6 feet of an infected person for at least 15 minutes.
The county advised residents to keep an eye out for symptoms that may appear 2-14 days after exposure to the virus. The primary symptoms are cough and shortness of breath, but people also may be infected if they have two or more of the following: fever or chills, repeated shaking with chills, muscle pain or body aches, headache, sore throat, congestion or runny nose, new loss of taste or smell, nausea or vomiting, diarrhea.
Emergency warning signs that call for immediate medical attention are trouble breathing, persistent pain or pressure in the chest, new confusion, inability to wake or stay awake, and bluish lips or face.
"This list is not all inclusive," stated the county. "Please consult your medical provider for any other symptoms that are severe or concerning to you."
People with symptoms should reach out to their healthcare provider or call the COVID-19 hotline at 775-777-2507 or text or email covid19@elkocountynv.net.
The COVID-19 Hotline's hours are 9 a.m. to noon and 1-5 p.m. Monday through Friday. The hotline is available to assist those who are experiencing symptoms consistent with COVID-19 or for general questions.
Dr. Bryce Putnam encourages the public to help stop the spread of respiratory illnesses by taking personal accountability and practicing preventative measures such as wearing a mask while in public and:
— Avoiding close contact with people who are sick. When you are sick, keep your distance from others.
— If possible, stay home from work, school, and errands when you are sick. This will help prevent spreading your illness.
— Covering your mouth and nose with a tissue when coughing or sneezing. Serious respiratory illnesses are spread by cough, sneezing or unclean hands.
— Washing your hands with soap and water for at least 20 seconds, especially after going to the bathroom; before eating; and after blowing your nose, coughing or sneezing. If soap and water are not available, use an alcohol-based hand sanitizer that contains at least 60% alcohol.
— Avoiding touching your eyes, nose, and mouth.
— Clean and disinfect frequently touched objects and surfaces using a regular household cleaning spray or wipe. Remember to clean your cellphones.
— Avoid social gatherings in groups of more than 50 people.
Concerned about COVID-19?
Sign up now to get the most recent coronavirus headlines and other important local and national news sent to your email inbox daily.