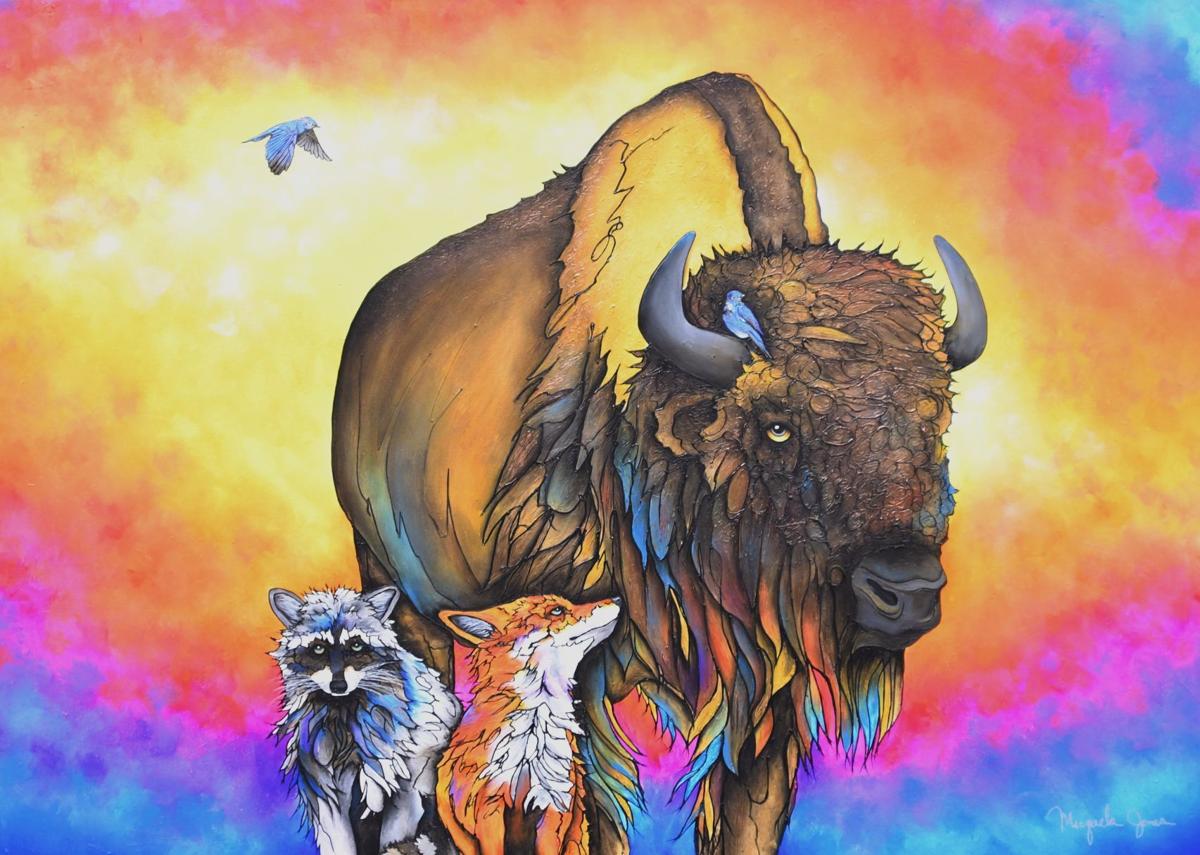 ELKO – Northeastern Nevada Museum is now showing the annual "Art of the West" exhibition for 2021. Although no reception is scheduled, visitors are encouraged to view the installations during regular business hours.
"Shattering the Pictures in our Heads," by Karem Orrego is installed upstairs in the Barrick Gallery.
"This multi-video exhibition deconstructs the "Mythic Indian" stereotypes we see in mainstream media through the perspective of members from the Shoshone-Paiute Tribe," said NNM Executive Director Lauren Roovaart.
The video installation portrays a drive through Owyhee, the headquarters of the Duck Valley Indian Reservation, where you will find real individuals, landscapes and conversations that bring to light the diverse cultural identity of the Native community.
"In February, we were excited about the opportunity," wrote Orrego on Facebook. "In March, our team looked forward to filming pretty soon. But then, the world went full stop. The biggest priority was the health and safety of everyone involved, especially for our team in Owyhee, Nev. And so, we waited." "It was time to figure out how to use Zoom, check safety guidelines, go back to the storyboard, and search for new funding options," Orrego wrote. "After speaking with local leaders and taking all the precautions needed, Carol Dalrymple and I drove to Wild Horse Reservoir. On one hand, there was a plan. While on the other one, there was a box of masks, sanitizers, and disinfectants. Yet, flexibility was fundamental for unexpected changes. We filmed what we could and, like any artist with a new creative challenge, we made it work.""We invite you to experience first-hand stories inside an immersive video art installation that includes multi-screen art as well as 360 video technology," Roovaart said.
The colorful paintings of local Te-Moak artist Micqaela Jones are featured downstairs in the Halleck Bar Gallery.
For the past 18 years, Jones has been creating art inspired by her Shoshone Culture. In 2005, she participated in her first juried art show in Saint George, Utah. The following year her work was featured at three major juried shows, including the Santa Fe Indian Market, the Eiteljorg Museum Indian Market, and the Autry Museum Art Market.
Those shows were a real platform for her career. Since then, Jones has shown her award-winning work all over the country. Her work is in permanent collections at the Heard Museum, the Museum of Fine Art in Reno, Northeastern Nevada Museum and in a number of private collections.
Jones recently received the "Design Fellowship Award" at the Santa Fe Indian Market. Along with this honor, she was asked to be the 2017 poster artist for the Santa Fe Indian Market and took first place at the Red Earth Art Show in Oklahoma. In March of 2019, she was invited to attend the "Cowgirl Up!" art show sponsored by the Smithsonian. This show features the top 50 Western women artists in the country. She was also invited to attend the 2020 exhibition.
"My goal as an artist has always been to move my viewer to connect with my art through color, vibrancy, and texture, and to create a story that they can relate to; one that will bring feelings of joy, happiness, and hope," said Jones. "As the year 2020 progressed, I felt it was even more important to create art that reflected that theme. I included pieces from both of my two notable styles, my vibrant colorful palette as well as my newer, loose contemporary artworks."
Today, from her studio in Elko, Jones continues to work on new concepts, ideas and techniques to always push her boundaries as an artist. She is excited about every new painting she creates. The results are traditional in their subject matter but contemporary in their approach.
My 2019 Favorite News Photographs:
My 2019 Favorite News Photographs
I decided to take a look down "Memory Lane" to see what my year looked like photographically here at Elko Daily Free Press. I must say, I have taken a lot of pictures! While some are just quick shots of the ever-changing Elko scene, others portray something more. A lot of things influence my feelings about my own photography. I am very "moved" by events that bring people together and by patriotism. I also feel strongly about images that reflect our arts scene in town since I am connected to that in many ways. Plus, I truly love random, visual moments when you can catch them.
Here is a collection of 10 of my favorite newspaper photos from last year. I hope you remember some of them and I hope to see you again in 2020 for another great photographic "go around!"