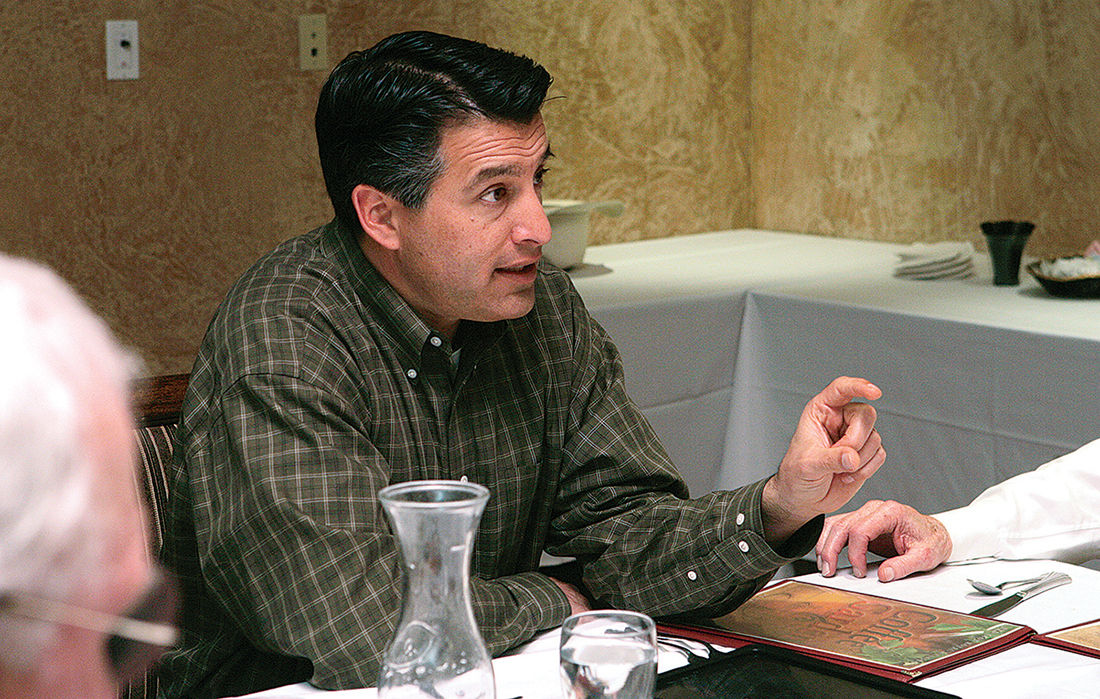 ELKO — Gov. Brian Sandoval is sticking to his guns when it comes to his no new taxes policy and choice in education.
Sandoval met with State Sen. Dean Rhoads, Assemblyman John Ellison and city and county officials Saturday for a luncheon meeting in Elko. They spoke about the state budget, education bills and adhering to the governor's no new taxes campaign promise.
Sandoval reiterated his tax policy— including a change in the way net proceeds are calculated for the mines. When asked if he would be in favor of changing the formula if the changes were acceptable to the mining industry, Sandoval said no.
"My position has been clear that I'm not supportive of tax increases," he said.
The governor was asked several times about the corporate income tax and he said it would be "devastating" for the state. He said the reason many companies are leaving states like California is because of corporate taxes. He said Nevada's advantage is no state income tax and no corporate income tax.
"I believe it would keep businesses away from our state at a time when we're trying to get them here," Sandoval said.
The governor said he could not speak for the state legislators, but he believes the Republicans are strong and will stand with him against any new taxes.
Ellison said he is not for any new taxes.
"I've come out very strong about no state tax," Ellison said. "The corporate tax, I'm strongly opposed to and I'm strongly opposed to changing the net proceeds of mines and the impact there. I'm opposed basically to any of the taxes we're talking about. I think we can live within our means and make it work and become a better state."
Rhoads also said he will support the governor's policy.
"At the beginning of the session I didn't think the governor's plan could make it, but now I'm for no new taxes," Rhoads said.
Local officials also voiced their concerns that city and county governments are trying to organize their own budgets, while not knowing how the state's budget will affect them.
"The county and city, they're in limbo right now," Ellison said.
Elko County Manager Rob Stokes told the governor that the county has some concerns about proposed plans to transfer some of the state's responsibilities to the counties.
"We would probably survive it, but we have concerns about other rural counties," Stokes said. "To see the transfers come over, it could bankrupt those counties."
Sandoval said he hopes the state's situation will change.
"It's hard for me to hear that you guys are waiting for the second shoe to drop," he said about local governments waiting on the state budget decisions. "I hope two years from now we have a much different conversation and the economy will be much stronger."
The governor and local officials also discussed the state of K-12 and higher education. Sandoval said the colleges told him they did not raise tuition because they couldn't keep the money.
"I want them to be more autonomous and less dependent on the general fund," he said.
Sandoval said reduced state funding for higher education, including Great Basin College, has been a topic of concern among local residents.
"I know how important the college is to your community," he said.
Sandoval also said he wants to restore funding for the University of Nevada, Reno Cooperative Extension program to what he originally proposed.
As part of the UNR budget reduction proposal, UNR President Milton Glick proposed a 72 percent funding cut for the statewide program, more than the 33 percent Sandoval proposed.
Sandoval said he was disappointed that his school voucher bill did not make it through Friday's legislative deadline, but there is another school choice bill still on the table. He said the open enrollment bill is also still alive, but that probably will not affect the rural counties as much.
Elko County School District Superintendent Jeff Zander told the governor that the local school board has been very conservative in its budget and is waiting to see how the block grants will be distributed throughout the state. Sandoval said the block grants will give school districts the ability to determine how to use their money. He said funding for education remains a priority.
"My commitment is that as more money comes in, it goes to K-12," he said.
Sandoval said he is confident in his budget plan and is willing to debate other plans, but he hasn't seen any yet. He said "the proof of the pudding" will come up during budget votes. Sandoval said he is also working with his budget director to put more funding back into the budget.
He pledged to work to keep the Wells Conserv-
ation Camp open. The state budget originally called for the closure of the camp. Sandoval said the voters of Northeastern Nevada should be "very pleased" with the representatives they have in the Legislature.
"They are well respected in those halls and they're fighting for you," he said.
 Staff writer Julie Wootton contributed to this story.