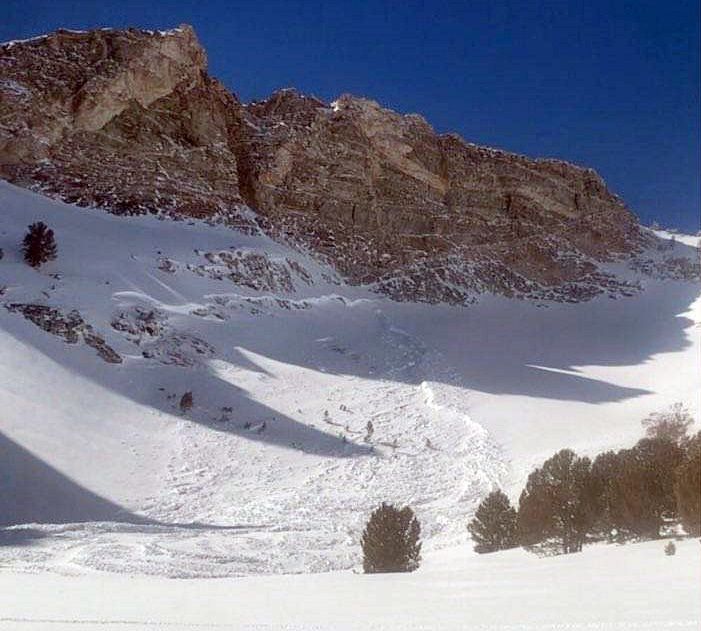 ELKO – One man was killed and another seriously injured Saturday morning in an avalanche in the Ruby Mountains.
Three young men from the Elko area were snowmobiling near Castle Lake high in the mountains above Lamoille Canyon when the avalanche occurred shortly before noon. Elko County Undersheriff Justin Ames said two of them were able to "roll out" away from its path. One of them was injured and one was able to call for help around 11:53 a.m.
A rescue crew from Ruby 360 Lodge helped bring the injured man to safety. He apparently suffered a broken leg and clavicle, and was flown to Salt Lake City for treatment, Ames said.
The sheriff's office has not released the identities of those involved.
Deputies responded to the incident along with Elko County Fire District and Elko County Ambulance personnel, Elko County Sheriff's Office Search and Rescue and Ruby 360 Lodge personnel. Ruby 360 is the base site for Ruby Mountain Heli-Ski.
Snow depths in the Ruby Mountains were around 3 feet, according to the Natural Resources Conservation Service. The agency's snow map listed 38 inches at the top of Lamoille Canyon, 39 inches at Smith Creek, and 43 inches at Green Mountain.
Snowmobilers park along Lamoille Canyon Road and then ride up the snowy portion to reach higher elevations. Several lakes are located above the canyon in the Ruby Mountain Wilderness Area that leads toward Harrison Pass, although snowmobiling is not allowed in the wilderness.
Avalanches are common in the Ruby Mountains but injuries are rare. In March 2018 a snowmobiler was injured between the beaver ponds and Road's End after driving into a prior avalanche.
The last deadly avalanche involving a snowmobiler in recent memory was on Feb. 15, 1981. Leila Koncher, 20, of Salt Lake City was snowmobiling in a large group above Lamoille Lake when she was swept away by the snow. Her body was recovered from the lake four months later.
Joe Royer of Ruby 360 Lodge said he recalled another fatality in the late 1980s involving a skier in Thomas Canyon.
The U.S. Forest Service monitors avalanche danger in more populated areas but not in northeastern Nevada. Royer said conditions here are generally similar to Utah and Idaho.
"Just use common sense," he said.
The Forest Service does post avalanche safety tips on its website. They advise outdoor recreationists to know the terrain and avoid dangerous conditions. Everyone is advised to carry an avalanche transceiver as well as probes, a shovel and survival gear.
Ruby Mountain Heli-Ski has conducted avalanche awareness classes in past years, in conjunction with Friends of the Ruby Mountains and Ruby Mountains Snowmobile Club.
Several snowmobilers, skiers and other recreationists have died in avalanches across the West this month following heavy snow. A snowmobiler in the Sawtooth Mountains of central Idaho died Friday after trigging an avalanche, according to the Associated Press.
Eleven people have died in avalanches in Colorado alone this season, according to the Colorado Avalanche Information Center. They included eight skiers, two snowmobilers and a snowboarder.
"The western United States is only halfway through its snowy season but has already matched the annual average for national avalanche fatalities," reported The Washington Post.
According to a statement from the Northwest Avalanche Center, the United States experienced more recreational avalanche fatalities in the first week of this month than during any other period in the past 100 years.
Scary moment as snowmobiler caught in Italy avalanche: