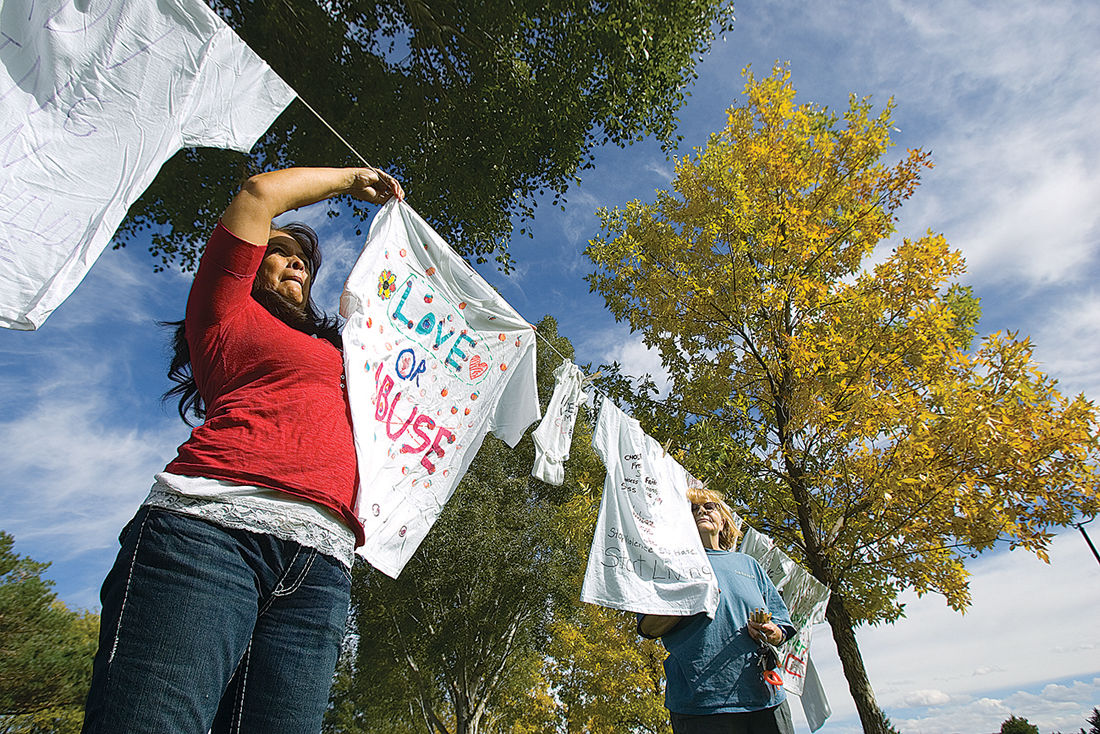 ELKO - A powerful statement of struggle and strength radiates throughout the campus of Great Basin College as T-shirts, created by the victims of domestic violence, hang from the trees and represent the stories of those who have become survivors.
Forty-six shirts are on display on the GBC campus as part of Domestic Violence Awareness Month, giving insight into the deep emotions of the victims.
"A picture says a thousand words," said Yvette Waters, executive director of Harbor House.
She said victims who came to the Committee Against Domestic Violence, or Harbor House, painted T-shirts that represent the victimization they experienced and the crossing over into being survivors.
On Friday, victims and Harbor House staff spent part of their afternoon hanging the shirts.
Cora Bauman was among the group.
Two years ago, Bauman fled at 4 a.m. from her home without medication, clothes or any belongings. She went to Harbor House, which provided her with shelter, food and basic necessities. It also aided in her transition to triumph over the violence she had experienced.
Now, she is an advocate against domestic violence and speaks out on the issue.
As a form of art therapy, victims, both women and children, are given T-shirts as a way for them to express their emotions.
"When you are talking about domestic violence and emotions, sometimes it is very difficult to verbalize it," Waters said.
She said many times the women are hesitant about the idea, however, when they "hand them the plain white canvas of the shirt and the pens, all of those emotions begin to come out."
Two of the shirts read "we don't deserve this" or "why do you hurt me and my mom? You break my heart."
One shirt is a simple display of hand prints, which Waters said symbolizes what hands are really meant for and makes a strong statement against violence.
GBC has hosted a variety of awareness activities put on by Harbor House. There is a display for breast cancer awareness and Waters felt combining the display with a domestic violence awareness display would send an even stronger message against two serious issues facing women.
"As a woman's advocate, it's quite an awareness because we have two major killers of women displayed on this corner. Those are two major health threats to the women in our society, so I think it's pretty powerful that we are able to do this and join in that concept," Waters said.
When it comes to raising awareness, putting the T-shirts on display is a powerful thing as Waters said people seeing the emotions of the victims makes all the difference in the world.