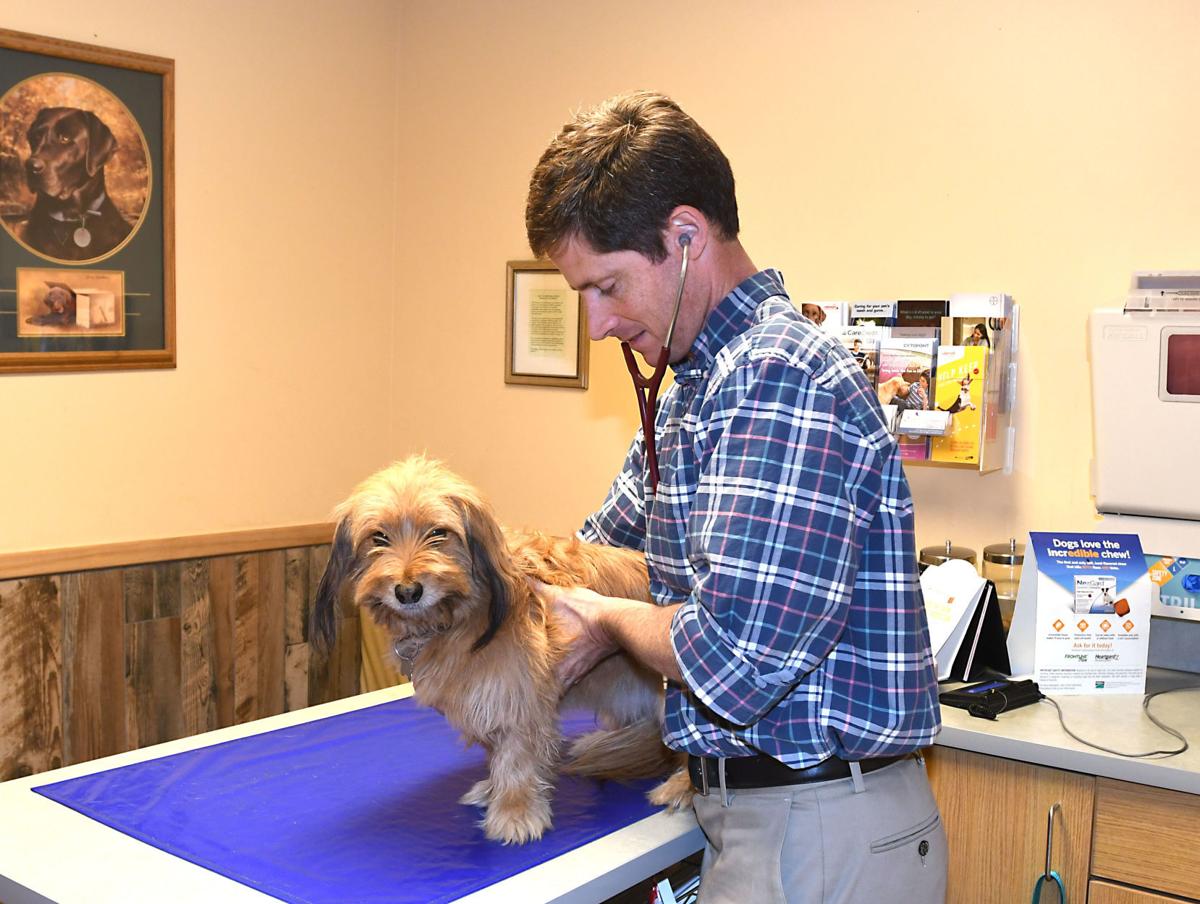 ELKO – When he received a call from Elko Veterinary Clinic, Dr. Timothy Warner jumped on the first plane and came down from Fairbanks to interview.
Warner was looking for a privately owned clinic in the western lower 48, and this fit the bill.
Dr. Arlyn Cuthbertson started Elko Veterinary Clinic in 1953. Now his son, Dr. Alan Cuthbertson, runs the hospital.
Warner joined the practice in early September, serving alongside doctors Mike Perchetti, a co-owner, Lorinda Fallini and Tess Sustacha.
The clinic sees large and small animals and some exotics.
"You can't be lazy to be a vet," Warner said. "This job is not 8 to 5. Animals don't get sick just at those times."
The week he started at the Elko clinic he was extremely busy.
"My third day here, I had six emergencies," he said. "It can be rough because you have to get up and come in the next day."
Warner loved animals growing up and thought he would like to work with them.
"I talked to my godfather who is a radiologist," Warner said, "and he said, 'You really, really really want to be a physician on the human side.'"
He started working in the animal care industry during high school. He has done everything from cleaning kennels to working as a veterinary technician. Now he appreciates what the staff is doing because he was there before them.
Warner attended the University of Washington State Veterinary School. He finished the requisite eight-year program in seven years.
Early in his career, he worked in Las Vegas and Boise. Before accepting the position in Elko, he was employed with a clinic in Alaska.
Warner has seen the gamut of animal injury and illness.
"We had a dog in Fairbanks that had severe pancreatitis, and we had to take the gall bladder and attach it to the intestine so it did not have to go through the normal plumbing."
Warner was not sure it was going to make it, but it did.
Yet not everything goes the way he wants it all of the time, and occasionally, it keeps him up at night.
"Sometimes, you never know," Warner said.
Warner feels that one of his best skills as an animal doctor is his ability to communicate with clients. He wants owners to understand what is going on with their pets.
"He's fabulous," inventory manager and technician Ann Jayo said. "He's very thorough and really likes to talk to the owners."
Warner is excited that the clinic will soon be doing minimally invasive laproscopic procedures. He is also well versed in orthopedics.
"I was looking for a progressive, well-equipped clinic where you can work up cases instead of not having the equipment you need to work," Warner said.
Warner is familiar with some of the environmental health hazards in our area, including snake bites, penetrating foxtail and cheat grass, and exposure to cold.
"If you plan to be out and about with your dog at all, try to get in rattlesnake training when it is a puppy," he said. "Avoid areas where they will be. When I worked in Boise, the rule of thumb was not to get out there too much until you have at least two good freezes."
In his first week working in Elko, Warner saw a number of toxicity patients. He recommends that pet owners get rid of rodent poison or antifreeze or put it very high up.
"A few licks of antifreeze, and you have irreparable kidney damage," Warner said.
One of the best things that Warner appreciates about his job and his relationship with his own dogs is seeing and maintaining the animal-human bond.
"My girlfriend and I have a Pomeranian and a Shih Tzu," he said, "and when I come home they just brighten my day."
Be the first to know
Get local news delivered to your inbox!