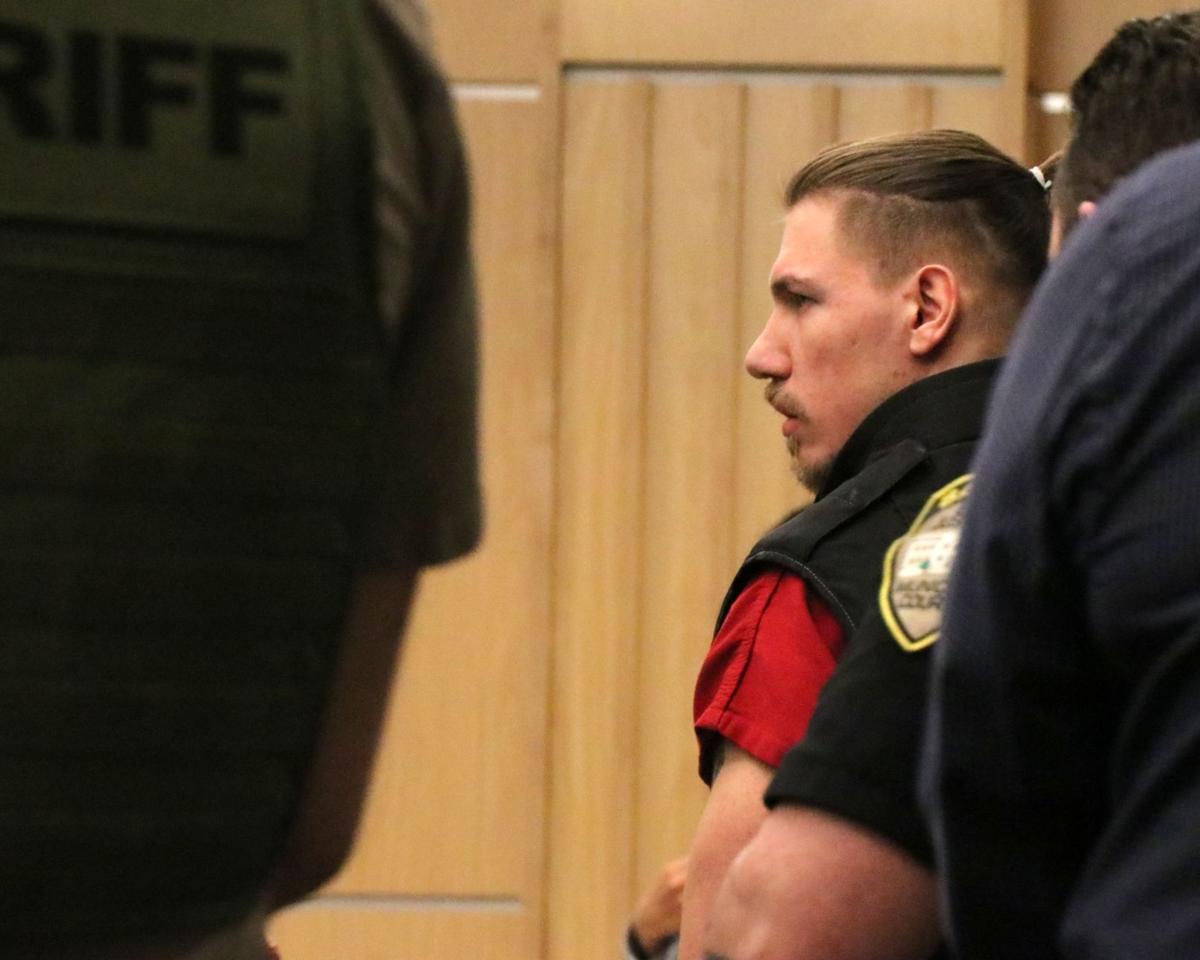 ELKO – A man was sentence to life in prison without parole in the death of a 7-month-old baby that occurred nine months ago.
Nathan O'Dell, 25, pleaded guilty to one count of first-degree murder committed in the perpetration or attempted perpetration of child abuse.
He was sentenced by Elko District Judge Al Kacin on Thursday after nearly three hours of victim impact statements and testimony from a licensed psychologist.
O'Dell was also ordered to pay hospital costs totaling $128,491.86.
In exchange for the plea, the family consented to dropping an additional charge of abuse or neglect of a child, a category "B" felony, involving the baby's 4-year-old sibling.
On May 12, O'Dell called 911 to report the baby was not breathing. He told police he had been caring for the infant and a 4-year-old boy for five days while their mother was working out of town.
O'Dell told police he left the baby unattended while he changed clothes and then discovered the baby wasn't breathing.
He said he had dropped the baby at a height of 12-18-inches on a tile floor in the bathroom as he was preparing to revive the child with water from the shower.
Medical staff at the Northeastern Nevada Regional Hospital said the baby had multiple skull fractures that indicated violent shaking referred to as "shaken baby syndrome."
The baby was flown to Primary Children's Hospital in Salt Lake City where he died on May 14 as a result of abusive head trauma resulting in brain damage.
The 4-year-old boy was also found to have bruises on his body. O'Dell told investigators he spanked the boy for having trash under his bed.
O'Dell's sentence carried life in prison, but prosecutors and defense counsel disagreed whether he should serve up to 20 years or be eligible for parole.
Speaking on O'Dell's behalf, several of his family members testified that they were shocked when they heard about the incident. They added they did not witness any violent tendencies from O'Dell growing up and said he showed good conduct around small children. They asked for possibility of parole so that O'Dell might be reunited with his entire family out of custody.
Family members of the deceased asked for life in prison without the possibility of parole, stating that the infant never lived to see his first birthday.
O'Dell spoke on his own behalf, stating he was aware of how the crime affected everyone involved, and he accepted full responsibility.
"There's no denying that what I did was horrific and tragic and it's affected many lives in a negative way," he said. "All I could think about was how I was affecting other people and I know that there's no measure for the suffering I put this family through, my own included, but it's not something I can take back and I've come to terms with that fact."
In handing down his sentence, Kacin said he listened to Deputy District Attorney Chad Thompson and defense counsel attorney David Lockie very carefully, along with O'Dell's family and the baby's family members who gave their victim impact statements.
"[The baby] could not defend himself and he could not call for help and that is why this is an enumerated-means murder, made by operation of the law, first-degree murder. It focuses on the victim, this precious, helpless child," Kacin said.
Although O'Dell's confession and guilty plea spared the baby's family of a trial, Kacin said "it does not lessen the impact of the crime on the victim. And I wholeheartedly agree with Mr. Lockie's client that Nathan O'Dell cannot take it back. This is horrific and tragic."
Considering that the children were abused over a period of time, "this is extremely disturbing conduct of the most extraordinary kind to beat children like this," Kacin said. "There's no sentence that I could ever fashion that would stop the pain of the victims who are left behind, the family members."
In arguing for life in prison without parole, Thompson stated O'Dell's family would still have a chance to visit him, even in custody. However, the baby's family would never see him again.