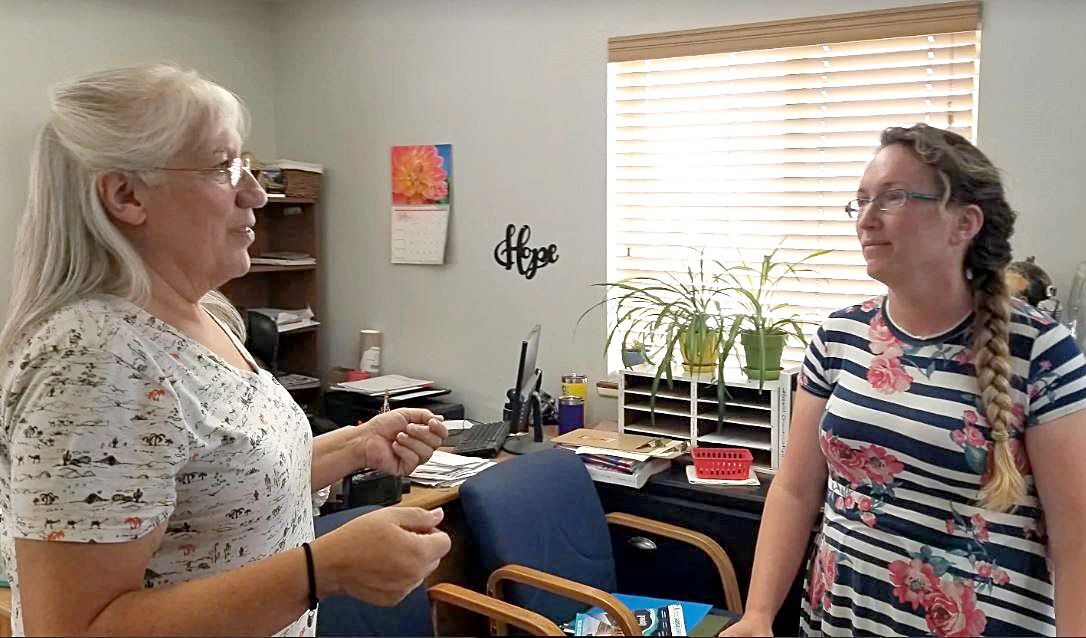 On Friday, March 13, students and teachers gathered for what would become their last day of normal. With the Governor's directive on March 15 to close all kindergarten through 12th grade schools effective March 16, all schools in Nevada began to scramble to find a way to keep instruction going while unable to meet in person.
Two local schools, Elko Institute for Academic Achievement and Spring Creek Christian Academy, moved quickly to accommodate their students.
"That Saturday, before it closed, was Pi Day," Susan Werner, a math teacher at SCCA and the college, said, "So that Friday, which actually ended up being the last day of class, we had a Pi Day Party for math class, and we ate pie and played Pi games. So that – I'm really thankful … but it was a sort of a end-of-school party."
At the decade-old EIAA, a public charter school, Administrator Ashley Perkins was able to get the ball rolling after the announcement.
"We started making sure that all of our online stuff with our parents was working and everything was good to go. So we kinda got a jump on the ball. So, Sunday I got a hold of my staff and the whole staff came in on Monday, but the kids weren't here. Wednesday we were back up and running, checking out Chromebooks to kids who didn't have Chromebooks and starting our online platform teaching."
Perkins admitted that for EIAA to find a workable plan was easier than for the district at large, which had "a much steeper hill to climb." She said that compared to the county, setting up the charter school with its nearly 200 students was manageable.
Similarly, at SCCA it was fairly easy for them to set up a plan. Jo Sherwood, who has had a unique first year as administrator of the school, said that following the March 15 announcement she had teachers create packets for the students to work on. When the closure was extended, Sherwood knew something else would need to take place in order to finish the year.
"And so, my teachers took their Spring Break time to learn Zoom," she said.
The students were given a scheduled hour to log on and receive instruction. Teachers even scheduled separate tutoring times. Sherwood became the go-between, collecting the paperwork and returning graded papers. "(It) wasn't the greatest plan, but it worked. We kept learning going. They covered the entire last quarter of the year with Zoom and paper. We finished the books."
EIAA was also able to cover new material with their use of Chromebooks and extra scheduled meetings. "We had school. The kids were logged in doing their school work … but we were making sure our kids were getting instruction so we did give out new instruction during that time."
Parental involvement was a key at both schools.
"The parents did a really good job keeping their kids on task and helping with their homework and really interacting with us and keeping in touch with us," Werner said. "That was a good thing. The bad side was the kids really missed being together in class and it was more difficult to help them when they had problems, but hopefully this'll make them appreciate in-person classrooms."
One of the largest drawbacks for both schools was grading.
Perkins said it was hard to grade the work because much of their grading is based on proof of mastery, which is difficult on a virtual platform. Teachers made notes on the records so that they'd have a reference point to start with in the upcoming year.
Sherwood said that while some scores declined for even the high performing students who were having difficulty adjusting to distance learning, others did better schoolwork without the social distractions. But all missed their friends and being at school.
Bethany Headley, whose daughter attended SCCA, said her daughter adjusted fairly well, but she missed her friends and teachers. In fact, at one point about a month into the new schedule, she experienced a heartbreaking moment with her daughter.
"Even though it seems like my daughter was handling things very well," Headley said, "she teared up when she saw the principal, when I was dropping off the schoolwork. She didn't even talk to her, but the principal waved at her. I came back to the car and asked her why she was crying and she said, 'I just miss her so much.'"
Plans to re-open both schools are currently being reviewed by their individual governing structures. "The directive from State Superintendent Ebert, superintendent of education," Sherwood said, "is that all schools will open under the direction of their local board. For private schools that means your own board. Now, however, Governor Sisolak [said] we should follow the roadmap for opening schools and there's a lot of shoulds, not very many shalls, but a lot of shoulds."
SCCA has a one-step process only needing board approval. They have until August 4 to get the plan to parents.
Key to SCCA's plan is returning the students to a "normal" school day. The school's two buildings will be kept at 50% capacity, making the limit 70 total. The students will be required to use outside doors to enter their classrooms and handwashing will be enforced. The school's existing quarantine policy will remain in place. Beyond that SCCA plans to rely on parental responsibility to check the health of the students before each day.
"It's gonna be the same thing with temperature checks," she said. "We're not gonna set up a station unless and until it becomes totally required. That is a given, if a directive comes down that says thou shalt then we say, 'Yes, sir.' But until that point it is your personal responsibility."
At EIAA the process is a little more detailed. EIAA has its own board, and above them is the Nevada Charter Authority and then the state, since they are publicly funded. Their plan has an outlined structure much like the school district's. There is a plan for a normal day, a hybrid day and a fully online model.
The current plan is to open strictly following the mask mandate, as well as, doing daily temperature checks at the door; however, as 2020 has taught us, plans can change at any moment.
Get local news delivered to your inbox!
Subscribe to our Daily Headlines newsletter.