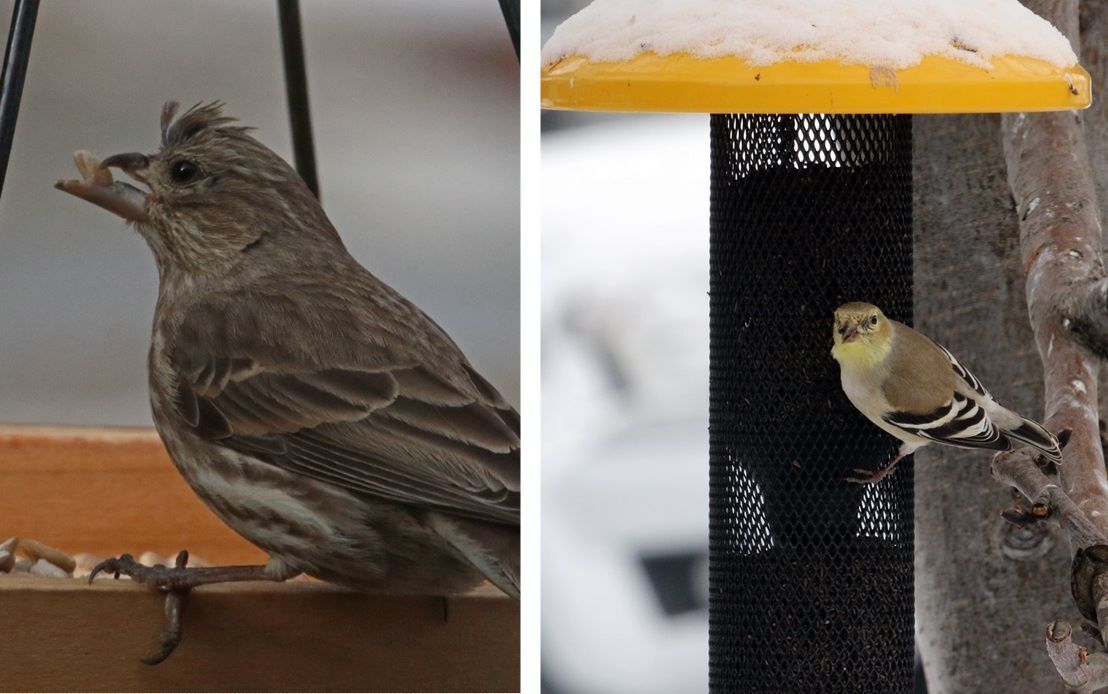 ELKO — The Bristlecone Audubon chapter is asking the public to be on the lookout for sick or dead finches and siskins associated with bird feeders, after a sick goldfinch was spotted in Elko.
Finches across the western states are dying from an outbreak of salmonellosis, a common and often fatal bird disease caused by the salmonella bacteria. The problem had been concentrated along coastal Northern California, Oregon, and Washington, where there had been frequent reports of many sick and dying birds.
Most often affected by salmonellosis are pine siskins, but also American goldfinch, lesser goldfinch and other finch species can become sick as well. In February dead siskins were found in backyards in the Carson Valley and Truckee. Residents of Northwestern Reno were asked to remove their feeders for the month of February.
Now the disease seems to be spreading further east with at least one case in Elko. Typically if there is one case there are many more unreported cases. Bristlecone Audubon is requesting that people take down their feeders for the month of March.
Community members can help to stop the spread of salmonellosis by discontinuing backyard bird feeding to encourage these birds to disperse and forage naturally. There is plenty of food available this year, especially with the lack of heavy snow cover.
All feeders need to be thoroughly disinfected before using them again. Effective feeder cleaning involves soaking feeders in a 10% bleach solution, scrubbing, rinsing, and allowing them to dry. Many bird lovers elect to maintain duplicate feeders, so that they can deploy a fresh feeder while the other is being cleaned.
Tube feeders and thistle socks may have reduced risk of transmission, but it is recommended that all feeders be cleaned regularly; any time the feeder is refilled, but at least once a week. Given the widespread and lethal impacts of this outbreak, tray feeders should not be used at this time.
The bacteria are spread through fecal droppings, and where bird seed piles up beneath feeders, or in tray feeders where the birds can simply stand among the seeds, droppings can accumulate in the seed itself. This is also true of bird baths.
Salmonella can be transferred from birds to humans. In birds it is often fatal but in humans, dogs and cats it often presents as "food poisoning." Parents of young children and/or owners of outdoor dogs and cats please take precautions and keep them out of areas such as under feeders. Free-roaming cats are most likely to ingest a diseased bird and then contract the disease.
If you choose to continue to feed birds, please keep an eye out for signs of visibly sick or dying birds, and remove and thoroughly clean your feeders immediately, leaving them down for several weeks.
Sick birds will appear to be exceedingly tame and will allow people to walk near them. They will appear lethargic, puffed up and often show sunken or weepy eyes.
Another disease to be aware of is a form of conjunctivitis that is found in house finches and usually causes the bird's death. This has been a problem for several years in Elko and also requires frequent cleaning of feeders to keep it under control.