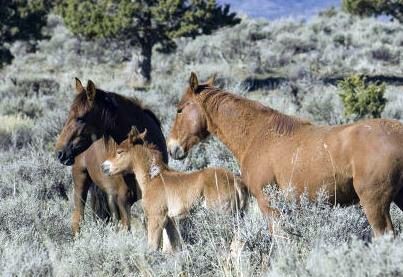 ELKO – The Bureau of Land Management's Elko and Ely districts are allowing the public to view horses gathered off the range this summer.
Viewing opportunities at temporary holding corrals will be available on a limited basis beginning Sept. 4 and continuing every other Wednesday.
The BLM started rounding up approximately 1,250 horses on Aug. 10 in the Antelope and Antelope Valley Herd Management Areas in eastern Nevada. Approximately 1,544 horses will remain in the wild.
"Members of the public are welcome to view the temporary holding operations, provided that there are wild horses in the temporary holding and that doing so does not jeopardize the safety of the animals, staff and observers, or disrupt gather operations," stated the BLM. "All interested parties will meet BLM personnel at the Lages Junction located at the intersection of Highway 93 and Alternate Route 93 at 9 a.m.
Participants must first refer to the Antelope and Antelope Valley HMA wild horse gather page located at https://go.usa.gov/xytAJ for confirmation that viewing will occur, and for specific instructions related to that viewing date.
Information and instructions will be posted at the top of the gather page.