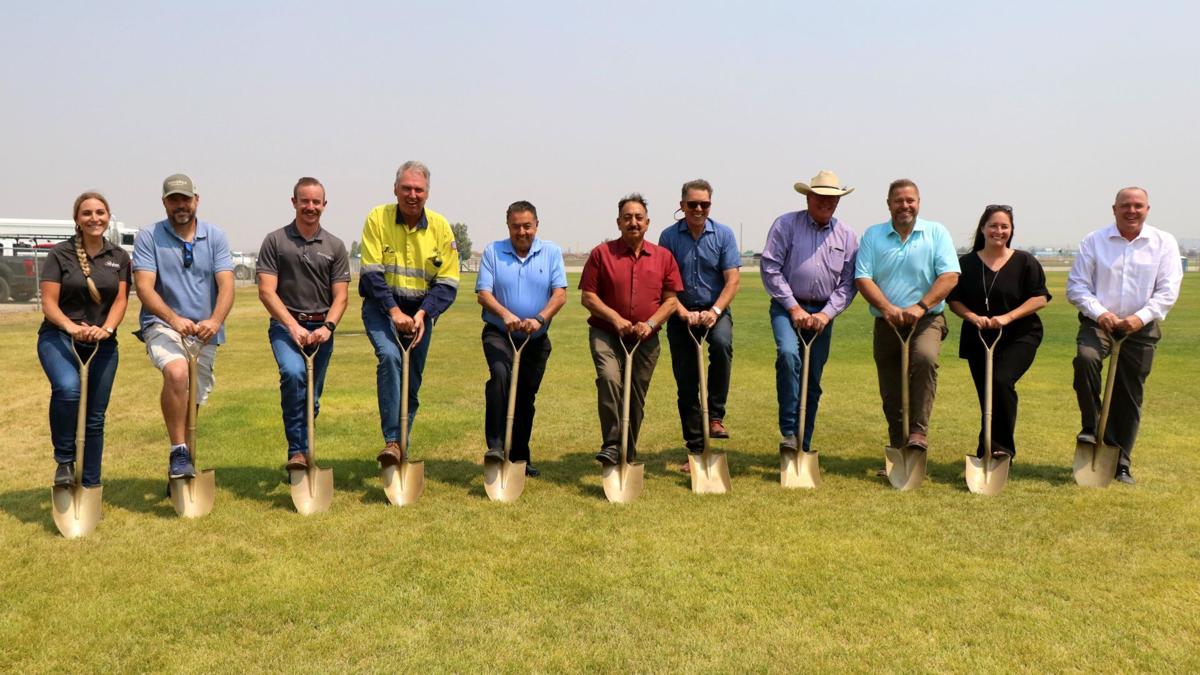 SPRING CREEK – After a decade of planning, the Spring Creek Boys and Girls Club will soon become a reality.
The Club had its official ground breaking Aug. 17, where CEO Rusty Bahr described the journey to Springfield Parkway, the location of the 22,000 square-foot building.
"We identified a need to have a club here 10 years ago in the very first retreat I came to here," said Bahr, who moved to the area with his family in 2012.
At the time, the Boys & Girls Club in Elko had been open for 12 years, using modules behind Southside Elementary. The year Bahr arrived, construction began on a permanent facility — a state-of-the-art building to serve 600 children.
Since then, it has expanded to include a teen center and now boasts approximately 1,200 students ranging from kindergarten to 12th grade.
In the meantime, Wells opened a club in early 2020, but Spring Creek remained a priority for the board of directors. The pandemic subsequently delayed those plans.
"Three years ago, we were going to try to start raising the money, then Covid hit," Bahr recalled. "We literally voted to move forward on a Thursday, and then on a Sunday, just like the rest of the world, we got the notice we were shut down."
Once it opens, Bahr said he expects the club to serve 1,000 members in Spring Creek and 110 members in the child care center for children 9 months to 5 years old.
A fitness center, a water park, playground, batting cages and community center will serve the Spring Creek area. "Our gym will be the largest out of all three of the clubs and hold about 500 people. The commercial kitchen will be gigantic. When we want to do proms and graduation parties," Bahr explained, "this will be the perfect facility for that."
Being built next to Schuckmann's Sports Complex, Bahr added that the Club would provide concessions for youth sports games and tournaments.
Elko County Commissioner Delmo Andreozzi thanked the William H. Pennington Foundation for their "generous" $4 million donation that "enhances the quality of life and provides beneficial impact to the citizens of Elko County."
Boys and Girls Club board president Casey Gallagher, who also donated $100,000, said almost $1 million was raised when the fundraising campaign was announced in July.
Establishing the new club would bring some stability to the youth of Spring Creek, which Gallagher said had occurred in Elko due to the pandemic. The Club created classrooms and hired extra educators to help students through distance learning.
"We've seen the benefit the club has provided in Elko, especially over the last year when the club was able to open its doors after the schools were forced to shut down," Gallagher explained. "It's a hub for students to come and learn and have some structure and some guidance during uncertain times. Somewhere they could go where they could receive some help."
"As crazy as the world is, there's something good that's going to come out of this year, and that's a club in Spring Creek," Gallagher said.
Gallagher said he hoped residents would see the recreation center as a resource for the growing Spring Creek area.
"The Club does so much for the students and the youth, but this is going to do so much for the community, having a central place they can gather and hold events, like graduations and proms," Gallagher added.
Nevada Gold Mines was another primary donor, contributing $4 million to the Spring Creek and Elko clubs to add child care centers at each location. Greg Walker, NGM executive managing director, said the early learning facilities were a "key" component for the company. He cited situations where employees with young children are unable to work if child care suddenly becomes unavailable.
"Also, it's for the people that aren't in our workforce that want to work in our mines. The mines work long hours, and having good, long-term daycare really helps," Walker said.
The new extended hours at both clubs from 4 a.m. to 8 p.m. "will benefit everybody, but particularly because the mines work long hours, it allows employees and potential employees to have daycare," Walker added.
Walker said his children are members of the Elko club, and they attend the after-school program. "They enjoy the activities. It's a good organization, well-run and well-managed."