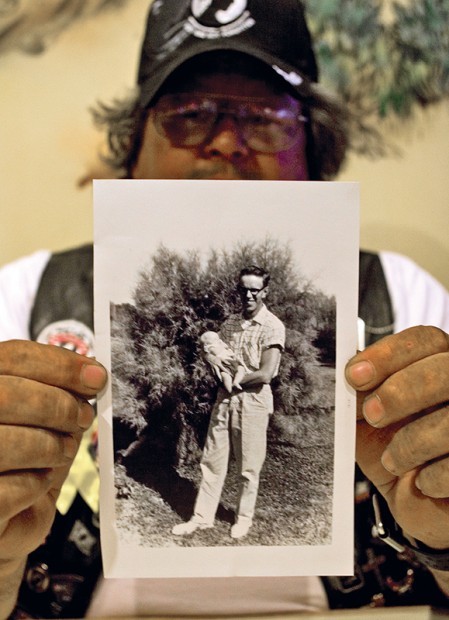 Elko man shares story of father lost in Vietnam
ELKO — John Moore was two days shy of his eighth birthday on May 18, 1966, when a piece of news changed everything.
His father, William Moore, was a flight engineer for the U.S. Air Force serving in South Vietnam when his plane went missing.
"I haven't heard anything since," Moore said. Although he doesn't recall much of that day back in 1966 when he and his mother, Marilyn Fratto, received the news, he has spent 44 years hoping for details of his father's fate.
Sporadically through the years, Moore and his family had a few glimmers of hope that his father might be found and finally brought home. However, he said in the end, they never amounted to more than small leads.
He said he still has hope they will one day find evidence of his father.
"If it's a dog tag, a bone, I don't care," Moore said. I know he's not alive, it's been 44 years."
Although he has yet to hear news of what happened to his father, he has finally find support. A year and a half ago, Moore joined the POW/MIA Elko Awareness Association and the National League of Families, which he never knew existed.
"I heard there was one and I finally went to a meeting and I've been there ever since," Moore said. "They have helped me a lot."
You have free articles remaining.
He is now a voting member of the NLF since he is a family member of someone who is missing in action. He said the NLF is currently in Vietnam conducting another dig to try and bring the missing home. Moore said they look for things such as bones, uniforms or dog tags to try and match them to the missing.
He said at one point there were more than 2,300 missing in action from Vietnam and that number has been brought down to about 1,600. 
As an opportunity to have some of his questions answered by an Air Force representative, Moore and his wife, Kay, are trying to attend the annual NLF meeting in mid-July in Washington, D.C.
Eight members of the POW/MIA Elko Awareness Association are also trying to raise money to attend the annual meeting. The members of the Elko association will attend as the sergeant in arms. For the first time in 42 years, an outside agency was invited to fill the role.
"The national director came for our chili feed in February, Ann Mills-Griffiths, and she was so impressed with Elko and the Elko association that she asked us to come to Washington and be the sergeant in arms for the national meeting," said Commanding Officer of the Elko Association Les Brown. "It's a huge honor."
The trip for the members will cost around $10,000, which the association is trying to raise money to cover. The group leaves July 18.
"I think this is a huge honor for some of us to go and represent Elko, which some of these people have never even heard of Elko, Nevada," Brown said. "This is just a humongous honor and I'm honored to be a part of it."
The Moores do not know if they can attend. The Air Force will pay for their flight, but no other expenses. However, if they do go, Moore said he has a long list of questions for the Air Force about the progress made in finding his father, including inconsistencies in letters they've received regarding various searches for the missing.
To raise money for the trip, a benefit sale is scheduled July 8 and 9. The sale begins at 8 a.m. each day between Trinity Real Estate and KELK on East Idaho St.
Although the Elko association needs to raise money for the members to attend the annual meeting, the members are still working every day to bring home those who are unaccounted for, such as Moore's father.
Today is the second annual POW/MIA Elko Awareness Day. Brown said the association will be selling yard signs lamented with the POW/MIA logo as well as the name and photo of Bowe Bergdahl, the current and only living POW in Afghanistan. 
There is a ceremony at 10 a.m. today at the Elko County courthouse.
"Show your support for the men and women in the military," Brown said. "That's what it's about and the 83,000 Americans that are accounted for dating back to World War II."
For information on the fundraiser sale or the ceremony at the courthouse, visit www.elkonvpowmia.org.