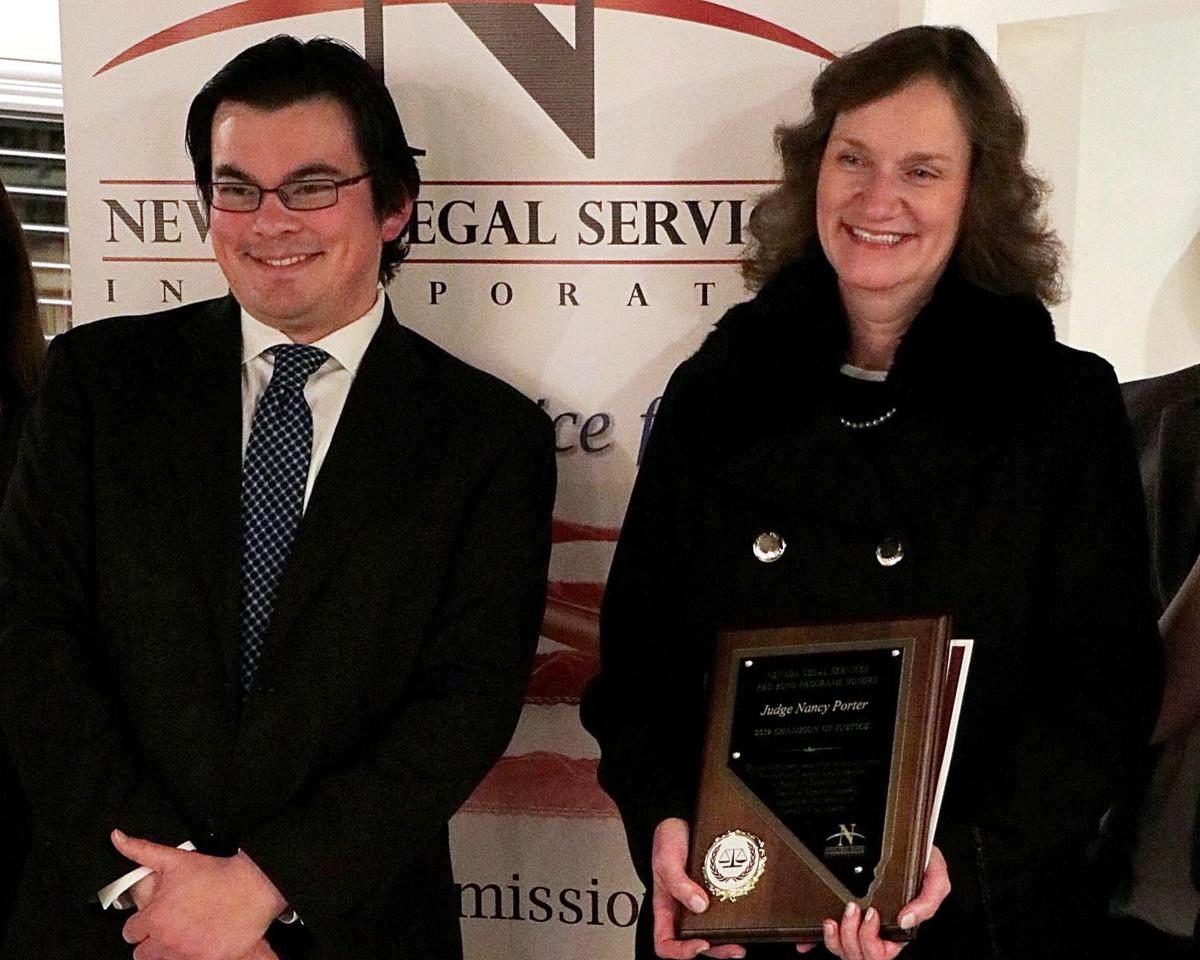 ELKO – Nevada Legal Services honored the efforts of their partners in northern Nevada who assist the organization in providing free legal services to residents.
Elko District Judge Nancy Porter, attorney Renald B. Miller and the Elko County Library were each recognized for their contributions to the NLS during its annual Champions of Justice dinner on Nov. 1.
"We're here to give recognition to those who have significantly supported the cause of access to justice for all Nevadans," said Alex Cherup, NLS staff attorney.
The organization is now in its 38th year of representing clients in state and federal courts and administrative hearings throughout the state. The NLS handles civil law cases such as family law, estate planning, and small business paperwork, and only takes on criminal law for tribe members.
"We can't do it without you," Cherup said. "This is an opportunity to celebrate exceptional service when it comes to champions of justice."
Champion of Justice
Porter's recognition by NLS was the first for an Elko County judge or attorney, said Amy Gonzalez, who has operated the Elko office for 12 years.
"They recognize [individuals] in Reno and Las Vegas, but we've never had it here before," Gonzalez explained. "We've had attorneys help and recognize them, but no one in my opinion [has helped] to that level."
She pointed to Porter's work with adult and child guardianship cases, primarily organizing and implementing Special Advocates For the Elderly, or SAFE, a couple of years ago as the reason for her selection.
"She picked a demographic that most people don't think about, and she made that her passion," Gonzales said. "As the first Champion of Justice, no one has ever proven themselves worthy of it before."
Porter, a native of Elko, practiced law for 24 years in Oregon and Nevada. She was appointed to the Fourth Judicial District Court bench in 2011 by Gov. Brian Sandoval. Three years later she was elected to a six-year term.
In addition to hearing civil and criminal cases, Porter oversees the DUI Diversion Program and Elko County National Adoption Day, as well as serving on various judicial and guardianship committees.
Attorney Julie Cavanaugh-Bill said she has represented clients in Porter's court, sometimes two or three times a day, and said Porter is "good about getting involved when she sees a need for something."
"I think she's an excellent judge," Cavanaugh-Bill said. In family cases, Porter "takes the time to assess the situation and provide advice from the bench."
Some of that advice to parents involves how domestic violence impacts a child, or she refers families to services such as family preservation court or drug rehabilitation, Cavanaugh-Bill said.
"I really appreciate that," she continued. "I often sit there learning as much as the parties."
You have free articles remaining.
Porter said she was unaware until Friday of the exact nature of the recognition, but that her work in the courtroom was meant to "improve lives and improve the community."
"I want people to feel they were respected and treated fairly," Porter said.
Pro Bono Attorney of the Year
Rendal B. Miller of Winnemucca is someone NLS can always count on, said Gonzalez.
"For the last six years, he does clinics with me in Winnemucca every single time," Gonzalez said, explaining that an emergency prevented him from attending the dinner. "He stops what he's doing and helps on everything."
Pro bono attorneys are "a different kind of people," Gonzalez said. They are attorneys who take on cases to help others beyond obtaining continuing legal education credits.
"There are a few good ones who are willing to help. They understand that this guy has $12,000 to pay him, and this guy does not, but he really needs help," she said.
Miller graduated from the University of Nevada, Las Vegas with a Juris Doctorate degree and master's of business administration in 2010. He received the Judge Andrew Puccinelli Memorial Award in 2013, 2014 and 2018, and was recognized as the 2015 Rural Pro Bono Attorney of the year and 2016 Clinic Attorney of the year.
In 2016, Miller was appointed by the Nevada Supreme Court to the board of Nevada Law Foundation. That year, the state Supreme Court's Access to Justice Commission presented him with the One award for rendering outstanding services.
NLS relies heavily on volunteer attorneys for pro bono clinics and cases as needed. Megan Smith, who works in the Elko County District Attorney's office with juvenile cases, is one of several pro bono attorneys serving at the Elko office. The satisfaction of helping others with a legal dilemma is what keeps her involved with pro bono work.
"I like the community aspect of it," Smith said. "Usually, it's people walking in off the street … you have to think on your feet and try to find the answer."
"It's also kind of rewarding, because someone will be lost, confused and panicked, and you'll say, "Oh, I see the problem and all you have to do is this one thing.'"
Smith, along with Kale Brock, Debra Amens, Robert Dolan, and Kriston Hill, volunteer their time to NLS. There is a need for more attorneys due to the number of family law cases that come through the local office, she said.
"They're pretty intensive," Smith added. "I hope we can get more people doing it."
Pro Bono Partner of the Year
According to the Friends of the Elko County Library's mission statement, among its many purposes is "to support, and cooperate with the library in developing library services and facilities for the community; to lend legislative support where needed …."
Many of the Ask A Lawyer monthly clinics are conducted in the conference room at the Elko County Library, which has supported NLS over the years, Gonzalez explained.
"They are so nice, they tell people about us and hand out our flyers," she said. "They work with us on times, even if we have to cancel 10 minutes ahead of time."