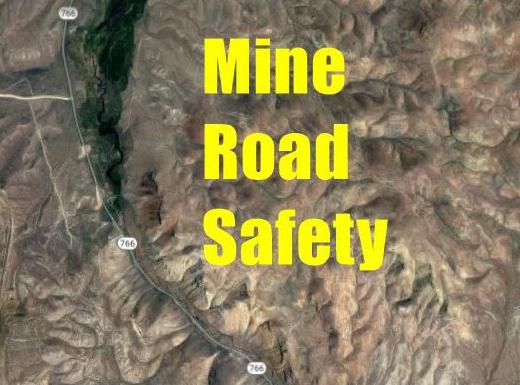 ELKO — Many steps are being taken in response to this summer's fatal crash north of Carlin, according to Nevada Gold Mines Executive Managing Director Greg Walker.
Shortly after 6 a.m. Saturday morning, Aug. 24, on State Route 766 about six miles north of Carlin, an ore-hauling truck coming from a mine collided head-on with a bus carrying Nevada Gold Mines miners to work. The driver of the ore truck and a passenger in the bus were killed. Of the 21 people on the bus, 14 were cared for at Northeastern Nevada Regional Hospital, and six were sent for treatment to Reno and Salt Lake City.
The bus was operated by Coach USA, and the truck by Pilot Thomas Logistics.
Nevada Gold Mines set up an account and contributed funds to match any employee donations received in support of employees affected by the crash. Walker said this fundraising effort concluded in early November, and a total of $117,000 was raised for the families.
Walker said in addition to the two fatalities, four people on the bus were very seriously injured. He said as of Nov. 1, 11 people involved in the accident had not yet returned to work because of the physical or emotional effects of the accident.
"We did an internal review of our own processes and systems" in responding to the accident, Walker said. "How did we respond to the incident, did we have the right skill sets? We found that we were wanting in emotional support and trauma counseling. We really struggled to get somebody here in a timely fashion to be able to deal with the trauma that people were put through. Not just the people on the bus, but there were two buses behind, and those two buses responded to the event straightaway. So there were a lot of people traumatized. And then you've got the workers who had their friends and workmates who were injured.
"So we found we were wanting in that. Our emergency response was pretty good. We found a few weaknesses which we could fix. But the main weakness was we were not able to respond very well to providing the emotional support for the employees. So we are addressing that."
"With our contractors, US Coach and Pilot Thomas, we've been through with them their procedures and their fatigue management for their operators and how they manage the drivers, the training and their safety performance as well."
Walker said throughout the investigations and discussions following the accident they have had employee representatives giving recommendations as part of the investigating team.
Several steps have been taken and additional options are being looked into in order to improve the safety on the section of the road where the accident took place.
Walker said NGM has changed its schedules and has asked mine suppliers to also change their schedules to reduce the number of trucks on the road when buses are traveling to and from the mines.
"And we've been working with the Nevada Department of Transportation to do a review of what we call the canyon roads," Walker said. "Between Gold Quarry and Goldstrike the road goes up through a winding canyon, and there have been a number of incidents there. Since I've been here, on that same corner there have been two significant truck incidents. In May a truck hauling sulfuric acid rolled over on that corner. When I attended that scene I could see lots of evidence of other incidents on that corner. There were lots of bits and pieces of headlights from different vehicles. And then you had the truck-bus incident on that same corner.
"We're working with NDOT to make safety improvements at that corner. They've been very receptive. We had a team review it with our engineers, and NDOT sent their engineers. That happened in October. So we'll get the outcome from that and we'll try to improve the road.
"There are simple things, like we put flashing lights before you get to the corner saying slow down, and changes like that, but really it needs an engineering fix. That corner needs to be fixed."
Nevada Gold Mines is also looking into alternative ways of hauling in order to get the trucks off of the road.
"We're looking at whether we can put a spur rail system in from the main rail system and rail into the mine sites from the back. We've also looked at building our own dedicated roads through the back country to get off the state and federal roads."
Walker said NGM is working with a couple of different companies to look into the possibility of automated over-the-road haulage. He said if NGM does put in dedicated mine roads through the back country of the Carlin mining area, they would be interested in running automated trucks on those roads.
Get local news delivered to your inbox!
Subscribe to our Daily Headlines newsletter.