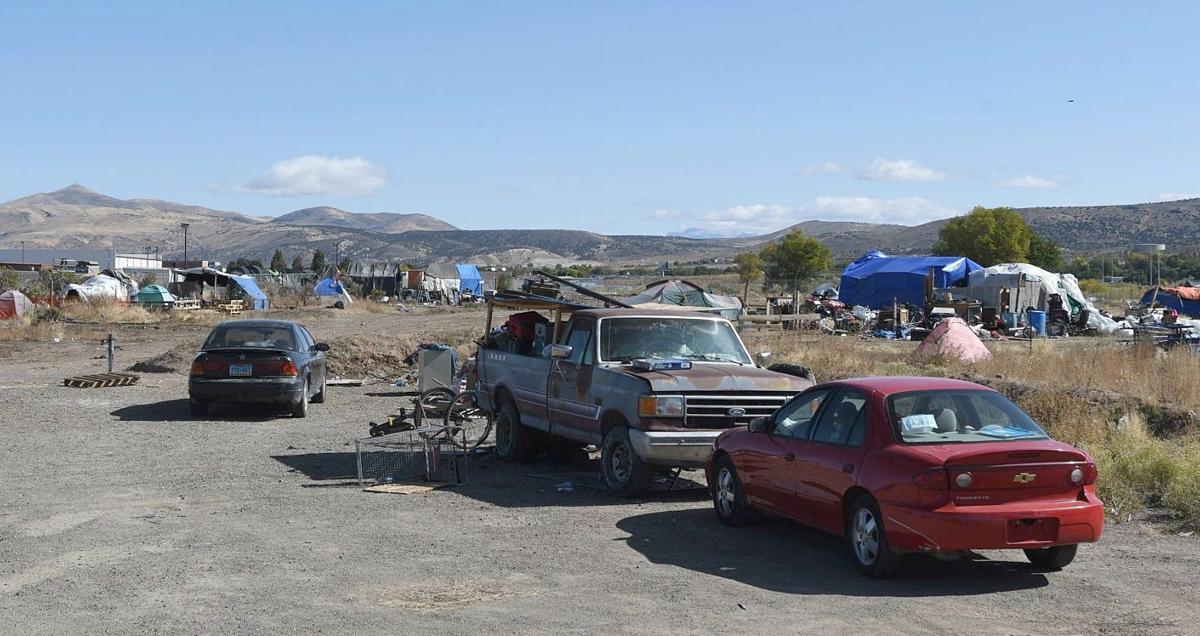 Elko opened the humanitarian camp in 2015 after the city's homeless population had grown and individual camps had sprung up along the Humboldt River and other areas, resulting in unhealthy living conditions and complaints from community members. Four years later, the camp designed by the city is more rigorously managed — but at a cost.
"The humanitarian campground rules require revision to reflect the potential hazard created with improperly installed woods stoves in tents not designed for that purpose," said Mayor Reece Keener Tuesday evening at an Elko City Council meeting.
"One of the issues that we've noticed over the last six months or so is that we have these wood stoves showing up in the tents and that's not going to be an acceptable situation; unless the fire department went over there to inspect them and they're the appropriate type of tent for that heating advice," said City Manager Curtis Calder.
Calder made it clear that some tents, such as hunting tents, are suited to having stoves in them, but small backpacking tents are not appropriate.
"We also want to make sure to add in the item that says grills utilized for cooking and operational bicycles are allowed outside of tents," Calder said. "We want to make sure that those are not considered trash or debris items that would be subject to being thrown out."
Calder proceeded to address the problem of debris buildup at the camp. Campers bring in some of the rubbish, but a lot of it is the result of people dropping off things for the homeless to use.
"It ends up, ultimately, being hauled off by the city," Calder said. "Dennis [Strickland] reported to me this morning that we paid over $1,000 in landfill fees this past couple of weeks to clean up the camp. There are a lot of issues we learn about as we go on managing this facility."
"How many truckloads is $1,000?" asked city councilman Bill Hance.
"I would probably say seven to eight," said public works director Strickland. "And those are not little trucks, those are 10-yard trucks. It's crazy what you see down there. It looks less aesthetically pleasing than our landfill, to be honest with you."
You have free articles remaining.
Calder said that some people are being good Samaritans, but others drop things off that can't be used, including washers and dryers.
The camp has increased in size over the years and it takes resources from many parts of the city, according to Calder.
Another issue brought to light at the meeting involves putting up a fence between the camp and a neighboring property where people have abandoned tents and other items.
Calder said a quote was obtained for a chain link fence, but the cost would be about $8,000.
"We might just consider a three-wire fence to provide that separation," Calder said. "We are out there several times a week and if someone were to move into that area we could get them out of there."
Dogs at the camp are another issue the council discussed.
We have to probably look at that," Calder said. "I don't know that it's been a problem, but it certainly could be. If we haven't had any problems [yet] we should knock on wood."
Once the new set of rules is approved, city employees will go to the camp to post them.
"We will make a pretty concerted effort to make sure everybody is getting notified," Calder said. "Obviously, we will let FISH know because we are still requiring a new resident to register with FISH to get their campground site."
Councilman Chip Stone mentioned that he had recently attended the Nevada League of Cities and Municipalities. He said he spoke with representatives from Carlin and West Wendover who claimed they only have one homeless person in each community.
"We are handling a lot of influx from everybody, which is a big concern," said Stone. "We are certainly going beyond the call of the city and helping those folks and I hope the public realizes how hard the city is trying. It's a tough thing."
City starts long process of helping transient population
ELKO – Transients have camped along the Humboldt River since before Elko was incorporated, but a growing population of homeless in recent years prompted city leaders to create a designated camping site.
Elko County Commissioner Delmo Andreozzi worked for the City of Elko for 30 years. During his time as assistant city manager, one of his projects was to address the homeless situation. He said it was a long, complicated process and he underestimated how much time it would take to analyze the multiple facets of the situation.
"It was way more than just camping along the river," he said.
He said a few years ago, there was public concern about disturbing or even illegal activity going on at the Train Park in the center of downtown. Residents reported seeing illicit drug activity and sexual misconduct as well as drunken behavior.
"There were a lot of complaints about it," Andreozzi said.
While not all of the people involved in the public disturbances were homeless, the outcry shown a light on other problems related to the homeless community, including a lack of adequate assistance in some areas.
In response to the complaints, Elko City Council created an ordinance banning alcohol in certain areas of Elko's parks. City staff found out during the process that the codes were outdated and in some places, unconstitutional.
"We had a fundamental flaw with our vagrancy codes," Andreozzi said.
The laws once known as "vagrancy codes" were modernized and changed. They are now known as "Offenses Against Public Peace" and "Miscellaneous Offenses" and cover inappropriate behavior in a public place, such as disturbing the peace, solicitation, obscene language, indecent exposure and public urination.
After the death of a homeless woman in 2012 from below-zero temperatures, the City began efforts to create an emergency action plan to protect the homeless during extreme cold weather. Once the temperature is at or below zero degrees Fahrenheit, a temporary shelter will be opened to house anyone who needs to get out of the cold.
"There was this outstanding issue where there really wasn't anything dealing with these cold weather conditions," Andreozzi said.
The process to create the emergency action plan required multiple code changes, he said. Friends In Service Helping, a service provider that helps homeless and low-income residents, applied for a temporary use permit to open and run the cold weather shelter.
"It was all kind of foundational work that had to take place," Andreozzi said.
Around the same time, an ad-hoc committee was created to collaborate efforts with different service providers. The committee discussed a variety of options, and eventually proposed creating a designated camping site for the homeless to live in.
The public was concerned about the state of the Humboldt River. Many homeless were living along the banks, using the willows as windbreakers and the river as a place to dispose of waste.
The Humboldt Area River Project Trail that runs along the river through town was considered deplorable by some residents because of the trash. Hypodermic needles and other drug paraphernalia were found near the camps.
The river camps affected safety, health and welfare for the inhabitants, Andreozzi said. Fire officials and medical responders as well as law enforcement had difficulty accessing the camps.
"It was really trying to address these public health, safety and welfare issues," he said about the designated camping site.
The homeless population at the time was estimated to be around 80 to 90 people.
In December 2013, the Nevada Division of Public and Behavior Health contacted the City asking to be kept abreast of the condition of the river and the efforts to move the homeless to a facility with toilets and garbage disposal.
"It was a pretty serious situation," Andreozzi said.
Council selected a site for the homeless camp on Hot Springs Road in the west end of town, but not without reservations from council members and the public. Some were concerned about the distance between the camp and service providers such as FISH. Residents wondered if having a campsite would encourage more homeless to come to Elko.
Others felt it was inhumane to force the homeless to live in one place. They argued that the City was targeting the homeless unfairly, and pushing them to the edge of town so they wouldn't be visible.
A year after council selected the site, the camp opened in May. It provides potable water, portable toilets and dumpsters to the homeless who camp there. A few tents are spread across the fenced, 5-acre property.
However, a local service provider criticized the site, saying dangerous debris hadn't been cleared from the grounds before homeless were told to move in. At least one homeless man who moved to the site wasn't happy to be there, and told the Free Press he would rather be left alone.
Andreozzi said the designated camping site is a temporary solution, and he saw it as a step in the right direction.
"It's not the best solution, but it's better than what we had," he said.
FISH has a temporary use permit to run the site that will last for two years. Andreozzi said groups are working on more permanent solutions that might replace the site, but the future is still unknown.
"We need to still have people paying attention to this and looking down the road," he said. " … It's still a work in progress. It's not done. It's nowhere near done."
Homeless look down the road
ELKO – The sun beat down on Bruce Alexander, who sat in shorts, socks and a beanie at a plastic table in Elko's homeless camp.
The temperature rose above 90 degrees just after noon, and summer was still on its way.
Alexander, one of several homeless people who moved from camps along the Humboldt River to the site run by Friends In Service Helping, was concerned about the lack of cover for his dog, Little Bear, who panted below the table.
His close pal, Michael O'Hare Jr., sat opposite.
"There ain't no shade out here," Alexander said.
The campground is the only legal option for homeless people. With mounting public pressure, City officials designated 5 acres on the west side of town as a spot where the homeless could pitch their tents. But it's intended to be a temporary solution. At the end of two years, the city is hoping a nonprofit shelter will be operating.
O'Hare and Alexander complied with City directive and relocated to the campsite in the spring. And while neither would say the situation was ideal, the two men were making the most of it.
The tent site, decorated with flags and racecar gear — an homage to O'Hare's deceased father – was one of about 10 claimed spots. An estimate of homeless campers before the site was complete was more than 60 people. Many homeless people have opted to leave town, according to police, instead of sign up for a campsite.
Both men agreed that a shelter – providing respite from the summer's relentless heat and mosquitoes – would be preferable to the campsite. But some among the homeless population disagree.
Cary Jacobsen, who said he'd been homeless for about three years after experiencing back problems, doesn't like the idea of being confined in a dorm-style building. He also expressed concern that his dog might not be allowed to live with him.
Before Jacobsen moved to the homeless camp, he lived near Errecart Bridge in a big, blue tent.
Alexander said he's been in the Elko area for about 20 years, many of them without a home. In the past, he'd worked low-wage jobs in a couple of casinos, washed dishes and volunteered at FISH, but as he aged, he was unable to continue. Now he's on Supplemental Security Income, he said. For the past six to eight years, he'd lived near the 12th Street Bridge.
"I can't work anymore," he said. "My body's not up for it."
The National Coalition for the Homeless, a Washington, D.C.,- based group committed to ending homelessness in this country, identifies three distinct subsets: chronic, episodic and transitional.
Although there is plenty of overlap, those general types of homelessness have unique contributing factors.
Transitionally homeless people, for example, are often forced into homelessness following a catastrophic event, according to the coalition. Chronically and episodically homeless people are more likely to suffer from mental illness or substance addiction and are chronically unemployed.
The coalition's website describes the chronically homeless as a small population that is "entrenched in the shelter system." Episodic homeless are often younger individuals who find housing but end up back in shelters, it stated.
Understanding an individual's particular circumstances and needs is vital in helping him or her out of homelessness, according to U.S. Interagency Council on Homelessness Regional Coordinator Katy Miller.
In addition to mental illness or substance abuse, Miller said, domestic violence, criminal history or a financial crisis can lead to homelessness, as well as a lack of affordable housing.
"It really is about being clear and sure about what an individual needs," she said. "… We also believe that people recover."
USICH has developed a federal strategic plan and partnered with 19 agencies aiming to end veteran homelessness by the end of the year, chronic homelessness by the end of 2017, and family and youth homelessness by the end of 2020. The group hopes to outline a path to ending all homelessness eventually.
O'Hare is optimistic that one day he will be in a place of his own, even if it's an older trailer house or RV.
"If you use your head and you start working, save your money. Stay on top of your money. Don't be drinking and crap like that 'cause you'll never get nowhere," he said. "If you save your money, you can get yourself a mobile home or a trailer. There's no sense in giving up."
Having seen and interacted with many of Elko's homeless, O'Hare is also sympathetic to their struggles.
"Not everybody out here is capable of going back to work," he said. "We have a lot of mental issues out here. It's a lot of things that put some people out here. Some aren't educated."
O'Hare said he knows a woman, chronically homeless, who was traumatized by rape and suffered debilitating anxiety.
A shelter would give the chronically homeless an escape from the elements, but it could also help those in Elko who find themselves temporarily homeless.
"Most people in the United States don't understand they are one or two accidents away from becoming homeless themselves," said Brandy Miller.
The local resident spoke from experience; she and her family have been homeless three times.
Brandy Miller said her first "terrifying" homeless experience hit her at the most inconvenient time.
"I was pregnant and 19," she said. "Our family didn't want to bring us in, so (my husband) and I moved into a car during mid-June in Texas."
Brandy Miller looked into having her family moved into a shelter, but she and her husband wouldn't have been able to stay together because the shelters are divided into men only and women only housing.
"That was not an option for us," she said. "We would rather be homeless than separated."
The couple also looked into getting help from law enforcement, but Brandy Miller said they were less than cooperative.
"The police were no help," she said. "All they want to do is pass you along, so they can get on to their next problem. A lot of the time if you are homeless they would arrest you for basically being homeless."
Brandy Miller said while being homeless isn't a crime, the officers would place the individuals under arrest for loitering, vandalism or trespassing.
The couple spent just under a month homeless before her husband found employment in another state.
The two and their son made the move with promise that a temporary job would turn into full-time work, but it didn't.
"We were homeless again and had no option to turn anywhere but back home to Texas," Brandy Miller said. "After being homeless for three days, some people from our church heard about our situation and took the three of us in."
Soon after, the Millers came to Elko for another job opportunity, which ended in another professional letdown.
"We became homeless again, but we had learned our lessons from our previous experiences," she said.
Brandy Miller said there are two factors that will keep people from being homeless after falling down on their luck: their family and the community.
There are also three factors, she said, that put people on the street: a broken family, a broken community and broken people.
"Without help from family, friends or a community you have nothing else to rely on," she said.
Brandy Miller said the shelters, the police and state were no help for the homeless, so what does she suggest as an individual who has been without a home?
"Don't give the homeless handouts," she said. "Give them an opportunity to work and feel like they matter. Give them a chance to earn back their dignity, because it has been shattered. A lot of them have skills that they don't even know they have. Give them an opportunity to find those skills and utilize them."
Pulling Up Stakes Part 1
Pulling Up Stakes Part 2
Pulling Up Stakes Part 3
Downtown sees little change from homeless campsite
ELKO – City officials have addressed the homeless situation, but members of the Downtown Business Association have noticed little to no impact on local businesses.
"I called various people involved in the DBA to ask if they have noticed a difference in their store fronts or in business, but most of the members said there has been nothing," said President of the DBA Duane Jones. "The only comment I heard was business owners have noticed the homeless are doing less loitering, and seem to be on the move."
Jones said the business owners believe the homeless appear to be "making their rounds" now, instead of staying in the shade or stretching out at store fronts, or sitting on the street benches for an hour or two.
Jones said he once had an elder homeless woman who was constantly seen outside of his store front sitting on the bench and picking dead flowers out of the flower beds.
"When you pick the dead flowers out of the beds, it is supposed to help promote healthier flower growth," said Jones. "The other members and I haven't seen this woman around since the campground opened."
Jones acknowledged there are a lot of mixed feelings among small business owners — and the rest of the community — over the homeless camp and shelter, but he personally sees the benefit of helping the homeless.
"I think we should have a facility to minimally help the homeless," he said. "We don't want to see people freezing to death, or out there starving. In general, people need help, and we can make a difference. I'm not afraid to step up and do that for the people who want the help."
Jones added the provision of "people who want the help," because he sees multiple homeless individuals who are satisfied with their lifestyle.
"If they don't want help, then we have to let them be until they have decided they are tired of their situation," he said. "They won't turn their life around until they are ready. However, they still need to be treated well and with respect."
Jones said the one benefit that he hasn't seen, but wants to, is the revitalization of the Humboldt riverfront.
"A while ago we had a program to clean and revitalize the Humboldt River, and turn it into a park," he said. "We wanted people to be able to stroll down by the river area after we put pavement down. We even added a chain link area for ATVs and bikes to ride on the south side of the riverbank. We put a lot of effort into revitalizing the river, and this move for the homeless can help us recapture beauty of the Humboldt river park."
Gateway RV Center is less than a mile away from the temporary homeless campsite, and co-owner Susan Thornburg said the site is a benefit to Elko's community.
"We are going to help the homeless at the campsite by building tent platforms July 31," she said. "With the help of Home Depot, Pepsi and Gateway RV, we are hoping to help the homeless as they move to their temporary home."
Thornburg said Pepsi donated 60 pallets, Gateway RV donated tarps and Home Depot donated other necessary supplies to complete the project.
Anyone in the community is invited to join the effort at 10 a.m. at the temporary homeless campsite on Hot Springs Road.
For more information call Gateway RV at 738-8071.
Council pleased with homeless camping site, considering next step
ELKO — Elko City Council members agreed that creating a designated camping site for the homeless was a step in the right direction, but work still needs to be done to find a more permanent solution.
Councilman John Patrick Rice said the City has a homeless "situation" instead of a "problem" because people have a right to be homeless, but it impacts the entire community.
"It's a sensitive topic in a lot of ways and very important as well," he said.
Three or four years ago, Rice said, there were homeless people living in the Train Park, and their behavior made nearby residents feel uncomfortable. People in the park were consuming a lot of alcohol and there was a lot of drug activity and sexual acts going on in a public place, he said.
"It was clearly a situation that needed some attention," he said.
The City created ordinances that limited alcohol consumption in the parks, but another issue arose a couple of years later. More and more people were occupying the banks of the Humboldt River.
Mayor Chris Johnson said the development of the Humboldt Area River Project trail brought attention to the homeless situation along the river corridor.
Every council member received phone calls, emails or text message from residents who were concerned about the safety and sanitation of the camps along the river. Johnson said there was fear because some tents were close to residential neighborhoods.
"It was almost becoming an emergency type situation for us to move forward," Councilman Robert Schmidtlein said.
Councilman Reece Keener said he received a number of complaints from people who lived on the south side of town. They said they saw homeless people relieving themselves and passed out drunk. Keener said the residents didn't feel safe.
"That is a problem, when public safety is compromised like that," he said.
Keener said others told him it was unfair because they had to obey the law while homeless people were allowed to do whatever they want. City code prohibits camping in public areas within the city limits, but the City was unable to enforce the code because it did not have a designated place for people to stay instead.
Another challenge arose when the homeless had emergency situations, such as a medical condition, a fire at a campsite or criminal activity. The areas where people camped were difficult for emergency responders to access.
Rice said there were also a number of deaths in the homeless community. Some died of natural causes, but there were also people who died from drug overdoses and exposure to the cold.
In late 2013, the City received a letter from the Nevada Division of Public and Behavioral Health about possible contamination near the river due to the human waste and garbage. Keener said the state agency told Elko to act on the issue or it would.
"We were being held responsible for the water issue and it was our City's personnel that were going down there to deal with the safety issues. It did fall on our laps to an extent," Councilwoman Mandy Simons said.
Many council members toured the river corridor to see the debris themselves. What they found was appalling and deplorable, they said.
"I was appalled at the filth and the waste and the debris, the garbage. It was like a landfill area that wasn't being managed," Keener said.
The Parks and Recreation Department cleaned up the river camps after the homeless abandoned them this summer. Keener said the crews removed at least 10 tons of debris from the deserted camps. Crews found drug paraphernalia, rotten food and maggots in the squalor.
"It's going to be a big job. The amount of trash down there is really horrible," Simons said.
Keener said seeing the waste in person motivated him to take action. Schmidtlein also saw the state of the river as a call to action. He toured the river corridor about a year ago and described seeing the "alarming amount of trash" as a "rude awakening."
"It's our responsibility to maintain a clean, friendly, safe environment for all the residents of the City of Elko," he said. " … If we did nothing, we would not be doing our due diligence of what our responsibilities are as elected officials."
A Place to Stay
Everyone has a right to engage in life-sustaining activities, such as having a place to sleep, cook or go to the bathroom. The City cannot prohibit those activities and had to provide a place where people could engage in life-sustaining activities, Rice said.
"We knew we couldn't just tell them to leave, so we tried to create a place where they could legally camp so that we could clean up the river area," Simons said.
The City selected a vacant piece of city-owned property on the west side of town off of Hot Springs Road where the homeless could legally camp. The humanitarian camp opened in May. Local service provider Friends In Service Helping is managing the site. FISH has a temporary use permit that will allow it to run the site for two years.
"That whole process was not without a lot of consideration and not without a certain amount of controversy as well," Rice said.
A homeless advocate wrote a letter to council about a year ago comparing them to Nazi Germany, which was "offensive in so many ways," Rice said. He said there were a lot of good people trying to do the best they could to manage a difficult situation.
Council members themselves were torn on how to proceed. Schmidtlein was concerned the temporary solution would become permanent. Johnson believed providing housing was the best thing to do, and even called the designated camping site a criminal justice solution. Simons wanted to come up with something that would be closer to service providers, especially FISH.
"I was probably as skeptical as anyone because it's about two miles away (from FISH) and I just thought people aren't going to go for it," she said.
However, she said she has been pleasantly surprised by the result.
"It is absolutely an improvement," Simons said. "It's not a long-term solution. This isn't curing our homeless problem here, but it's definitely a step up."
Every council member said they were pleased with the site and thought it was working well. The humanitarian camp has dumpsters, portable toilets and potable water for the residents to use.
"This camp definitely is a big step in that direction and from that standpoint is a huge improvement from what was available before," Johnson said.
Emergency responders know exactly where the camping site is located, and it's easier to get to a specific camp, Keener said. Elko Fire Department has responded at least once to a medical call there, Rice said.
"It makes it so much safer and so much more effective for our public safety officials to respond," Keener said.
He added that the situation is infinitely superior from the railroad perspective. People camping along the river had to cross the railroad tracks to get to and from their camps. More than one homeless person died after being hit by a train as a result.
In response to concerns about the camping site's proximity to railroad tracks, the City built a fence topped with barbed wire around the site to discourage people from crossing the tracks at unsafe places.
Elko County has also stepped in to assist with the camp, Rice said. For example, GET My Ride, the county's transportation service, has a shuttle that makes a stop at the camp twice a day.
"What we have provided for the homeless community is far better than where they had been relegated in the past," he said.
The site is set up to have up to 40 campsites and it can be expanded beyond that. Schmidtlein estimated there were 16 people living at the site. If there are 89 to 100 homeless people in Elko, that means about 20 percent have elected to go to the site, he said.
While some community members were concerned that the camping site would attract more homeless to the area, council members said the population has gone down.
"We've also found there are some people who don't want to move (to the campsite) and so they've decided to leave the area," Simons said.
Keener said the people who left don't want to be under the authority of any rules. Anyone who checks into the camp needs to sign and acknowledge a list of rules when they apply through FISH.
It was important that the City create the site at a minimal cost to taxpayers, Simons said. The property is City-owned and staff did fewer site improvements than normal for permanent developments. The City spent $32,000 on the site improvements, according to Assistant City Manager Scott Wilkinson.
"I was completely skeptical because I didn't think they would move, I didn't think it would work, I didn't want us to spend too much money – but it's worked out," Simons said.
Possible Solutions
Johnson said affordable housing was the best solution he's come across. If Elko had an affordable housing market, homelessness would decline, Johnson said.
"I would join Mayor Johnson and others in the idea that providing permanent housing is really the best way to manage the situation," Rice said.
While he supports the idea of providing affordable housing, Rice said he wonders where Elko will get the money. The City and county are not in a financial position to support a shelter or housing project, he said.
Some long-term solutions are expensive, Simons said. For example, she said Salt Lake City has virtually eliminated homeless by providing permanent housing, but a city the size of Elko doesn't have resources for that sort of thing.
Simons said the first step to solve homelessness is to provide a shelter, the second is to offer permanent housing, and the third is to provide resources for them to get permanent housing.
"If money were not an obstacle, I would say get them permanent housing, get them the counseling for any alcohol or drug addictions (and) coordinate service providers," Simons said.
Another possible solution is a homeless shelter. The mission of Joshua Tree Shelter, a local service provider, is to provide housing for the homeless. The shelter broke ground on a site last year, but construction is slow-going.
"I know that we're hoping that Joshua Tree gets up and running. We do have shelters, but we need more," Simons said.
FISH's Samaritan House helps people who are temporarily homeless — perhaps they've lost a job or a spouse has died, or they are traveling and get stranded — but it doesn't address the chronically homeless, Keener said. Elko's homeless situation is larger than the facility can handle, Rice said.
"In the long haul, I would like to see the social groups be able to house these people," Schmidtlein said. " … It is not the City's responsibility to house these people. We did what our responsibility was."
Keener added a successful homeless shelter would need psychiatric care onsite. A lot of homeless people have chronic mental health and addiction issues, he said.
Simons said the City does not have a big enough network to provide social services. She was also concerned about using taxpayer money for such a purpose.
Most of the other council members agreed with her, saying the City should participate but not take charge of homeless solutions. They said the City's role is to facilitate and coordinate services. Schmidtlein and Rice said the majority of the government's aid should be focused on donating money to service providers.
In the meantime, the council must begin talking about what happens at the end of the temporary use permit, Simons said.
"I worry that we will not have an adequate facility in place in the short term to replace the humanitarian campsite," Rice said.
If another option is not available in two years, council members said they would support extending the use permit so the camping site could continue to operate.
"Until we're able to provide housing for all the homeless, we would not be able to shut that facility down," Schmidtlein said about the camping site.
The City is looking at moving the camping site to a location closer to FISH, Johnson said. He said he thinks it would be better because it's closer to resources, and it has the option of putting in permanent structures that would get people out of the wind and rain.
Simons said the City might always have to maintain a camping site or similar alternative. Johnson said there would be one from here on out because Elko must have a designated place for life-sustaining activities.
Others weren't sure if having a shelter would mean the homeless would be required to stay there and the camping site would no longer be in use. Schmidtlein said he thought that would be possible, but he would need to check with legal counsel before proposing it.
"I don't know what we're going to do about the legal issues and what kind of facility we're going to have to maintain indefinitely in order to deal with the legal aspect," Simons said.
Keener said he wasn't sure if the City would always need a camping site, but he knew the homeless shelter in Reno has a place for tents so people can camp outside.
"To say that we'll ever get it solved, I don't know, but we'll always know we'll take care of each other the very best that we can," Johnson said.
Editorial: Free Press concludes homeless series
This weekend's edition of the Elko Daily Free Press will feature the fourth and final installment in our series about the homeless. Earlier articles have explained why and how the City of Elko took action on this issue, and our final article will look toward the future.
Friends in Service Helping, better known as FISH, received a two-year permit to operate the humanitarian camp that opened three months ago on the southwest side of town. City council members have stressed from the beginning that this is a temporary solution, made necessary by drastic circumstances – including multiple deaths and public health concerns.
We agree with council members that the campsite has improved the situation for both the homeless and the community. And like them, we hope progress is made over the next two years so the camp can be permanently closed.
If City officials continue to work with homeless advocates such as those we interviewed for tomorrow's article we believe they will be successful.
Meanwhile, City crews have done an excellent job of cleaning up the former makeshift campsites along the Humboldt River. And police have begun the unfortunate but necessary process of enforcing the City's no-camping regulation.
We would like to see the City and other stakeholders in the Humboldt Area River Project take this opportunity to make progress on HARP's original mission of developing "a multiple-use open space system along the Humboldt corridor that will contribute broadly to the community and help foster river habitat preservation and enhancement, recreational experience and activity, transportation and public safety, neighborhood revitalization, and economic opportunity."
Such work could proceed from the planned construction of a major softball complex at the west end of the river corridor.
Across the river, the humanitarian camp continues to be upgraded in order to provide a safer and more comfortable environment. This location provides a better base toward which community resources can be directed to provide assistance to those who truly need it.
Our newspaper began reporting on the homeless eight years ago when police noticed a rise in crime attributed to transients. At that time, FISH and Deacon Craig LaGier were among the few parties in town concerned with the welfare of the homeless.
From the beginning, local residents have expressed a wide variety of perspectives on the issue and how it should be addressed. That hasn't changed over the years. Many of our readers continue to express negative comments. But we are encouraged by the number of people willing to put their own time and money into compassionate responses.
We believe Mayor Chris Johnson said it best:
"To say that we'll ever get it solved, I don't know, but we'll always know we'll take care of each other the very best that we can."
Elkodaily.com readers comment on homeless series
"I think you might agree that much of what makes this whole homeless thing insoluble is the sacrificing of any fair definition of who we are talking about when we say 'Homeless' on the altar of Social Justice. If it's all people 'down on their luck' then it's a perfect fit for the ride to the rescue with someone else's money crowd. However, the truth is this all started when we stopped institutionalizing people and dumped the problems that created on communities that have no way to deal with it."
"They have a right to be homeless? They have a right for permanent residence? What about the taxpayers rights? We pay the taxes, the homeless reap the benefits. If I throw a cigarette butt out my car window I can be fined $3,000 for littering, what about my right to be treated like everyone else? If I can't litter why do the homeless get away with 10 tons of trash along the river and not a single homeless person is charged with the crime of littering?!"
"I am disturbed by most of these comments saying they 'chose' to be homeless ... and that they are so 'welcome' to live with family but they chose to drink instead. How lovely that none of you have obviously suffered from addiction or mental illness, which most homeless people do suffer from. To live under someone else's roof (family member) would mean that they have zero control over their lives and would have to live and be constantly judged by those people ... That is a horrible way to live."
"I suffer from addiction and mental illness. I am a sober alcoholic and heroin addict, going on for years now. I was homeless once, and it's because I chose not to work. You know what I did? Fixed myself up and worked to earn a living. I didn't expect anyone to pay my expenses, especially the taxpayers, and they should not be forced to."
"The homeless choose to stay homeless and free of responsibility. We as taxpayers should not have to pay for services for those that will not help themselves. The river area is deplorable, filthy and unsafe. People are afraid to walk there or play there. They have been harassed, exposed to human waste, and drug paraphernalia. When given an area to move to as an alternative they have the gall to complain. Did any of them help to clear, clean off, set up the area?"
"I am confident everyone agrees that those homeless who suffer from mental illness or physical disabilities deserve the support of a moral community; however, those who choose this lifestyle or have self-destructive behaviors that preclude their ability to function as productive members of our community need to be motivated to move on, not encouraged to stay and blight our community."
Community helps the homeless
ELKO – For an Elko woman, a personal humanitarian project has created a coalition between businesses and a local charity to bring shelter to the homeless camp.
"They're out here with no shelter from the heat," said Billie Armstrong, who is the project leader in cooperation with Friends In Service Helping.
Armstrong and her group of volunteers are building pallets to place under the camp residents' tents. The project was conceived when the camp was created in May and it was still muddy at the site. With the summer months, Armstrong and Susan Thornburg, a board member of FISH, turned the project into a way to provide shade. It also took until summer to receive donations of the needed materials.
All of the supplies for this endeavor were donated, with the exception of the tarp. Stores such as Home Depot donated boards, screws, plywood and sealer brushes while others, like Gateway RV Center and Smith's, donated time, manpower and water. Budweiser provided the pallets.
"We are so thankful for all the help," said Thornburg, commenting on the impact of the volunteers and the donations.
Armstrong was motivated by the situation and by the ethos that "every person in this world has a story." Understanding that some of the residents of the homeless camp choose to live this way, she kept up on the situation – especially when there would be arrest reports about them camping in town.
Armstrong went on to explain that some of the camp's residents receive Supplemental Security Income through Social Security. Sometimes, she said, that is not enough to live on, let alone pay rent with, and so, many choose this way of life.
"It's kind of sensitive to my heart," said Armstrong, referring to the project. "... You can become homeless in a heartbeat."
Nonprofits talk about future of homeless campsite
ELKO — Local nonprofits have mixed feelings about the City's temporary homeless campsite, but all of them are hoping for one thing — a better future through collaboration and empathy.
After a rough start with its share of controversy, the campsite was up and running in May. Since then, several organizations have gotten involved to improve the camping situation. The homeless now have access to firewood, a shaded picnic table, a water station, and most recently, platforms on which to station their tents.
"I think the community is having fun putting it together," said Susan Martsolf, executive director of Friends In Service Helping, the organization running the campsite.
For the final part of its "Homeless but Not Hopeless" series, the Free Press talked to local service organizations about their feelings on the homeless campsite, and what they'd like to see happen next.
Friends In Service Helping
Martsolf said 33 people have signed up to move onto the site, but only about 15 are currently there.
"The ones that are down there are loving it," Martsolf said. "Things are going really well. … they've bettered their lot in life."
She agreed that some of the residents don't like being in such close proximity to others, but overall it is a much better situation than by the river, Martsolf said.
"We're trying to help them," she said. "As far as I can see, that's what we're doing. … For a pilot project, I'm really pleased."
So far, the campers have been good about following the rules. In fact, Martsolf said the only major problems she's heard of have been with Elko residents. In one instance, a resident reportedly sprayed a camper with pepper spray for no justified reason but to create problems, she said.
Improvements FISH has made on site include a designated area for firewood. If any Elko residents have extra tree clippings or wood, they are encouraged to donate some to the homeless for the winter, Martsolf said. The firewood must be no longer than 24 inches.
"Why haul it to the dump when it could be used down there?" she said.
One resident spread grass seed at the campsite this spring, Martsolf said, and Lighthouse Christian Church donated tarp and the table.
Recently, FISH learned it will receive $20,000 for picnic tables and other items. Martsolf did not go into specifics about where the money is coming from.
Future improvements Martsolf would like to see include bicycle racks.
"The campers are afraid someone is going to steal their bikes," Martsolf said.
Still, the City, she believes, has already done its fair share at the site.
"If everyone could collaborate, we could do a better job," she said.
Anyone wishing to donate items to the homeless can do so, but Martsolf said household furniture — though well intended — is not feasible to have and maintain in the camp. Outdoor chairs or other furniture are acceptable.
FISH is also requesting donations of gravel for the driveway, and sleeping bags and tents for the homeless to use in the winter. Chest coolers are also appreciated for the homeless to refrigerate food.
While things are moving forward, FISH must keep in mind that the homeless campsite is only a temporary solution, and not too many site improvements can take place.
In the future, Martsolf believes a permanent housing project, such as studio or one-bed apartments with the bare necessities, could be the solution for Elko's homeless. The U.S. Department of Housing and Urban Development could support the project with permanent vouchers, she said.
That, however, is a long-term solution that could take years. Furthermore, it may not entirely eliminate the need for camping spots, she said.
"There will always be a certain number of people who will need a camping spot," Martsolf said. "… I think we will always have a need for a small designated camping area."
Because the campsite is designated for two years, Martsolf would like to see the City find another piece of property selected in a less prime location.
"That piece of property has too much potential for business," she said.
A campsite is necessary until other solutions can be found, Martsolf said.
"You don't want them doing what they did to the river, again," she said.
While a homeless shelter would provide relief from cold weather, Martsolf believes it is too hard to get one supported in Elko.
Underdog Street Ministries
In mid-July, a man lay passed out in the dirt at the camp, exposed to the sun while his dog roamed nearby. Underdog Street Ministries, a local nonprofit, helped him up into a vehicle before taking him back to his tent.
Kimberly Reece of Underdog Street Ministries disagrees with calling the campsite a "humanitarian campground."
"What is humanitarian about it?" she said. "Asking people to live in a dust bowl is not humanitarian."
Reece also doesn't believe the City should even have a homeless campsite, saying it takes away people's rights.
"We have a right to live where we want to live," she said.
She also said it was a bad decision putting people that close together. Some of the homeless have mental illnesses and addictions, and they are too close to their neighbors.
"Not everybody has problems, but some do," Reece said.
The designated campsite, she said, is in some ways worse for the homeless than the river, which provided trees for shade. Furthermore, Reece believes the tent city at the river was more or less self-governing. Asking people to leave the campsite if they can't follow the rules, she said, is not a solution.
"Where are they going to go?" Reece asked.
Still, with the campsite already in place, Underdog is finding ways to help out. A small blue tent set up near the middle of the camp serves as a water station.
"Our main goal was to keep cool water so they would keep hydrated," said Underdog volunteer Ildi Timmons.
Inside, a garbage can insulated with sleeping bags contains frozen milk jugs, blocks of ice and bottled water. The water stays cold for about three days.
"People just drop cases and cases of water off on my doorstep," Reece said.
While there may be fewer people down by the river, Reece doesn't believe that many of the homeless are leaving town. Underdog hosts weekly lunches on Sundays and dinners on Fridays at Ruby Mountain Resource Center. Because bus services are not available from the campsite during these meals, Underdog has been shuttling people there.
"If they were (leaving town), we wouldn't see them at our lunches and dinners," she said.
Reece claims to have seen people sleeping in alleys between businesses.
The solution Underdog Street Ministries preferred would have been to install dumpsters by the Errecart and 12th Street bridges, Reece said. Addressing mental health needs in Elko is also important.
Recently, Underdog started a peer-to-peer drug and alcohol recovery program to assist the homeless in getting on their feet and working. More of these services are needed, Reece said. The goal is to give them a hand-up verses a hand-out.
"A lot of them are realizing that they are worth something," Timmons said.
The potential of having a homeless shelter is met with mixed feelings. On the one hand, Reece believes it would be a blessing because of cold weather.
"A homeless shelter is not the answer to homelessness at all," Reece said.
However, taking a housing-first approach like that seen in Utah is a step in the right direction. One example is fixing abandoned apartments and letting the homeless live in them. Affordable and available housing is needed for the homeless, she said.
"They aren't throw-away people," Reece said. "They are real people."
In two years, when the permit for the campsite expires, Reece said she'd like the City to find an alternative solution.
Family Resource Center
Everyone knows the homeless camping site is not ideal, but it's alright for now, said Family Resource Center Executive Director Judy Andreson.
"It's as good as it can be right now as a short-term solution," she said.
While the campsite permit doesn't expire until 2017, planning for the future needs to begin now, Andreson said.
"We really need a homeless shelter to handle the long-term issue," she said.
And if people can't rally around Joshua Tree Shelter to get it up and going, then an alternative solution needs to be found, Andreson said. Of course, this will require collaboration and a unified approach from everyone, she said. Andreson would like to see Elko County weigh in on the issue as well.
But homelessness isn't just a matter of people not having a home, she noted.
"The biggest problem is the mental health issue," Andreson said.
Combined with drug and alcohol addictions, this needs to be addressed in order to truly help the homeless.
"There has to be a unified approach in the community to get them stable before you can even help them cope with being in a shelter," she said.
Another important step to take is to talk to the individuals themselves and identify their needs.
Andreson said she'd like to see a shelter as an expansion of the campsite, where the homeless could have access to showers and other things in one place. Transportation from GET My Ride has already helped a lot, she said.
Family Resource Center coordinates a state-funded Hunger Project with other organizations in town. The supplemental food program is a collaboration with Communities In Schools, which provides food on the weekends, and Ruby Mountain Resource Center, a twice monthly distributor of food, Andreson said.
The food is purchased at the store instead of donated. This year, 50 percent of it has to be fresh fruits or vegetables.
"We do have a number of homeless individuals we work with," Andreson said.
The Family Resource Center works on a case management model, helping people to meet their goals through quarterly meetings. It also assists with Medicare and Medicaid applications.
"We're here to help people move toward their greatest level of self-sufficiency," Andreson said.
To achieve this, the center expanded its food services to include a community garden, gardening classes, and education about cooking nutritious meals on a budget.
"When people need food, there's usually a whole lot of other issues in the family," she said.
Ruby Mountain Resource Center
As a distributor of the Hunger Project, Ruby Mountain Resource Center works not just with the homeless, but with other people in need. Additionally, the center takes clothing vouchers from other organizations.
Executive Director Naomi Leahy said she's ambivalent about the City's designated campsite. While she sees a need for it, like Martsolf, she is concerned about the proximity of the campsite to local businesses, as well as a lack of shelter and shade.
"It is what it is," Leahy said. "Let's move forward — how can we make it better until there's a permanent solution?"
One improvement could be to set up a place where the homeless could eat. That way, Underdog might be able to transport the food there instead of bringing the homeless to Ruby Mountain Resource for their lunch and dinner meals.
"That would be a wonderful opportunity to have," Leahy said.
As far as plans for when the campsite's permit expires, Leahy believes that a homeless shelter would be a start. Cold weather is a problem for the homeless, and while some buildings open when it's zero degrees outside, that might not be enough.
"It's cold at 38 degrees," Leahy said. "… I think the temperature gauge they're using needs to be different."
But a homeless shelter, she said, is still not going to be a permanent solution. Elko will always have people who are homeless, she said.
Leahy believes that in order to help out the homeless, you must first address their basic needs such as showering and doing laundry. This puts them in a better position to get a job.
"There's all of these various issues that they have to deal with," Leahy said. "… It's gonna take all of us."
Like others, Leahy believes Elko can learn from what Salt Lake City has done, as well as what's worked in the past.
"There are success stories with our homeless population," she said. "It is a multi-faceted issue. There isn't going to be a one-size-fits-all."
Joshua Tree Shelter
While the City is hoping for a future homeless shelter run by Joshua Tree Shelter, the organization did not wish to comment on the City's campsite. CEO Jennifer Kidwell told the Free Press questions about the campsite do not apply to Joshua Tree's status or future within the community.
Kidwell did, however, provide an update on the organization's progress.
"We have completed our first phase of our three phase project," Kidwell wrote in an email.
Joshua Tree purchased a location off Sharps Access Road and has submitted plans for permits and parceling that are required. Site work has begun on the land, which is on the opposite side of town from teh FISH campsite.
"Thank you to all within the community who helped to make this happen," Kidwell said.
The next phase, design and development, is underway. As currently designed, Joshua Tree will accommodate 50 individuals and have six transitional type housing units on-site to bridge the gap between affordable housing. The facility will allow pets.
Once fundraising is completed, the organization will move forward with building and construction of the homeless shelter.
Because work has begun, individuals are not allowed to camp on the site, Kidwell said.
Joshua Tree Shelter has its annual "ugly sweater" fundraiser Nov. 7 in the Western Folklife Center. This year, there will be new categories for the sweater competition, as well as dinner and other activities.
Letter: City's response reversed homeless 'surge'
The Free Press has a poll up asking, "How do you rate the city's response to the surge in the homeless population?" By most local accounts Elko is a city plagued by widespread homelessness. The Free Press has printed over two dozen articles, video presentations and photo spreads on this over just the last few weeks. We've had Task Forces and City Council agendas wholly devoted to this for years. A half-dozen local aid organizations claim to be in need of resources to help out with this surge.
So what to make of police saying the homeless population in Elko, far from surging, has dramatically dropped -- especially since the completion of the campground? From both HUD's Point In Time counts and homeless activist estimates we never have had more than 80 camping in town. FISH's campground numbers seem to imply we're now down to 15.
The number is likely somewhere in the middle but in any case the small scale of this should make homelessness here a relatively easy and uncontroversial thing to manage. Yet this issue seems to have a life of its own as the "surge" continues to demand front page attention.
Why is this the issue that just won't die? An extremely complex interplay of politics, good intentions and self-aggrandizement is at work here but one factor stands apart. The time and energy many have invested in this over the years has created a momentum that, apart from any logic, keeps it alive. A look at the dynamics of the symbiotic relationship between non-profits and their causes sheds some light on why that is and what it means.
All non-profits share a rather unique dilemma; their success is measured by the degree to which they can put themselves out of business. That can make success bitter-sweet. One way to avoid the bitter part is to press on even after the facts on the ground show your services are no longer needed. For many that seems to be the case. It's a tough one to face but maybe it's time to call it day and move on.