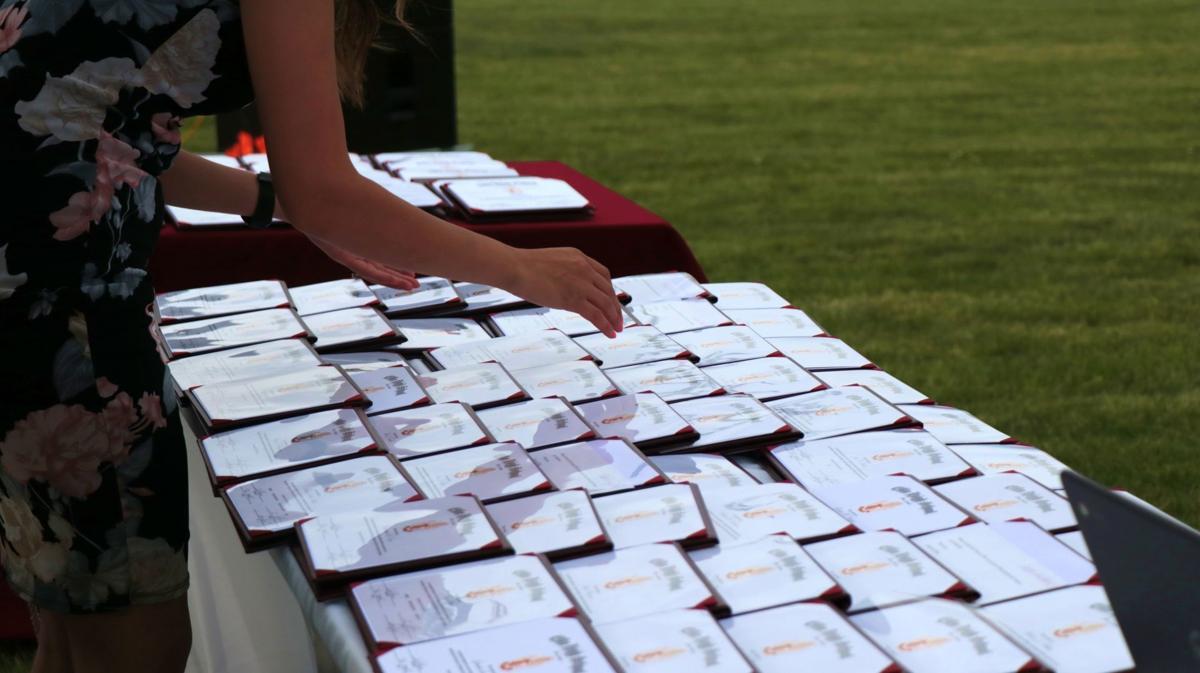 More than 500 Elko County seniors will be receiving their diplomas on June 4 as schools return to traditional in-person ceremonies.
Last year due to the pandemic, graduates participated in socially distanced or drive-through commencement ceremonies.
But on June 4, schools will open their football fields and high school gyms to families and the community to watch the Class of 2021 march together for the last time.
Elko High School is planning to graduate at least 250 seniors, according to Principal Tim Wickersham.
"We won't know the precise number until the actual day of graduation, as students who are 'on the bubble' will be working right up until the deadline," he said.
Gates open at 5:30 p.m. June 4 at Warrior Field for first-come, first-serve seating. Commencement begins at 7:30 p.m. Fireworks will follow at the end of the ceremony.
"Attendees are encouraged to remain at Warrior Field to enjoy a fireworks display," Wickersham said.
Graduation starts at 4:30 p.m. on June 4 for 166 Spring Creek High School seniors at the football field and is open to the community.
It's the culmination of several activities leading up to graduation day, according to Principal Shaun Taylor.
On June 1, community members will hand out gifts to adopted seniors. Two days later, a parade on Spring Creek Parkway leads seniors to the Marina for dinner and the annual Senior Sunset.
At Wells High School, approximately 23 diplomas will be handed out in a ceremony to start at 7 p.m. June 4 at the football field.
Seating is limited to family members who have a ticket, and open seating and viewing will be available around the field, according to Principal Clayton Anderson. A parade through Wells follows the conclusion of the ceremony.
At Owyhee High School, a parade for the graduates starts at 5 p.m. June 4 and leads to Braves Field. The ceremony begins at 6 p.m. and is open to the public, with masks and social distancing required.
Nine Jackpot High School graduates are expected to receive diplomas. Commencement exercises start with a parade at 6:30 p.m. on June 4, ending at the high school gym. The ceremony begins at 7 p.m. and is open to the public, but guests are required to wear masks.
At Carlin High School, approximately 12 students will graduate. The ceremony starts at 5 p.m. on June 4 at the football field and is open to the public.
"This year's graduation will follow our normal ceremony guidelines," said Carlin teacher Amanda McKinnon. "Veteran shop teacher Justin Munson will be featured guest speaker, and senior Akilah Leach will be the student speaker."
At West Wendover High School, 56 seniors will receive their diplomas in a ceremony starting at 6 p.m. MDT on June 4 in the school gym. Masks are required for 10- to 15-years old, but children 9 and younger and those 16 or older who have been vaccinated are not required to wear masks.
Spring Creek Christian Academy conducted ceremonies for four students on May 22.