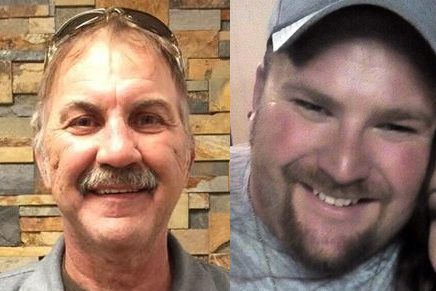 ELKO – Saturday's fatal crash involving a bus full of miners and an ore truck brought sadness to the community and attention to what some believe is an unsafe highway.
The crash killed two people, Rocky Witt, a 62-year-old Nevada Gold Mines employee, and Andrew G. Nash, a 28-year-old truck driver. Five miners were still hospitalized on Monday.
"This is sad and a very tragic time," said Elko County Commissioner Delmo Andreozzi, "I felt pretty helpless on Saturday when all this was unfolding."
Andreozzi said he made phone calls to the hospital and people in external affairs with Nevada Gold Mines on Saturday.
"With us being a community, even though I am not directly related to those particular people, they still feel like family to me and I have family and friends that work out there."
"Our hearts and prayers go out to the deceased and their families," said Elko Mayor Reece Keener on Monday. "We pray for a speedy recovery for those that are still hospitalized. According to what I have heard, with the injuries they have, it's going to be a very long road ahead. Hopefully as many as possible will be able to return back to work in their previous capacities."
Keener mentioned that State Route 766, where the accident occurred, is known as a dangerous highway. Traveling through the canyon where the crash occurred can be risky, he said. Nevada Gold has several mines that utilize the road north of Carlin.
"NDOT has known of the dangers in that area and they need to implement some traffic calming measures," the mayor said. "I think even speed bumps [would help]. You've got hundreds of people that traverse through there daily on their way to and from work. You've got suppliers going north and south. There just needs to be a mechanism for slowing the traffic down on those vulnerable areas."
"Hopefully now they will address it, but, unfortunately, it's too late for any of the victims," Keener said.
"Honestly, our thoughts and prayers go out to those involved," said Sean Hughes, director of corporate affairs for Coach USA, the operator of the bus that was carrying 21 people when the crash happened.
Keener mentioned that the situation could have been a lot worse because during the weekdays some of the buses have many more people on them.
"It doesn't matter how good your driving record is," Keener said. "You could have a lifetime of perfect driving, but all it takes is one moment of inattentiveness and the effects of it can be catastrophic."
U.S. Sen. Catherine Cortez Masto commented on the crash during a rural Nevada tour that brought her to Elko on Monday.
"It's devastating. A horrific thing," Cortez Masto said. "Clearly my condolences are with the families who are suffering and for those who are in the hospital. I hope for their speedy recovery."
The senator also offered support at the federal level to "anybody that needs help … they can reach out to my office."
Cortez Masto added she would be speaking with officials at Nevada Gold Mines on Monday afternoon, at a meeting that was prearranged ahead of Saturday's accident.
Get local news delivered to your inbox!
Subscribe to our Daily Headlines newsletter.