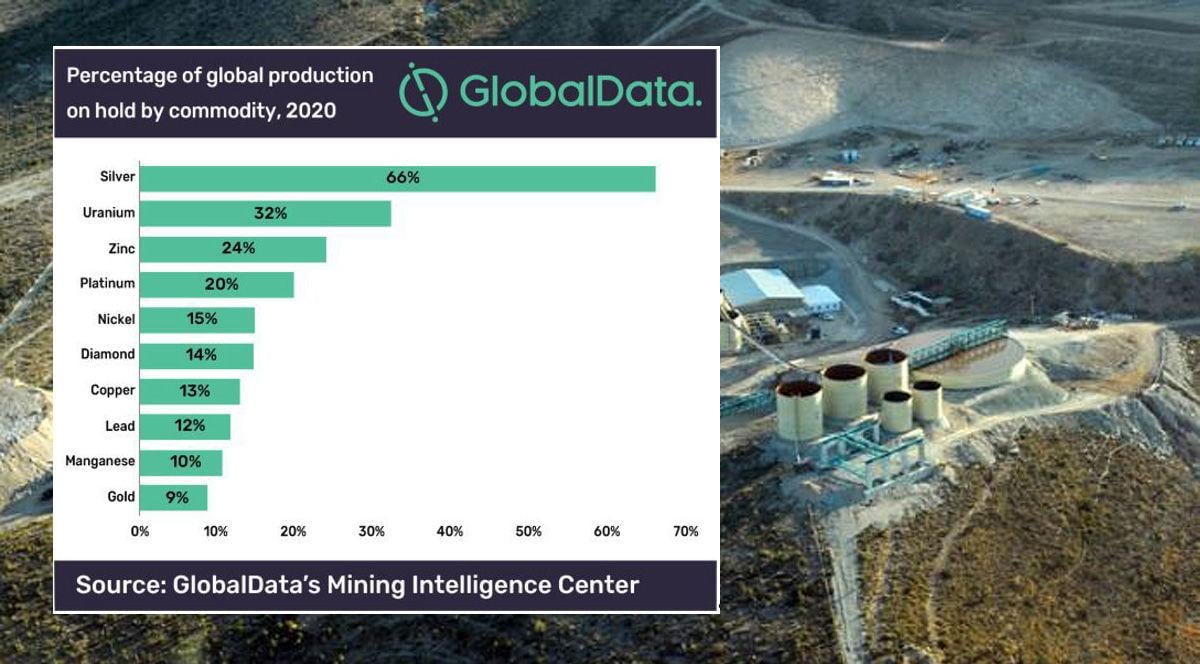 Most of the mines in northern Nevada have stayed open through the past month of the coronavirus pandemic – with some changes in procedures – but around the world, lots of mines have temporarily closed as countries have issued lockdown orders.
With at least 32 countries passing orders which affect mines, in early April more than 1,600 mines around the world had temporarily suspended their activities, according to a report from GlobalData.
Through the month of April some lockdowns have ended and more governments have classified mining as an essential service, so many mines have been reopening. By April 27, 729 mines were still shut down due to coronavirus concerns.
Many of the mines that reopened in April are operating with reduced numbers of workers, which has slowed production.
Silver production has been hardest hit by the mine shutdowns, while gold has been the least affected.
"Silver production is currently being severely damaged by lockdown measures," GlobalData Mining Analyst Vinneth Bajaj said. "As of April 27, the equivalent of 65.8% of annual global silver production was on hold. Silver mining companies such as First Majestic, Hochschild, Hecla Mining and Endeavour Silver have all withdrawn their production guidance for 2020 in the wake of the outbreak."
As of April 27, the global production of uranium on hold was 32%, zinc production on hold was 24%, platinum 20%, nickel 15%, diamond 14%, copper 13%, lead 12%, manganese 10%, and gold 9%.
CPM Group estimated in its Silver Yearbook 2020 released April 28 that 21 million ounces of silver output has been lost so far.
The current shortage of silver has so far not led to much of a rally in the price of the metal. In late April silver was trading at a little over $15 an ounce, up from its 11-year low of $11.97 in March but well below its February high of $17.48.
Part of the reason for the big drop in silver production has been the closure of mines in Mexico. Mexico has had lockdown orders in effect which have closed most mining operations in the country through the month of April. The lockdown in Mexico has now been extended to May 30.
Mexico is by far the biggest silver-producing country in the world, and produced about 23% of the world's supply of silver from mining in 2019, according to the U.S. Geological Survey.
Other countries that have lockdowns still in place include Peru (until May 10), Bolivia (April 30) and Namibia (May 4).
Countries that have classified mining as an essential service and eased restrictions on mines include Canada, India, Argentina, Zimbabwe and South Africa.
As governments enacted lockdown orders, some mining companies have pushed back to try to change the restrictions. Donna Schmidt wrote in Mining Magazine on April 8 that Canada-based First Majestic Silver was idling its San Dimas, Santa Elena and La Encantada mines in Mexico due to the country's lockdown order.
Schmidt wrote that while First Majestic "has been working since the decree to help make the case to the federal government that mining is essential and critical, especially silver due to its antibacterial properties, discussions continue and regulators have so far not altered their position on the issue."
In an April 22 story for Investing News Network, Charlotte McLeod said a relatively small percentage of gold mines shut down in April.
"Pinpointing how many gold companies have slowed or halted production is not an easy task," McLeod wrote. "All of the experts INN spoke with agreed that the number has stayed in flux as countries and regions around the world adjust their COVID-19 prevention measures, and as companies themselves hone their reactions."
McLeod wrote that on April 7, Kirill Kirilenko, a precious metals analyst at CRU Group, "said his firm was estimating that about 10 to 15 percent of gold mines globally were offline." The mines that shut down were primarily in South Africa, Peru, Mexico and some parts of Canada.
A clearer picture of how the coronavirus epidemic is affecting gold output will begin to emerge after companies release their Q2 reports.
It is also unclear how the epidemic will affect exploration for gold. Oreninc CEO Kai Hoffman told Kitco News in late April that junior companies have had a very hard time getting financing in March and April.
"There's typically a trickle-down effect, and one thing we'll have to see: because of this COVID-19 a lot of companies might not be able to explore this season," Hoffman said.
Concerned about COVID-19?
Sign up now to get the most recent coronavirus headlines and other important local and national news sent to your email inbox daily.