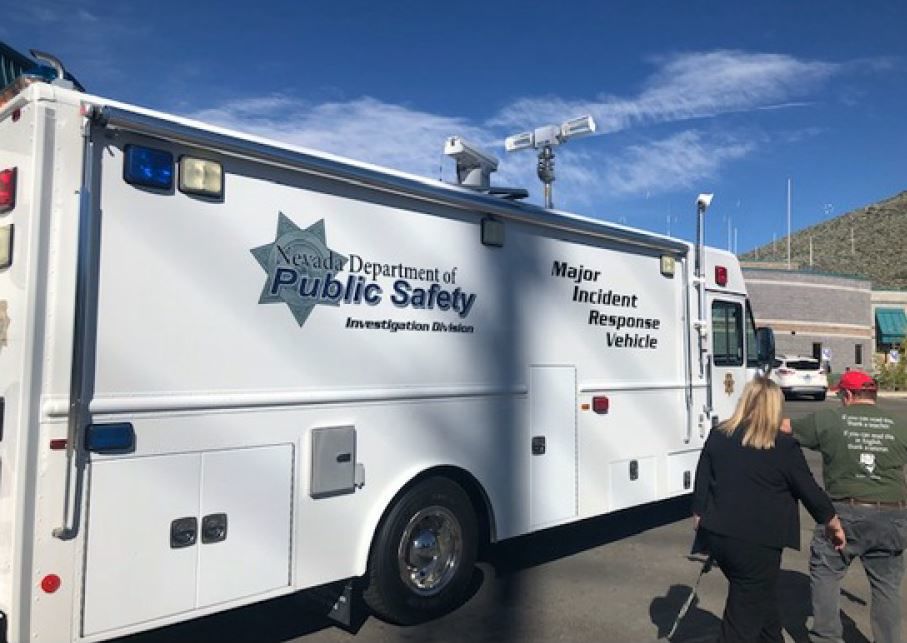 ELKO — In vast, rural Elko County, sometimes when there is an emergency the incident commander might end up standing out on the range near the scene, calling people to coordinate what needs to be done.
Soon Elko County will be getting a mobile command post that will provide a better way to handle emergencies.
"It's the latest and greatest vehicle," said Elko County Emergency Manager Annette Kerr.
Kerr said that if, for example, there is a train derailment, "We would be able to take it out to the train derailment, and have all of our radio communications out there. We can provide a unified command center out there instead of just being out in the dirt or out by a sand pile. We could coordinate everything, and we'll have satellite phone connections."
Actually the mobile command post is a 2004 vehicle, but it is in good shape and it will be outfitted with current radios. The vehicle was originally paid for with grant funds, and Elko County is now receiving it free of charge. The Elko County commissioners approved acquiring the vehicle at their July 17 meeting.
Kerr said the vehicle should be arriving this coming week. She hopes it is here in time to showcase it at the National Night Out, which will be Aug. 6 from 5-8 p.m. at Elko City Park. This event will also feature first responders and their cars and equipment, canine demonstrations, music, and free hamburgers and hot dogs.
According to an information sheet on the mobile command post, the Nevada Division of Investigation acquired the 2004 Freightliner Major Incident Response Vehicle through a Homeland Security Grant.
"The vehicle was little used due to changes of priority within NDI and cost of operation," the Nevada Division of Emergency Management said.
Kerr said the Elko County Sheriff's Office has agreed to take on any costs associated with the vehicle, but the costs should not be much. The vehicle will be housed at the sheriff's office.
You have free articles remaining.
The vehicle, which is 32 feet long, originally cost about $340,000. It has 10,064 miles on it and has seen about 380 hours of use. It seats 10 when it is parked and is being used as a mobile command post.
In 2018 the vehicle was transferred to the DEM, which then asked qualifying programs in the state to submit applications. Elko County's Local Emergency Planning Committee and six other entities around the state submitted applications. The applications were reviewed by the Nevada Resilience Advisory Committee.
"They voted on it and Elko was lucky enough to receive the votes based on our application of need," Kerr said.
"I'm just excited to receive it and get it ready," Kerr said Monday.
Kerr said they plan to make the vehicle available not only for incidents throughout Elko County, but also to agencies in other counties in northeastern Nevada.
The side of the vehicle currently says "Nevada Department of Public Safety – Major Incident Response Vehicle." The vehicle will now get new logos. Elko County's Local Emergency Planning Committee will decide on the new logos and wording.
The application that LEPC submitted says, "Elko County is the second largest county of the state and the fourth largest in the continental US, totaling over 17,203 square miles. Our whole community includes four tribal communities as well. It can take over two hours to travel from one county border to the next.
"This will be a multi-use vehicle supporting all-hazards events and emergencies. … such a unit will provide a mobile location/facility for an emergency operations center, an incident command post, a communications center, enhanced search and rescue operations, a shelter, surveillance operations, a transport vehicle and a community outreach center.
"The City of Elko Fire Department would utilize this vehicle as a mobile command post for major incidents such as hazmat, fires and terroristic events. This vehicle would allow for a unified command to be gathered in one central location. In addition, most incidents will happen in rural parts of our community and this vehicle would provide adequate command and control resources as well as lighting and have the ability to have eyes on the scene at all times."
"We can provide a unified command center out there instead of just being out in the dirt or out by a sand pile. We could coordinate everything, and we'll have satellite phone connections." - Annette Kerr, Elko County Emergency Manager
"We can provide a unified command center out there instead of just being out in the dirt or out by a sand pile. We could coordinate everything, and we'll have satellite phone connections."