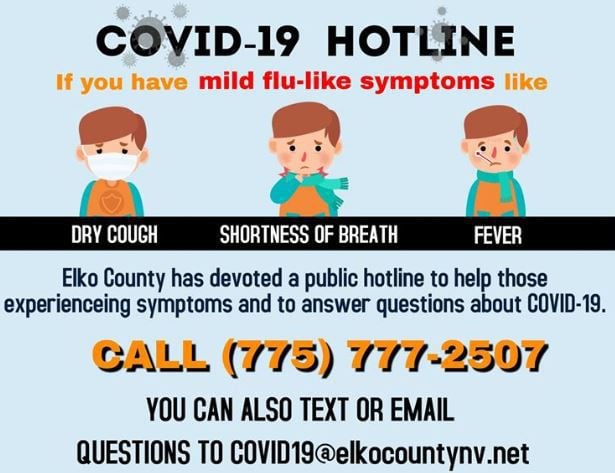 ELKO – One week after the first local cases of coronavirus were reported, Elko County has set up a hotline to help centralize information and give residents directions on responding to the pandemic.
Elko County Commissioner Delmo Andreozzi and Elko County Health Officer Dr. Bryce Putnam launched the hotline Thursday on Facebook Live from the commissioners chamber, which is now the county's Emergency Operations Center.
Putnam said statewide about 5,100 people have been tested in Nevada for COVID-19, and 420 of those tests were positive. There have been 10 deaths, all in the Las Vegas area.
"What I can say about these statistic is that they're probably very skewed in that there's probably a lot more positive cases" because of the limitations on testing, he said.
Two cases have been reported so far in Elko County.
"We don't want to be complacent with these numbers," Putnam said. Some people with mild symptoms may not be getting tested.
"There is no cure for this," he said. "There is not a vaccine available right now." The best option for someone who has symptoms is to stay self-isolated.
"We don't want them going to these clinics. We don't want them out in the community and spreading this virus," Putnam said.
Anyone with symptoms can call their health care provider or the county's hotline.
"We've got well trained, well qualified people there to help maybe alleviate any personal stress that you are having or answer your questions or help evaluate you," Andreozzi said.
For those with severe symptoms, Putnam said the county's health office is staying connected with Nevada Health Centers physicians in Elko and Reno, "and they will decide if some patients may need some further care or prescriptions, or possibly a test or hospitalization."
Andreozzi and Putnam said much of the current situation boils down to personal accountability.
"You can't stop a virus without a vaccine," Putnam said. "You can contain it, though, and that is through personal accountability." Mutual respect means maintaining at least six feet of distance between yourself and others, he said.
Putnam said businesses are taking steps such as adding wash stations and floor markings to promote social distancing at checkout lines.
"Kudos to Elko County for heeding the warnings and doing everything that they possibly can for us to stay healthy and stay safe," he said.
Putnam said personal accountability also applies to social media, where some people have been posting false information about the extent of coronavirus in Elko County. When county officials and law enforcement spend time chasing down inaccurate information it takes away from the time they could be serving those in need.
"We're all in this together and we should be good neighbors and good people," he said.
Andreozzi acknowledged the "long and tireless hours" that local health care providers and emergency services personnel are spending to lessen the impact of the virus — including Putnam, who is a dentist at Nevada Health Centers.
Putnam was also grateful.
"All the health care providers and everything that you've been doing, and all of the staffs that make you wonderful, we appreciate you every single day and you are heroes," Putnam said. "Thank you for helping us and thank you for getting us through these tough times."
Concerned about COVID-19?
Sign up now to get the most recent coronavirus headlines and other important local and national news sent to your email inbox daily.